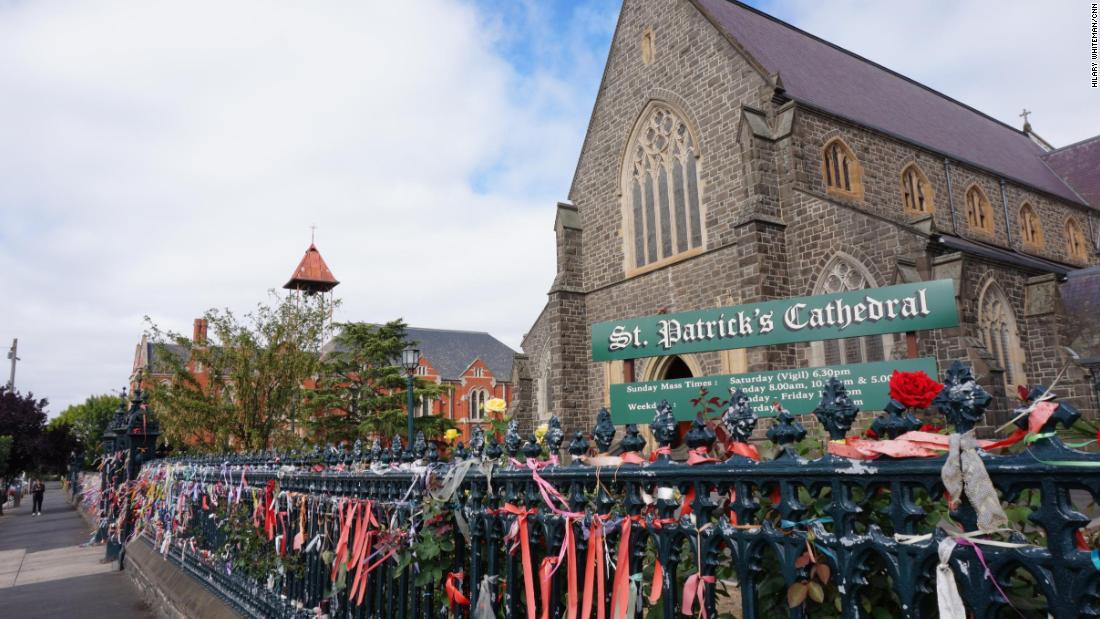 Ballarat, Australia (CNN)There was a time when Ballarat, a regional Australian city northwest of Melbourne, was proud of its most famous son.
But as Pell rose through the ranks of the Roman Catholic Church, his hometown concealed a dark secret.
"The amount of kids I saw get taken out of class, sexual abuse was rampant, was definitely rampant, there's no other way you could put it. That's what it was; they were doing it all the time," says abuse survivor Phil Nagle.
Some of Australia's worst pedophiles were preying on children in Ballarat, then a city of about 60,000 people.
Survivors claim Pell knew, despite his fervent denials, that other priests were abusing boys in parishes and dioceses where he held positions of power.
For one year in the early 1970s, Pell,
by his own admission,
even lived with one of Australia's most notorious sex offending priests — Gerald Ridsdale.
Ridsdale was defrocked by the church after abusing dozens of children at parishes he was moved to over the course of more than 20 years.
"The cops knew, the teachers knew, the parents knew, how come Cardinal Pell didn't know? Why didn't he know?" Nagle said.
A good Catholic education
In the 1850s, Ballarat was the place to get rich.
Located around 100 kilometers or 62 miles northwest of Melbourne, prospectors came to the small town from all over the world to dig for nuggets and pan for alluvial gold.
Many were Irish immigrants who fled their home country on boats to escape the potato famine. They brought their faith with them and quickly built schools to give their children a good Catholic education.
More than a century later, the gold deposits had been depleted, and the Catholic educational group Christian Brothers had established themselves as the administrators of a number of schools across the diocese, including St. Alipius Boys School in Ballarat East.
It was this unassuming school which would become a haven for some of the country's worst child rapists.
In the early 1970s, three of the small school's teaching staff and the school's chaplain, Ridsdale, were pedophiles, who would later be convicted of multiple charges of child sex abuse.
Nagle was in year 5 at St. Alipius in 1974 when he says a teacher at the school, Brother Stephen Francis Farrell, lured him to the sports room, pulled down his pants and attempted to penetrate him. He was 9 years old.
"I was left there, wondering why I was wet between my legs and all that, because obviously he had ejaculated on me," he said. "That was the start of what was going to be a very horrific year at that school."
Nagle, now 55, didn't realize he was being assaulted until a sex education class in high school. "When I first found out, I actually left the classroom and threw up," he said.
Farrell has since been convicted of abusing five boys, including Nagle, but a series of suspended sentences means he's served just four months in prison.
'The abuse was daily'
The five-year royal commission heard thousands of allegations against a number of religious and non-religious organizations.
Survivors of abuse told how they'd been groomed as "favorites," or accused of committing sins for which they should be punished, or sometimes both.
Paul Levey's arms are covered in tattoos to hide his multiple suicide attempts.
In the early 1980s, he was abused by Pell's former housemate Ridsdale for eight months when he lived with the priest in Mortlake, a country town of around 1,000 people in rural Victoria.
Levey told CNN the abuse started when he was 12 years old. Ridsdale would take him on camping trips with other boys and molest them in the showers and restroom facilities.
At 14, Levey was misbehaving. His parents were separated, and his father agreed with a suggestion from Ridsdale that the teenager would be better off living with him, in the priest's presbytery.
Levey had his own room in the house, but he didn't sleep there. "It was a big front," Levey said. "The abuse was daily. Morning, night — it didn't matter to Ridsdale. Just continual."
Levey, like other victims, was silent for decades. The commission heard it took children abused by members of the Catholic Church
an average of 33 years to come forward.
Such is the loyalty to the church and fear of not being believed.
Pell has repeatedly maintained he had no knowledge of the rampant abuse taking place in his home town or among his fellow priests.
The cardinal insisted he is no ally of Ridsdale's either, despite walking the serial offender to court in 1993 as Ridsdale faced the first round of charges of sexual assault. Pell later said he did it to show support for a fellow priest. He's since said
it was a "mistake."
Ridsdale was jailed in 1994 and remains in prison for multiple offenses committed against 65 children. He's eligible for parole in 2022.
A town divided
Small reminders of what happened in Ballarat flap in the breeze on the fences of St. Patrick's Cathedral.
Ribbons were tied there in 2015, in tribute to the victims, as the full horror about what took place just decades earlier emerged from the royal commission. Now Ballarat's Catholics are being forced to confront the truth about Pell.
"The old Catholics in their 80s could find it difficult," said Maureen Hatcher who started the ribbon campaign, Loud Fence. "They've clung to their faith for a long time, and some have really struggled."
As a child, Pell spent time at
Ballarat's Royal Oak Hotel,
the pub once owned by his family. The big pink building is still open for business on corner of a wide street, surrounded by single-story houses, a few blocks from Ballarat's main strip.
Inside, questions about the cardinal were quickly shut down. No comment, the barwoman said. Two men sitting on stools drinking beer from dimpled glasses said they weren't Catholic. "Not interested, don't care."
Others care very much. A woman packing groceries into her car only wanted to be identified by her first name, Theresa, because the subject of Pell's conviction was "difficult to discuss."
"People who have doubts (about his guilt) are demonized by other people who think he's as guilty as sin," she said.
St. Alipius Boys' School closed in 1976, and the boys moved down the road to the girls' school which is now a co-ed primary that operates under the stewardship of principal Eileen Rice.
The children run up to her when she walks into the playground, vying for her attention, excitedly telling her their news. She's determined to create an environment where the abuse of the past can never happen again.
"Any child who walks through the gates of St. Alipius has to be safer than any child anywhere else: Has to be loved more, has to be empowered more, has to be given a voice and enabled," she said.
It's unlikely Ballarat will escape the glare of international attention anytime soon as Pell, the most high-profile Vatican official to ever be
convicted of child sex offenses,
seeks to overturn the verdict in the court of appeal.
But survivors say justice has been done, and hope that it will encourage other victims to come forward.
"Everyone that's thinking about whether you'll be believed and whether you will or won't win the fight, it should give you the courage to come forward, and at least be heard," survivor Nagle said.
Ballarat's abuse scandal is not over yet.
Read more: https://www.cnn.com/2019/03/23/australia/george-pell-ballarat-catholic-abuse-intl/index.html