Doan Thi Huong pleaded guilty to causing hurt over the death of North Korean leader Kim Jong-uns half-brother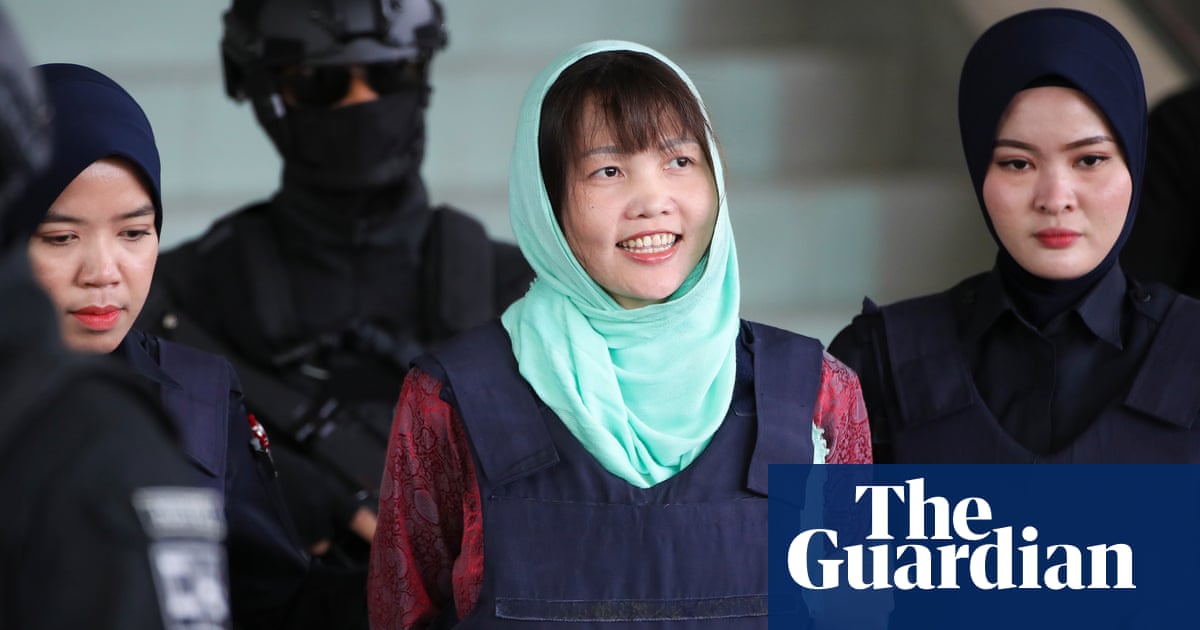 A Vietnamese woman accused of assassinating the North Korean leaders half-brother has accepted a lesser charge of causing hurt by a dangerous weapon and will be released next month.
Doan Thi Huong welcomed the fair sentence after the judge handed down the verdict in a Malaysian court, where she has been on trial for the 2017 murder of Kim Jong-nam with the nerve agent VX.
Doan was sentenced to three years and four months in jail but her legal team said that with usual sentence reductions, she would be released next month.
In the first week of May, she will go home, lawyer Hisyam Teh Poh Teik told reporters in the Shah Alam High Court, outside Kuala Lumpur.
The sentence came after the prosecution allowed Doan to plead guilty on Monday to a reduced sentence of purposely causing injury by employing dangerous means, which carries a maximum of 10 years in jail. The original murder charge carried a mandatory death penalty.
The surprise reduction in charges came after authorities rejected a request for her murder charge to be dropped entirely last month, following the attorney-generals decision to withdraw the charge against her Indonesian co-defendant, Siti.
Both women had always denied murder, saying they believed they were participating in a prank for a reality TV show and had been tricked by North Korean spies.
The prosecutor Iskandar Ahmad told the court on Monday that he had received instructions from the attorney general to offer a lower alternative charge to Doan.
Doan was highly emotional, seeming to be crying throughout the court hearing as she pleaded guilty to the reduced charge.
The judge, Azmi Ariffin, told Doan she had been lucky to escape a death sentence and should be grateful the attorney general agreed to the plea bargain.
You are a very lucky person today, because from the original charge of murder, which carries a mandatory death sentence, the prosecutor has offered a lesser charge of voluntarily causing harm with VX, said Azmi.
The verdict brings to an end the high-profile trial and means no one is facing murder charges for the killing of Kim Jong-nam, a crime the prosecutor likened to something from a James Bond film.
Kim Jong Nam was killed with the VX nerve agent at Kuala Lumpur airport in 2017. The two women were accused of smearing the toxic nerve agent on his face as he waited to board a flight to Macau. He died within 20 minutes.
Both Siti and Doan claimed they had unknowingly been tricked into carrying out the attack by North Korean operatives, who told them they were playing a prank for a Japanese comedy show. They both claim they thought they were smearing lotion on Kim Jong-nams face.
The four North Koreans the women say were the masterminds of the operation fled Malaysia in the hours after the crime.
South Korea accuses the North of ordering the hit, a claim vehemently denied by Pyongyang.
In Doans home province of Nam Dinh, her step mother Nguyen Thi Vy said: I just hope she will be released … She has always been a nice girl.
There were dramatic scenes when Doans initial bid for immediate release was rejected last month, with Doan sobbing in the dock and having to be assisted from the room by police officers.
The Indonesian government has claimed that the release of Doans co-accused Siti Aisyah in March in a shock decision that delighted her friends and family was due to its continual high-level lobbying.
Jokowi, who is facing an election next month, met the Malaysian prime minister, Mahathir, last July to address Sitis case.
Read more: https://www.theguardian.com/world/2019/apr/01/kim-jong-nam-trial-malaysia-prosecutors-lower-charge-trial-doan-thi-huong