Self-taught rocket scientist Steve Bennett is on a mission to make space travel safe and affordable for all from an industrial estate in Greater Manchester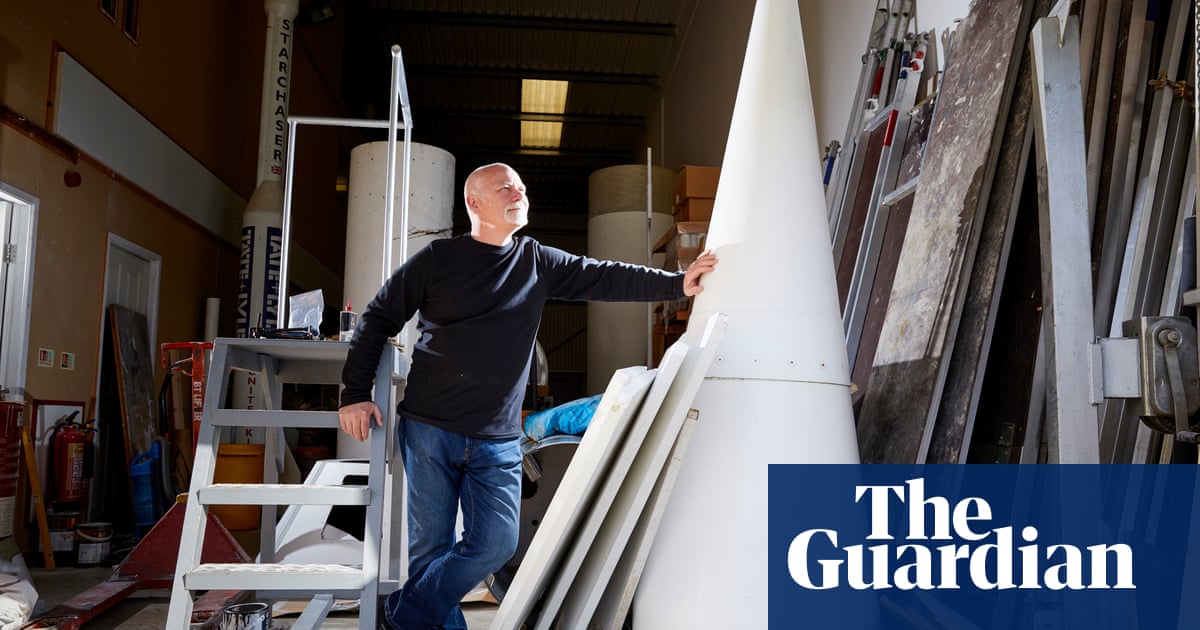 The shutters peel back on a workshop tucked away on an industrial estate in Greater Manchester, and a bright spring light breaks in. White cones and tubular structures lie on their sides next to stepladders and buckets of paint. The neighbouring units here house a sports nutrition company, an NHS wheelchair depot and a building contractor, but lot No 7 is where Steve Bennett builds rockets.
Long before Richard Branson or Elon Musk entered the new space race, Bennett and a small team, comprised mostly of volunteers, have been working towards making affordable commercial suborbital flights a real possibility. Over the past 20 years, on a fraction of their rivals budgets, they have flown about 20 rockets to plot the journey towards their first manned flight.
Nova 2 is their latest project, a 12-metre rocket that they hope will take passengers into space. The rockets engines will burn for about 70 seconds, at which point a capsule will disconnect from the rocket and continue to coast higher. Passengers in the capsule will experience weightlessness, and see the curvature of the Earth and the blackness of space. The capsule will then slip backwards into the atmosphere, before parachuting down to safety. You will well and truly become an astronaut for a few minutes, says Bennett.
His dreams of space, like those of so many, began with the moon landings. He wasnt actually allowed to watch them not live, at least. He grew up in Dukinfielde in Greater Manchester. In 1969, his father was working as a long-distance lorry driver and his mother, who worked in a petrol station, saw no reason for a five-year-old boy to stay up until 3am. Not that it mattered the prospect was enough. I was more excited than anyone I knew, he says. We had no idea what wed find up there.
While most childhood ambitions of becoming an astronaut fall by the wayside, Bennetts intensified as he got older. Aged 12, he opened an account with a local chemist who supplied apparatus to schools. He requested a catalogue, outlined the substances he wanted and skipped lunch for the next two weeks to pay for them. Teachers who recognised his scientific ability tried to steer him away from pyrotechnics, but were unsuccessful. His teenage years were characterised by experiments with explosives: homemade rockets nose-diving into freshly hung laundry; nights in parks entertaining friends with botched attempts.
Once out of school, he spent three years in the army, after which he got married and wound up as a lab technician at the Colgate factory in Salford, testing soaps and toothpastes. It was around this time that he started dabbling in rockets again. I was building them all over the house, he remembers. Living room, dining room. Ive got a great picture of a rocket going all the way up the stairs, with my son Max, whos about three or four, standing next to it completely oblivious.
In 1992, he decided to quit his day job and focus his attention solely on space travel. He set up Starchaser Industries with the ultimate goal of sending paying customers into space. At about the same time, the University of Salford contacted him to ask if he would help with a degree course it was developing with a space element. He was offered a lab, a budget and somewhere to store his rockets outside the family home. It was the first step towards professionalising the operation.
Since then, Starchaser has launched countless rockets some successful, some not. In 2001, it launched Nova 1 from Morecambe Bay, Lancashire at 11 metres tall, it was the largest rocket ever launched from British soil. In 2017, it launched the 8.3-metre-tall Skybolt 2 from the back of a converted truck in Otterburn, a village in Northumberland, making it the largest rocket operational in the UK at that time. Between these high-profile moments there have been years of research, including the development of pioneering hybrid engines and safety systems. Bennett speaks about his achievements with the robustness of an engineer rather than the grandeur of an astronaut less passionate about stars and galaxies than combustible substances and heatproof metals.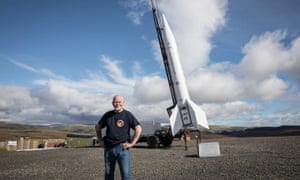 Read more: https://www.theguardian.com/science/2019/apr/04/building-rockets-all-over-house-space-travel-safe-affordable-for-all