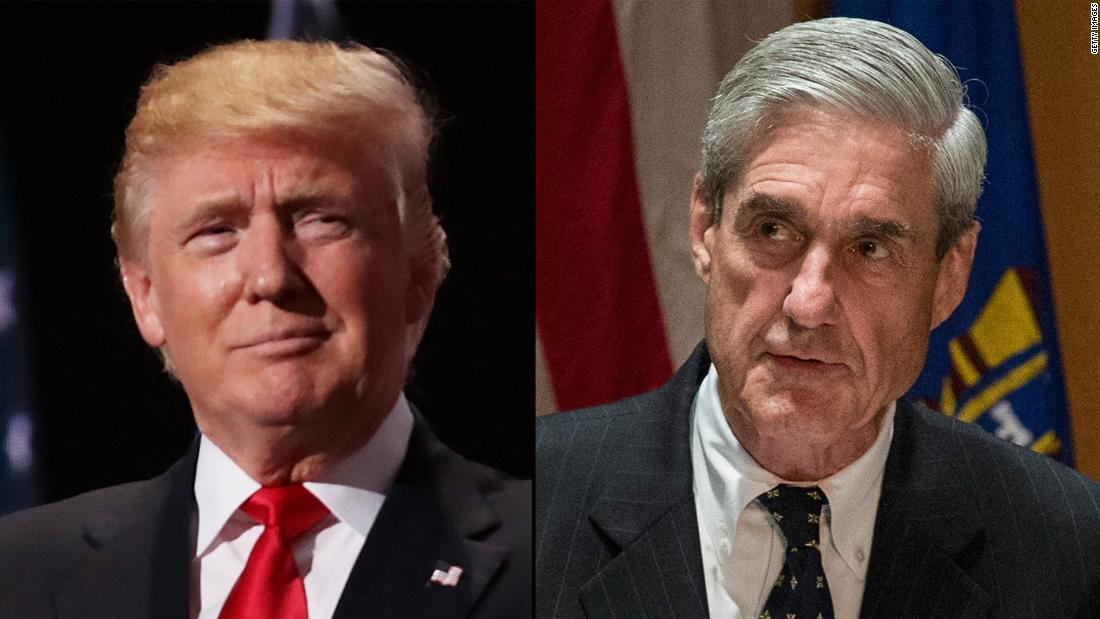 Washington (CNN)Special counsel Robert Mueller abided by Justice Department guidelines that a sitting president can't be indicted, but in preparing the detailed 448-page report, the long-time law enforcement official has teed up an investigation into obstruction that could outlive President Donald Trump's time in the White House and his temporary immunity.
Mueller added that the President "does not have immunity after he leaves office" and that his team "conducted a thorough factual investigation in order to preserve the evidence when memories were fresh and documentary materials were available."
The wording raises the remote specter of possible future criminal exposure for Trump when he is no longer in the White House. It isn't the only criminal inquiry looming over him.
Trump's immediate criminal exposure is protected by his status as president and also by the decision of Attorney General William Barr, whom Trump appointed, to not bring a case.
Barr said
"the evidence developed during the Special Counsel's investigation is not sufficient to establish that the President committed an obstruction-of-justice offense." Mueller rejected the legal defenses put forward by Trump's lawyers about his authority to investigate the president for obstruction.
Mueller did not ask Barr to weigh in. He also did not refer the investigation to Congress, but noted that Congress has a constitutional checks and balances role and can consider obstructive acts under its impeachment authority.
"We concluded that Congress has authority to prohibit a President's corrupt use of his authority in order to protect the integrity of the administration of justice," the report said.
It is unclear whether the Democrats will pursue impeachment proceedings because of the potential political risk and if any Republicans would join their ranks. If Congress doesn't act, it doesn't mean Trump is out of the woods.
Trump's best defense
Trump is in a unique position to be identified by two prosecutor offices as possibly engaging in criminal conduct. In addition to Mueller, the US attorney's office for the Southern District of New York obliquely referred to the President as "Individual 1" in the campaign finance prosecution of Michael Cohen, Trump's former personal attorney. In that matter, Cohen said under oath that he violated the law by paying hush money payments to women who alleged past affairs with the President "in coordination with and at the direction of" Trump.
Trump has not been charged with any wrongdoing. And as long as he is in office, he won't be. Trump has denied affairs with both women and called Mueller's investigation a "witch hunt."
The statute of limitations on campaign finance and obstruction charges is five years. Most of the conduct at issue dates from 2016 to 2018, meaning Trump would have legal exposure on some elements until 2023.
Elie Honig, a CNN contributor and former federal prosecutor, said it's possible Trump would be charged with obstruction down the road.
"Mueller conspicuously went out of his way to say in the report that a president can be charged when out of office. It is very possible," Honig said. "That said, it seems really unlikely because it would be politically fraught and the conduct would be old by then."
Trump's best defense to his legal exposure is to win re-election in 2020, which would keep him in office until January 2025.
There's no knowing how prosecutors would evaluate the allegations and merits of bringing a case in the future.
Mueller's report states his team transferred nine cases it had not fully wrapped up to other US attorney offices to finish. Some of those cases, including the prosecution of Roger Stone, are public. Two additional cases that were transferred are ongoing. One is fully redacted and the other, through partial redaction, suggests it may have developed out of the investigation into Paul Manafort and Rick Gates' work with Ukraine.
Jerome Corsi, an associate of Stone who was investigated for being a possible intermediary between Stone and WikiLeaks, publicly refused a plea deal from Mueller's team on one count of perjury in November. After he rejected the offer, no charges were filed against him. Stone was indicted several months later.
Last month, Corsi said he felt "vindicated"
when Mueller's investigation concluded and Barr said there would be no further indictments. It is not clear if his conduct linked to the plea deal is still under investigation.
14 referrals by Mueller
The report also reveals that Mueller referred 14 investigations to other US attorney's offices for "evidence of potential criminal activity that was outside the scope of the Special Counsel's jurisdiction."
Twelve of the referrals are redacted with no information available. The two referrals that are not redacted are identified as the case against Cohen and the
charges brought this month against Gregory Craig
, a Washington, DC, lawyer who allegedly misled DOJ about work he had done for the Ukraine Ministry of Justice. Craig has pleaded not guilty. Cohen pleaded guilty to multiple charges and begins serving a three-year prison sentence on May 6.
Prosecutors have said in court filings that some defendants are helping with non-public investigations. The government has kept some information relating to Manafort under seal because it relates to a matter under investigation.
Gates' sentencing has been postponed several times because he is aiding multiple investigations. Sam Patten, a political consultant who pleaded guilty to not registering as a foreign lobbyist,
received no jail time when he was sentenced earlier this month
. Prosecutors filed a document detailing Patten's cooperation under seal stating only that he served as a valuable witness to "a number of other criminal investigations."
One of the referrals, according to sources, was made last spring when Mueller referred to the Southern District of New York office an investigation into whether Tony Podesta, a Democratic lobbyist, and Vin Weber, a former Republican congressman,
had operated as unregistered foreign agents
.
The same office is also looking into donations and expenditures of the Trump inaugural committee, into the Trump Organization, and into allegations Cohen made related to campaign finance and conversations about a possible presidential pardon.
Read more: https://www.cnn.com/2019/04/19/politics/trump-mueller-criminal-exposure-possibility-after-white-house/index.html