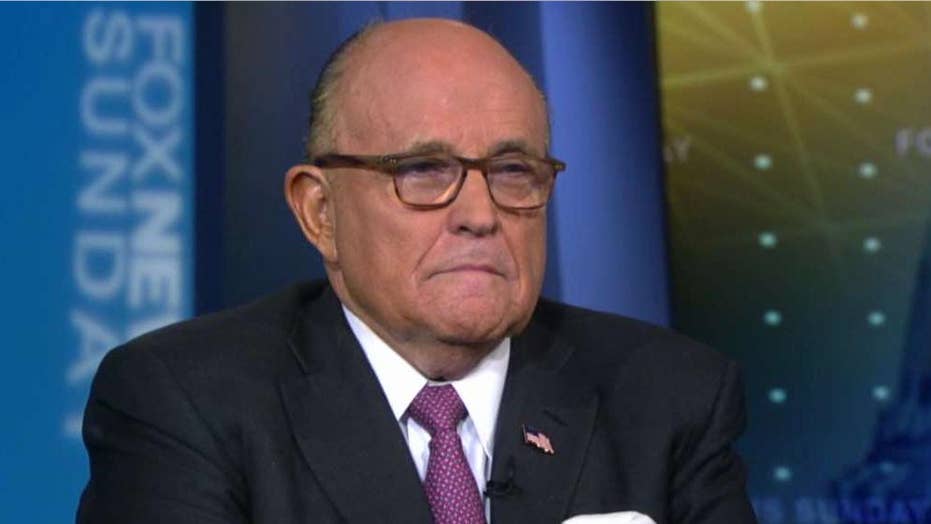 White House counsel Don McGahn looks on as President Donald Trump speaks during a cabinet meeting in the Cabinet Room of the White House, Wednesday, Oct. 17, 2018, in Washington. (AP Photo/Evan Vucci)
"You're treating these people as if they're fair," Giuliani told Wallace at one point when asked why Trump didn't agree to a sit-down interview with special counsel prosecutors. "They're not."
Elaborating on Mueller's failure to "exonerate" Trump, Giuliani pointed out that prosecutors are tasked with determining whether there is evidence of a chargeable offense, and aren't typically in the business of publicly exonerating anyone — especially when complex constitutional considerations are involved, and would make such an exoneration difficult in any event.
Giuliani also noted that Mueller's investigation had concluded unimpeded, and that the special counsel had received a flurry of White House documents. No material in Mueller's report was shielded or redacted because of an assertion of executive privilege by the president.
"When did Mueller become God? Mueller says the injury to the justice system is still as great, there was no injury by the way," Giuliani told Wallace. "We're talking about an inchoate crime. We're talking about something that didn't happen. There was no obstruction. Nothing was denied to him, nobody crushed cellphones like Hilary did; nobody deleted 33,000 emails like Hilary's people did, and nobody bleached a server like Hilary did. There was no obstruction, they don't point to a single obstruction in their investigation. They went from day one to day end — they got everything they wanted."
WHY WAS FBI BLOCKED FROM ACCESSING CLINTON FOUNDATION EMAILS DURING CLINTON EMAIL PROBE?
Separately on CNN, Giuliani asserted that "there's nothing wrong with taking information from Russians" from a criminal law perspective, and that campaign finance law only bars receiving certain "campaign contributions" and "things of value" from foreign nationals.
Members of the Trump team briefly met with Russian-linked individuals who promised information on the Clinton campaign, but the Mueller report found that such contacts could not meet the high bar of a criminal campaign finance violation because there was no evidence the Trump team had knowingly and willfully violated the text of the law.
"You're assuming that the giving of information is a campaign contribution," Giuliani told "State of the Union" host Jake Tapper.
TRUMP RAILS AGAINST MUELLER REPORT 'BULLS—'
Schiff, for his part, indicated that talks of impeachment are premature.
"I think it's a very difficult decision, and we're going to have a caucus about this over the next couple weeks to try to figure out what the best course is, not for the party, but what's the best course for the country," Schiff said. "I think it's certainly the case that an impeachment would be unsuccessful if the Republican Party continues to place party above country, continues essentially to back the president no matter how unethical or dishonest his conduct may be. And, sadly, that's where we are right now."
Read more: https://www.foxnews.com/politics/giuliani-slams-conflicts-of-interest-in-special-counsels-office-when-did-mueller-become-god