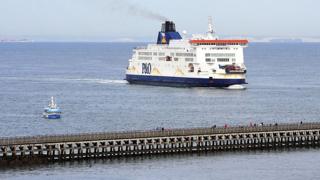 Ferry company P&O is taking legal action versus the UK federal government, declaring a competitor was unlawfully handed £ 33m of taxpayers' cash.
Last month, the Department for Transport (DfT) was required to settle with train operator Eurotunnel , which had actually challenged the procurement of no-deal Brexit shipping agreements.
As part of the offer, Eurotunnel accepted make enhancements to its terminal.
P&O argues that this put its service at a "competitive drawback".
Eurotunnel's case followed the DfT granted agreements worth more than £ 100m in overall to 3 companies – Brittany Ferries, DFDS and Seaborne Freight.
The business were to supply additional capability throughout the Channel in case a no-deal Brexit resulted in blockage at UK ports.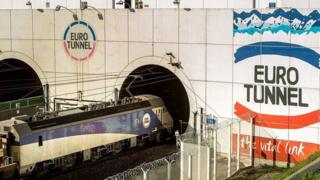 In February, the DfT was required to cancel its agreement with Seaborne, which the BBC discovered had never ever run a ferryboat service.
The federal government was criticised for not having actually run a complete public procurement procedure, and Eurotunnel consequently took legal action against, declaring it had actually never ever been thought about for an agreement, regardless of having formerly run a cross-channel ferryboat service.
The DfT, helmed by Transport Secretary Chris Grayling, settled the claim out of court for £ 33m.
The federal government was eager to tension that the cash would be utilized by Eurotunnel to update its centers in Folkestone, consisting of altering and setting up brand-new scanners traffic routing.
At the time, professionals stated that this arrangement might total up to unlawful state help.
Andrew Dean, from law office Clifford Chance stated it "might be interpreted as another piece of public procurement without transparent and open competitors".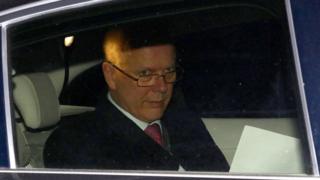 P&O, which did not bid for the initial ferryboat agreements, is now challenging the Eurotunnel settlement.
"We have actually consistently explained throughout years of supplying crucial transportation services in between Britain and the Continent that we more than happy to take on other suppliers on an equal opportunity.
"We likewise totally accept that it was sensible of the federal government to make contingency strategies to safeguard global supply chains in case of a tough Brexit.
"However, we do not think that the payment of £ 33m of public cash to Eurotunnel to settle its legal difficulty to these strategies is affordable or reasonable.
"It is clearly created to be purchased the tunnel's facilities and if left undisputed would put our services at a competitive downside."
A federal government spokesperson stated: "We are positive we acted properly in reaching the arrangement with Eurotunnel."
Read more: https://www.bbc.co.uk/news/business-48063672