Before becoming Labour leader he called 1902 book containing antisemitic tropes brilliant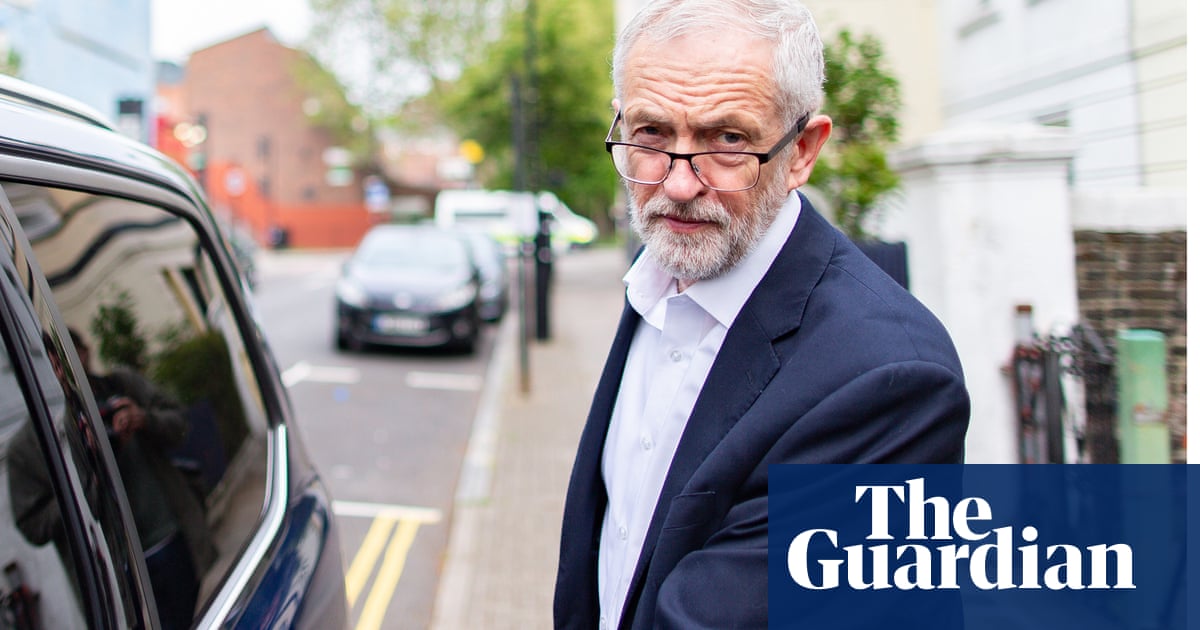 Jewish leaders have written to Jeremy Corbyn to express grave concern and demand an explanation after it emerged he wrote a glowing foreword for a century-old political tract that includes antisemitic tropes.
The book, Imperialism: A Study, written by John Atkinson Hobson in 1902, claimed European finance was controlled by men of a single and particular race. Corbyn described the book as brilliant and very controversial, the Times first reported.
He wrote the foreword when the book was reissued in 2011, four years before becoming Labour leader.
Hobson describes the financial system as controlled by people united by the strongest bonds of organisation, always in closest and quickest touch with one another, situated in the very heart of the business capital of every state, controlled, so far as Europe is concerned, by men of a single and peculiar race, who have behind them many centuries of financial experience, they are in a unique position to control the policy of nations.
In a strongly worded letter, the Board of Deputies of British Jews expressed grave concerns about the emergence of the foreword.
It said an argument expounded in Hobsons book, that journalism and banking were dominated by Jews, was pure and unequivocal racism and there can be no apology for it.
The letter, signed by the boards president, Marie van der Zyl, went on to cite a series of other recent allegations of antisemitism against Corbyn and demanded a full explanation.
Earlier on Wednesday, the shadow business secretary, Rebecca Long-Bailey, defended the Labour leader, insisting he was praising Hobsons wider political arguments, not endorsing every aspect of the book.
He was looking at the political thought within the whole text itself, not the comments that were antisemitic Jeremy vigorously would not support antisemitic statements made by this writer or any writer, she said.
Jeremy was looking at the political thought not comments that were antisemitic. Jeremy is not unlike other politicians who have quoted Hobson in speeches and written pieces about them.
Labour MPs with concerns about Corbyns record seized on the existence of the foreword, which they regard as fresh evidence of the party leader not recognising and opposing antisemitism.
Wes Streeting, the MP for Ilford North, said Corbyn had a responsibility to explain himself, rather than leaving Long-Bailey to answer questions, and advised other shadow ministers to refuse to defend him.
Catherine McKinnell, who has persistently pressed for the party to change its disciplinary processes and tackle complaints of antisemitism more aggressively, responded to Long-Baileys comments by urging Labour to stop excusing antisemitism.
Acknowledge it is a serious problem that goes right to the top, and deal with it, she tweeted. It is destroying our once proud anti-racist party.
Ian Austin, who cited antisemitism claims as a reason for quitting the party in February to sit as an independent MP, said: This is absolutely appalling. Decent people will be sickened to see him describing as brilliant a book by someone who pushed deeply and clearly racist theories about Jewish people controlling banks, newspapers, governments and wars to further their financial interests.
However, Tristram Hunt, another former Labour MP and Corbyn critic, urged caution, describing Hobson as an important figure, worthy of study, notwithstanding his racist and ugly alignment of Jewish finance with imperialism.
Corbyns spokesman said that while the Labour leader absolutely condemned the antisemitism in the book, he did not believe it was wrong to write the foreword, saying the issue had been exaggerated by inaccurate reporting.
The book, the spokesman said, had been praised by other politicians but was clearly a text of its time and its era, adding that it also included racially offensive phraseology about other groups.
Jeremys foreword was talking about the broad ideas around imperialism and Hobsons analysis, and how they applied to today, he said, stressing that the piece in question was a foreword, not an introduction.
Asked if Corbyn should apologise given the worries expressed by the Jewish Labour group and others, the spokesman said some of the blame should be placed on the media.
I would say that its not surprising given the way some of these things are reported, he said. It doesnt just apply to this story, but quite a few others. Its not surprising that people reading that think that Jeremy or other people in the Labour party are saying things that theyre clearly not.
Asked if Corbyn stood by the foreword, the spokesman said he did, adding: It was fine to write a foreword to Hobsons Imperialism and to talk about the big issues it raised.
Read more: https://www.theguardian.com/news/2019/may/01/jeremy-corbyn-rejects-antisemitism-claim-over-book-foreword