Alexandre Lacazette scored two and Pierre-Emerick Aubameyang a crucial late third as Arsenal came from behind to beat Valencia 3-1 in their Europa League semi-final first leg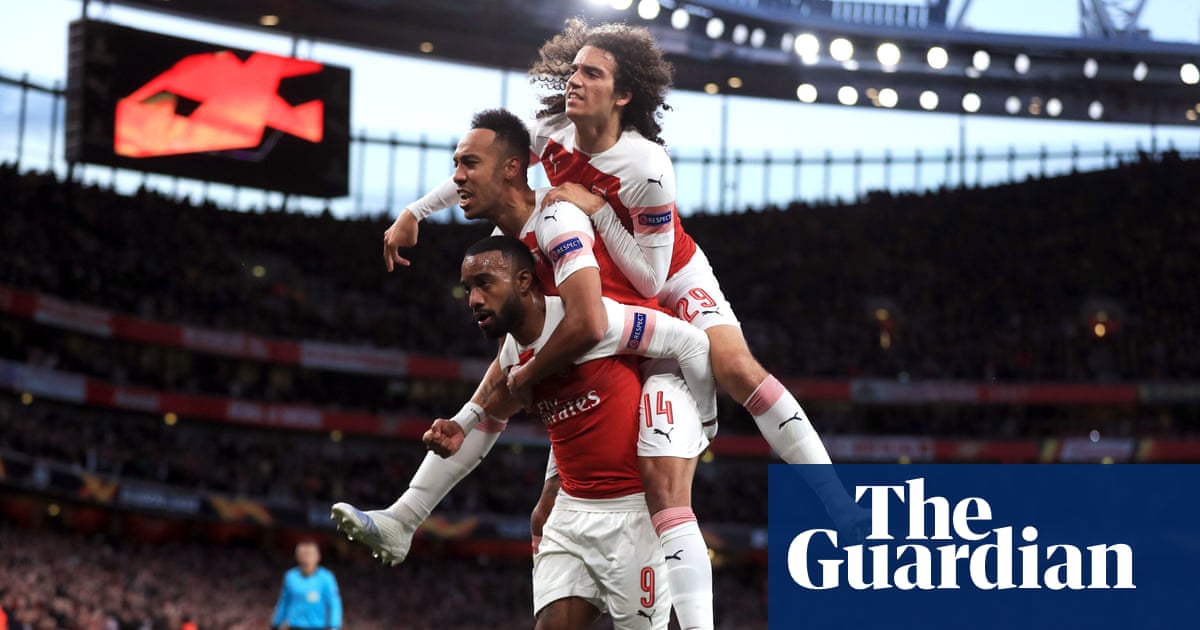 What a difference a week makes. Arsenal rediscovered their verve to give themselves a tantalising chance of reaching the Europa League final in Baku at the end of May. Attack has to be their best form of defence and their two shining lights up front delivered to give them a 3-1 advantage to take to the Mestalla next week.
What a difference a late goal makes, too. Going into stoppage time they were entitled to feel fretful about a 2-1 lead, a scoreline that felt fraught with danger going into an away leg. One last push delivered the extra helping they require to travel to Spain with more confidence.
Arsenals mission for this season was always about getting back into the Champions League by any means possible and, after a dismal week spent stumbling through three Premier League defeats with no redeeming features, Europe arrived with an extra frisson of pressure and possibility.
If recent tumbles taught Arsenal anything it is that they may as well throw caution to the attacking winds because, well, they certainly cannot rely on trying to be cautious. This game offered evidence that defensive shakiness lingered, but also that their main attacking weapons can do damage. Alexandre Lacazette scored twice and Pierre-Emerick Aubameyangs late addition changed the complexion of the tie enough for Valencias coach Marcelino to lament how it was a shame his team could not hang on to a more promising position. They have two very good strikers, I dont know how many millions of euros they cost, he said. If you make even the slightest mistake at this level players like that can take advantage of that.
Unai Emery has spent the majority of this Europa League knockout stage glued to his view that any situation feels like 50/50 and this is no different. His wariness is understandable, though, considering how Valencia had enough moments of their own to worry Arsenals defence.
They had already caused one major scare before they plundered their away goal in the 11th minute. Daniel Parejos driven corner caused aerial woe. First Sokratis Papastathopoulos was beaten by Rodrigo, and even though Mouctar Diakhaby was outnumbered as the ball came across, no prizes for guessing who showed the most single minded determination to meet the ball. Diakhaby gleefully nodded in.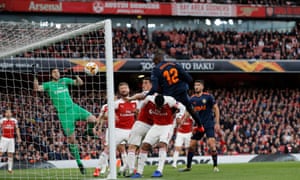 Read more: https://www.theguardian.com/football/2019/may/02/arsenal-valencia-europa-league-semi-final-match-report