California saw significant shifts in population last year as thousands of residents were displaced from their homes by record-breaking wildfires, per a government report.
The state's Department of Finance released a population report Wednesday showing what it called "dramatic changes caused by… catastrophic wildfires."
The November Camp fire in Northern California, which leveled almost the entire rural town of Paradise, destroyed almost 90% of the town's houses and displaced 83% of its residents, per the report. It was the most destructive wildfire in state history, tearing through nearly 14,000 homes, and was also the state's deadliest fire ever, killing 85 people.
Most of those who fled the Camp fire went to nearby cities of Oroville and Chico, a small college town which saw its population balloon by 20% in one year alone, from around 93,000 people in early 2018 to over 112,000 people in January 2019, per the report.
"If anyone is wondering if climate change is real, come to California," Democratic Governor Gavin Newsom said at a press conference last month, speaking on the threat of wildfires in the state and what his government is doing to prevent it.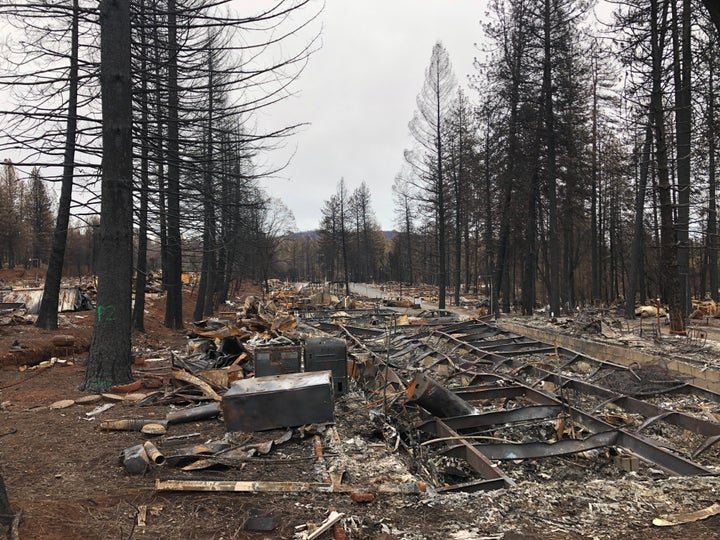 Finding a new place to live after a massive wildfire like the Camp fire is no easy task. Plagued by Northern California's affordable housing crisis, Butte County's vacancy rate for rentals was already low before the fire, about 1 to 2%. After the fire, the available housing stock shrunk even further, making it feel nearly impossible for those who lost homes to find an affordable place nearby.
In February, months after the blaze, some survivors were living in homeless shelters. Other survivors were doubled up with friends or living in trailers on others' property.
In the wake of the fires, the town's water was contaminated with cancer-causing benzene, and in a report last month, water officials said "the full extent of the contamination is not yet known." The long, costly process to test and clear the system before water is safe for drinking could take until early 2021. Meanwhile, residents are living on bottled water and water tank deliveries.
Read more: https://www.huffpost.com/entry/california-wildfires-displaced-population_n_5ccb28a8e4b0d1239550322f