A year after Trump pulled US out of 2015 agreement, Tehran takes reciprocal measures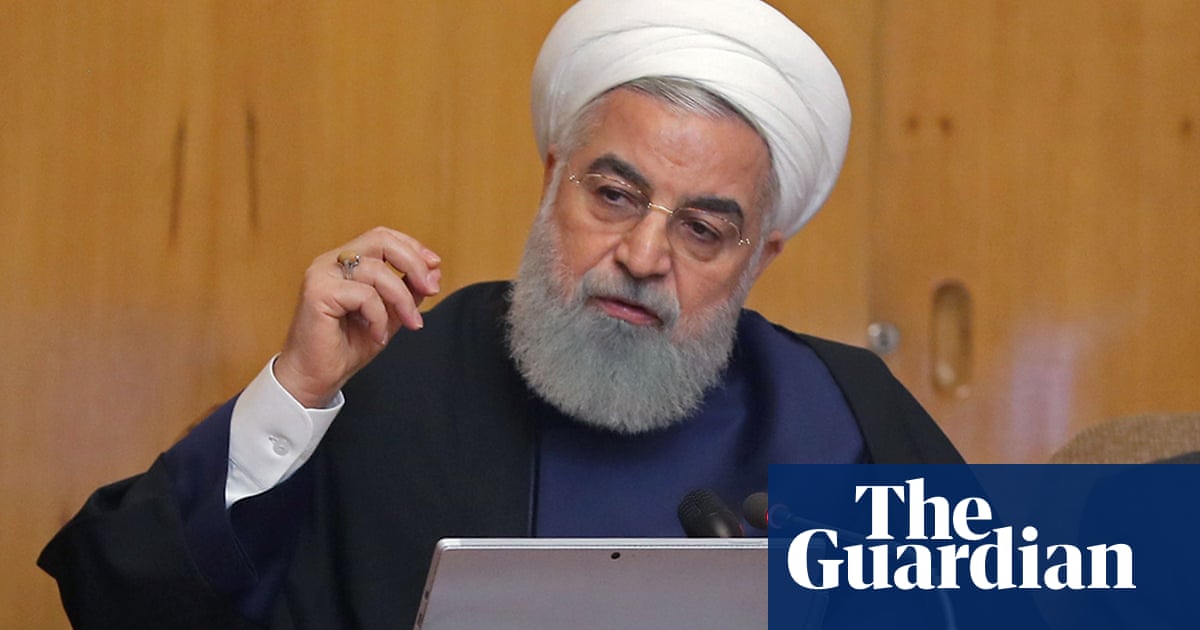 Iran has announced its partial withdrawal from the nuclear deal signed with world powers in 2015, a year after Donald Trump pulled out of the agreement.
President Hassan Rouhani said Tehran will stop exporting enriched uranium stocks as stipulated by the 2015 agreement and warned it would resume higher uranium enrichment in 60 days if the remaining signatories did not make good on promises to shield its oil and banking sectors from sanctions.
Wednesdays measures, announced by Rouhani in an address to the nation, were formally conveyed to ambassadors to countries remaining inside the deal France, Britain, Germany, China and Russia. The Iranian foreign minister, Mohammad Javad Zarif, separately set out the technical and legal details in a letter to the EU foreign affairs chief, Federica Mogherini.
Under the deal, Iran is required to sell its surplus enriched uranium abroad, rather than keep it, thereby allowing it to generate nuclear power without building nuclear weapons.
Rouhani said Iran wanted to negotiate new terms with the remaining partners in the deal, but warned that the situation was dire. We felt that the nuclear deal needs a surgery and the painkiller pills of the last year have been ineffective This surgery is for saving the deal, not destroying it.
The move is bound to be seized upon by Washington as proof that the nuclear deal which the US violated in May 2018 has collapsed and is no longer worth pursuing.
EU officials were informed privately of the extent of Irans response at a meeting on Tuesday. On Tuesday night, a French source warned that Europe would have no choice but to impose economic sanctions against Iran if it stepped back from the deal. We dont want that and we hope that the Iranians will not make this decision, the source said.
Rouhani has been under intense domestic political pressure to produce some kind of counter-measure following the US withdrawal.
Tehran has lost patience with Europes efforts to create a new viable financial mechanism that would allow European firms to continue trading items such as medicines and humanitarian goods with Iran and circumvent US secondary sanctions.
Zarif separately issued his own warning from Moscow, where has been meeting his Russian counterpart Sergei Lavrov. After a year of patience, Iran stops measures that [the] US has made impossible to continue, he tweeted. World powers have a narrowing window to reverse this.
The Trump administration has repeatedly warned European multinationals they will face swingeing US Treasury fines if they trade with Iran and try to operate in the US market. Almost all large European firms have withdrawn from the Iranian market, depressing the economy still further.
Under its policy of maximum pressure, Washington has extended sweeping sanctions on Tehran and in recent weeks has hit even harder, moving to ban all countries from buying Irans oil, its top export, and declaring the Revolutionary Guards to be a terrorist group the first such designation of a unit of a foreign government.
UN inspectors say Iran has remained in compliance with the nuclear deal, which is still backed by European powers as well as Democrats seeking to unseat Trump next year.
Iran will claim its announcement falls within sections 26 and 36 of the JCPOA, the deal signed in 2015, which allows Iran to take steps if one party withdraws from the agreement.
The US secretary of state, Mike Pompeo, is bound to seize on Tehrans move as a lever with which to prise Europe away from its support for the deal, which was seen as a high-water mark of European diplomacy. Pompeo has been in Iraq this week on an unscheduled visit, where he has been warning about unspecified Iranian activity.
European diplomats are left to manage an often contradictory Washington foreign policy, but broadly fear that the US national security adviser, John Bolton, is pursuing a strategy of regime change in Iran that will only backfire, ushering in a more hardline stance.
The Kremlin said Iran had been provoked into rolling back some of the terms of the deal due to external pressure, which it blamed on the US. President [Putin] has repeatedly spoken of the consequences of unthought-out steps regarding Iran and by that I mean the decision taken by Washington [to quit the deal]. Now we are seeing those consequences are starting to happen, the Kremlin spokesman Dmitry Peskov told reporters.
Israels prime minister, Benjamin Netanyahu, reiterated his countrys long-held position of not allowing Iran to obtain nuclear weapons.
This morning, on my way here, I heard that Iran intends to pursue its nuclear programme, he said in a speech marking Israels Memorial Day. We will not allow Iran to achieve nuclear weaponry. We will continue to fight those who would kill us.
In Britain, interim Middle East minister Mark Field said the Iranian announcement was unwelcome, but added we are not at this stage talking of reimposing sanctions. That would change if Iran clearly abandoned its obligations under the deal, he said, adding that an official would travel to Tehran this week to continue dialogue.
Read more: https://www.theguardian.com/world/2019/may/07/iran-to-announces-partial-withdrawal-from-nuclear-deal