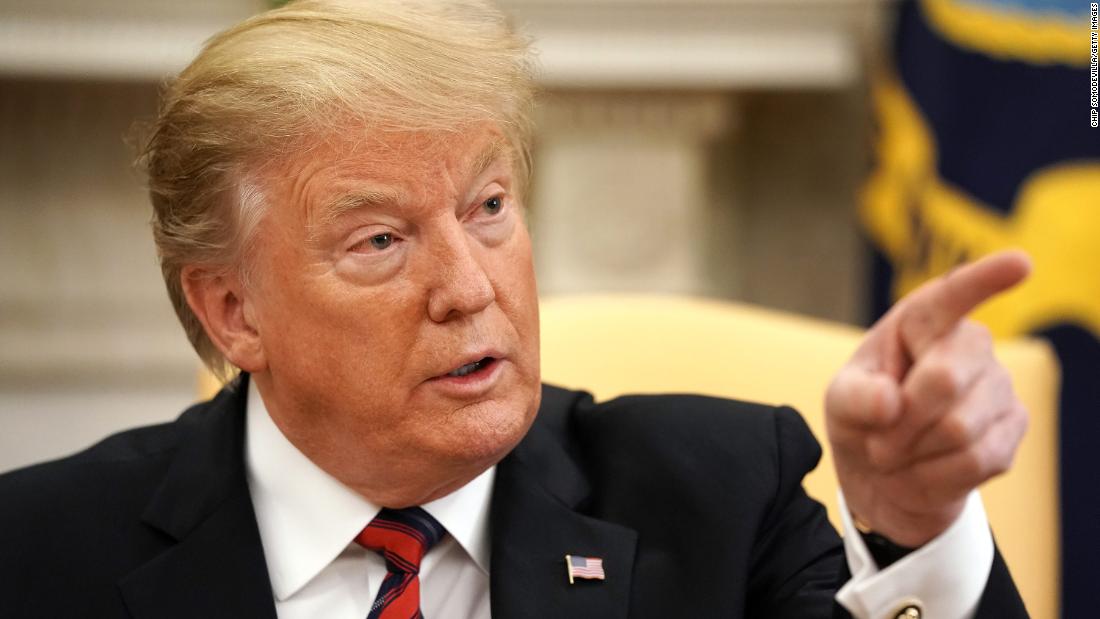 (CNN)Our system of checks and balances is out of balance. Over the past several months, President Donald Trump and the White House have taken a blunt — but thus far effective — tack in response to efforts by Congress to exercise its core constitutional oversight authority: You'll get nothing, and you'll like it.
Members of Congress have expressed frustration with the executive branch's stonewalling. But, until now, they have taken little action and achieved no measurable results in their efforts to obtain crucial information on important issues, including the findings of Special Counsel Robert Mueller.
Now Trump has raised the ante by asserting executive privilege over the entire unredacted Mueller report, trying to keep private the materials that Democrats have subpoenaed. This comes as the House Judiciary Committee is scheduled to proceed with a vote to hold Attorney General William Barr in contempt on Wednesday for refusing to comply with the committee's subpoena.
With Wednesday's vote, Congress has begun to fight back and stand up for itself.
This vote matters on two levels. First, a contempt holding against the Attorney General is (or should be) an important symbolic statement. The Attorney General is responsible for enforcing the nation's laws, yet Congress is asserting that Barr defied his lawful exercise of oversight authority.
Second, today's contempt vote signals the end of months' worth of legal and political posturing. The real fight begins now.
Second, Congress can refer a matter for criminal contempt proceedings. The problem is that referral would go to the Justice Department, headed by Barr himself — so don't count on the Justice Department jumping into action.
Third, Congress can take the issue to court, which appears to be the next step here. But civil court proceedings typically take months, if not years. (Congress should consider requesting that one judge be appointed a special master to handle the expected glut of legal disputes between Congress and the executive branch in expedited fashion.)
Until now, Congress and the White House have been circling one another menacingly. With today's contempt vote, the bell has rung. The real fight is about to begin, and the stakes couldn't be higher.
Now, your questions.
Trump's executive privilege argument is likely to fail on three levels. First, Trump already has waived it by allowing McGahn to speak with Mueller in the first place. In most circumstances, once a privilege has been waived, the privilege is gone and cannot be reclaimed.
Trump's team will fight like mad — clearly, they fear McGahn's testimony — but do not expect them to succeed in the effort to silence McGahn. The problem for Democrats is that the court fight could take months, or years, to play out.
Legally, there is nothing to prevent a president from resigning on his last day in office and receiving a pardon from a vice president who ascends (barring some illicit arrangement, such as bribery). But such a move is exceedingly unlikely because of the political and historical stain it would leave on the legacy of both individuals.
Weighing against such a case is that when the meeting happened, the promised "dirt" on Clinton wasn't provided. Generally, ignorance of the law is no defense to a crime. However, prosecutors must show that a defendant acted with requisite criminal intent, which varies depending on the crime. Campaign finance violations are unusual, requiring a "willful" act. As Mueller explains in the report, citing case law: "A willful violation will require some 'proof of the defendant's knowledge of the law.' "
The prosecutor need not show that the defendant was expert in campaign finance law or knew every nuance. Rather, the prosecutor must show that the defendant "had general knowledge that his conduct was unlawful." Mueller concludes that "the government would unlikely be able to prove beyond a reasonable doubt that the June 9 meeting participants had general knowledge that their conduct was unlawful."
1. Will the House and Robert Mueller agree to a date and terms under which Mueller will testify, despite the President's objection?
2. Now that Treasury Secretary Steve Mnuchin has refused the House's request for Trump's tax returns, will the House hold Mnuchin in contempt and bring a legal challenge to court?
3. Will the House seek to compel testimony from Barr after he skipped out on the originally scheduled date, purportedly because he did not want to face questioning from staff attorneys?
Read more: https://www.cnn.com/2019/05/08/opinions/cross-exam-congress-trump-raise-ante-opinion-honig/index.html