Lilium says electric jet-powered five-seater aircraft could be in service by 2025
A new flying taxi has been unveiled by German start-up Lilium, which claims the vertical take-off craft could be the basis for an on-demand air service within six years.
The electric jet-powered five-seater aircraft is designed to travel up to 300km, a journey that would take it an hour at top speed.
While a smaller version of its novel plane flew in 2017, Lilium said that the maiden flight of a full-scale prototype earlier this month a brief, remote-controlled test hover in Munich was a huge step.
The firm, which has attracted more than 100m (87m) in investment since its founding in 2015, has set a target of offering Uber-style, app-based air taxis in multiple cities by 2025.
The latest iteration, with room for a pilot and four passengers, will be the template for Liliums mass production model. With sufficient economy of scale, Lilium believes fares would be around $70 (55) per head for a cross-city hop from, for example, JFK airport to Manhattan.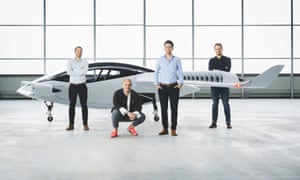 Read more: https://www.theguardian.com/science/2019/may/16/electric-flying-taxi-prototype-unveiled-by-german-start-up