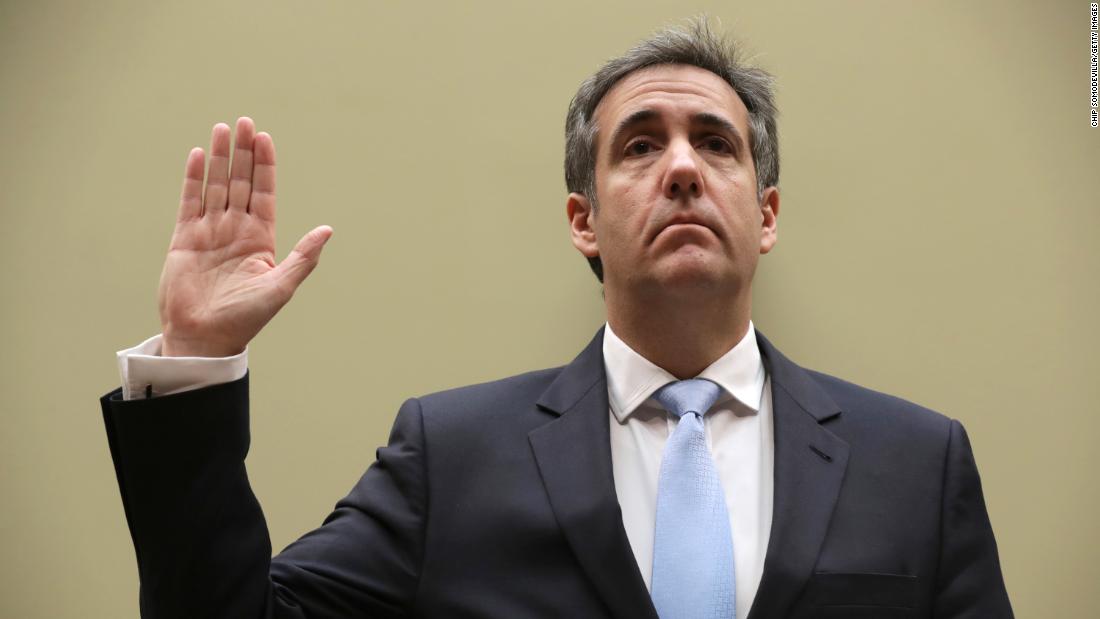 (CNN)President Donald Trump's former personal lawyer Michael Cohen alleges that the President's attorney Jay Sekulow knew that Cohen's claim to Congress that the Trump Tower Moscow project ended in January 2016 was false, Cohen told the House Intelligence Committee in March.
"Just to be perfectly clear about this, the statement about the Trump Tower negotiations ending in January that was part of your original draft was false, and Mr. Sekulow knew that it was false?" asked Committee Chairman Adam Schiff, a California Democrat, according to the transcript.
"Yes, sir," Cohen answered.
Cohen said it was Sekulow who was the one who decided to pick January 2016 as when they stopped working on Trump Tower Moscow.
Sekulow's attorneys said in a statement Monday that Cohen was trying to "blame others"
"Michael Cohen's alleged statements are more of the same from him and confirm the observations of prosecutors in the Southern District of New York that Cohen's 'instinct to blame others is strong,'" Jane Serene Raskin and Patrick Strawbridge said the statement. "That this or any Committee would rely on the word of Michael Cohen for any purpose — much less to try and pierce the attorney-client privilege and discover confidential communications of four respected lawyers — defies logic, well-established law and common sense."
The panel released the transcripts following a committee vote on Monday to make public the two days' worth of interviews with Cohen. The vote was 12-7.
Cohen appeared behind closed doors before the committee in February and March, testifying about his work
on the Trump Tower Moscow project,
as well as how he prepared for his congressional testimony in 2017, in which he lied about how long negotiations for the project extended into the 2016 presidential campaign.
Democrats have pointed to Cohen's testimony as a need to further investigate the President, his businesses and his team. House Oversight Chairman Elijah Cummings, a Maryland Democrat, issued a subpoena to obtain Trump's financial statements prepared by accounting firm Mazars USA —
which is currently being fought in court
by Trump and the Trump Organization — while House Intelligence Chairman Adam Schiff, a California Democrat,
is now probing how Trump team lawyers
helped Cohen prepare for his 2017 testimony.
Cohen appeared before the House Intelligence Committee as part Schiff's wide-ranging investigation into the President's finances and possible Russian collusion. The committee hasn't conducted additional interviews though as it has turned its attention to obtaining the special counsel Robert Mueller's counterintelligence information.
The Justice Department did not comply with the committee's subpoena to provide the information last week, and Schiff said he will take an
unspecified "enforcement action" against
the Justice Department in response.
Cohen's 2017 testimony before the House Intelligence Committee has not yet been released. The committee voted in the last Congress to release transcripts of its interviews with Cohen and more than 50 other officials who were interviewed as part of the panel's Republican-led investigation into Russian election interference.
Those transcripts have yet to be released publicly, as they were sent to the intelligence community for a declassification review.
This story has been updated with additional developments Monday.
Read more: https://www.cnn.com/2019/05/20/politics/michael-cohen-transcript-released/index.html