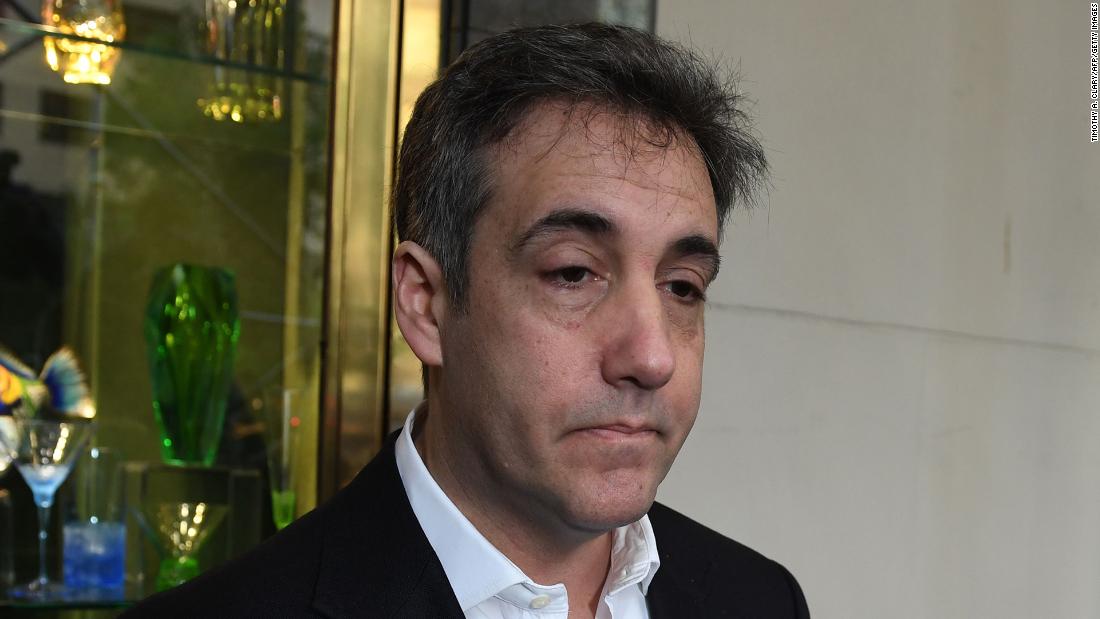 (CNN)Michael Cohen was nervous about his new life behind bars. President Donald Trump's former fixer turned star government witness was worried that inmates who supported Trump might bring trouble when he arrived at the Otisville Federal Correctional Institution last month.
"He's pleasantly surprised that everyone has been very cordial and have actually been coming up offering him advice about prison life and offering him to come eat lunch with them," a source close to Cohen said.
Inmates have approached Cohen asking him for legal advice and wanting to spend downtime with him. They've quizzed Cohen about what it was like working for Trump and about the payments to actress Stormy Daniels, a second source says.
Another source says Cohen is working out every day, including playing tennis, and has lost 20 pounds. That source says Cohen is being "flooded" with letters of support. "The mail is unbelievable," that source told CNN.
Cohen is "more relaxed than he has ever been," the source said, adding that Cohen is also working on writing a book.
"People thought he would be elitist and entitled," the source said. "He's friends with the entire place and they love him."
Thursday marks one month since Cohen entered prison to begin serving a three-year sentence for tax fraud, making false statements to Congress and violating campaign finance laws for facilitating hush money payments to Daniels as well as Playboy model Karen McDougal to silence their allegations of past affairs with Trump. (Trump has denied the affairs.)
The Daily Beast previously reported on Cohen's treatment in prison.
Cohen is trying to keep busy as he navigates life behind bars.
"He's making the best of it," one friend of Cohen's told CNN. "He's holding up, trying to stay positive, and stay as busy as possible," another source close to Cohen added.
It's a dramatic change from his Park Avenue lifestyle. Before, Cohen frequented fine restaurants, held court at the Regency Hotel, and once took pride in being Trump's fixer. Now, he's muddling through terrible meals and has become Mr Fix-It — his job is working on the prison's heating, ventilation and air conditioning systems, according to a source.
Cohen's family has visited him frequently but the distance has been the hardest adjustment for the father of two children. "Even though they come and visit him frequently he misses his family terribly," a source close to Cohen said. Cohen asked to serve his time at Otisville, a prison that caters to Jewish inmates by offering kosher meals and weekly Shabbat services and is located about 70 miles northwest of New York City.
Others have had a harder time gaining access to the facility to see Cohen, who was given inmate number 86067-054. Media organizations are clamoring to interview him. There have been challenges for even his lawyers, Lanny Davis and David Schwartz, to visit.
"I have spoken with him several times over the phone and plan to visit him within the next two weeks," Davis said. "He is in relatively good spirits considering the circumstances. He is the one cheering me up when I talk to him, asking how I'm doing, not the other way around. That's classic Michael Cohen."
He's also getting involved with various programs, including one involving construction, to take advantage of different ways he could gain credit for early release, according to the friend of Cohen's. Cohen is due to be released in December 2021, a year after the next presidential election.
"He's doing everything to get through the experience and he's going to make the most of it," said the friend, who speaks with Cohen frequently.
Cohen has been reading, writing, and working out at the gym to keep busy, these sources say. He is still dealing with some legal issues. In March Cohen sued the Trump Organization seeking $1.9 million in legal fees and he has said he would remain available for Congress and other investigators if needed.
While the prison walls have zapped his freedom, it has also been a unlikely respite from the chaos and "tremendous pressure" of the past 18 months, a friend of Cohen's said. Media cameras were parked outside of his home. Trump was tweeting negatively about him and his family.
Some of the tweets Cohen felt were threatening. In January, Trump tweeted, "Don't forget, Michael Cohen has already been convicted of perjury and fraud." He added, "Lying to reduce his jail time! Watch father-in-law!"
But although he has publicly taken responsibility for his crimes, one weight Cohen can't shake is that he is the only person to go to prison for the hush money payment scheme.
Cohen implicated Trump as having directed him to make the payments and prosecutors identified the president as "Individual 1" in court filings. Others intimately involved in the scheme have not faced charges. Alan Weisselberg, the chief financial officer at Trump Organization who signed some of the reimbursement checks, and David Pecker, the chief executive of American Media, which paid off McDougal for her story, were given immunity for their cooperation.
"He has told people he can't believe out of everyone involved he's the only one in prison right now," one source said.
This story has been updated to note The Daily Beast's earlier reporting on Cohen's prison life.
Read more: https://www.cnn.com/2019/06/06/politics/michael-cohen-jail-otisville/index.html