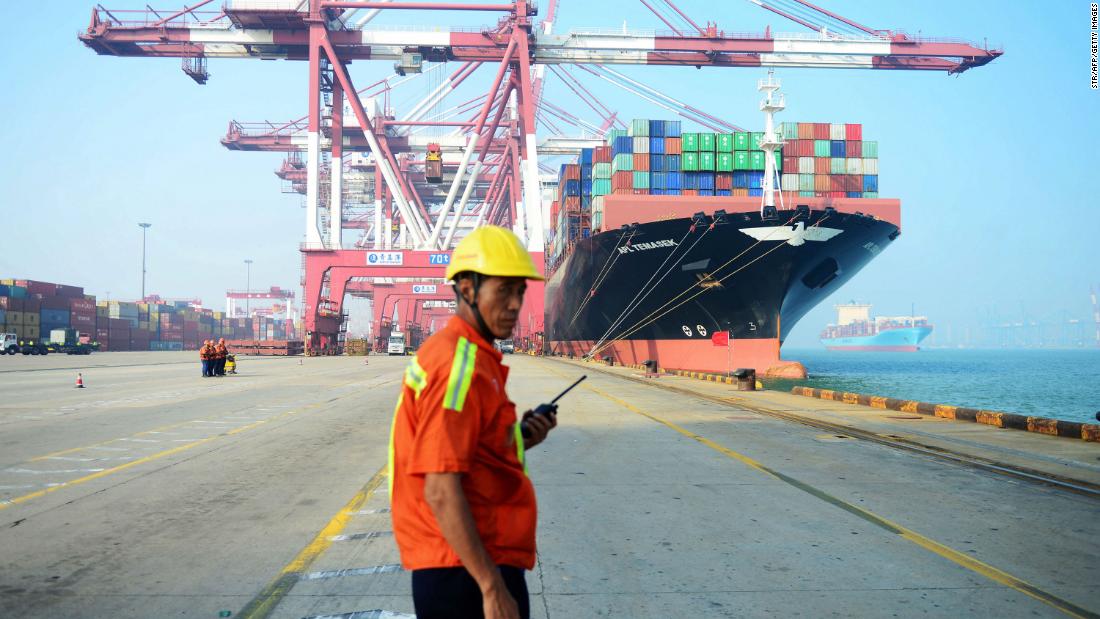 (CNN)The Chinese government is ramping up efforts to apply pressure on the United States beyond imposing punitive economic measures as trade negotiations between the two countries remain deadlocked.
The blows to diplomatic relations between the two countries follow the collapse of trade talks last month. Trade negotiations have been indefinitely suspended since
President Donald Trump
escalated tariffs on all Chinese imports
over Beijing's failure to keep previously held commitments as part of a trade deal. China has responded with its own set of penalties on US goods, which went into effect last week.
The first litmus test of whether the two countries can resume talks will come this weekend, when Treasury Secretary Steven Mnuchin heads to the Group of 20 economic summit in Japan. So far, the Trump administration has been reluctant to commit to whether Mnuchin will meet with his Chinese counterpart, Vice Premier Liu He, on the sidelines of the summit.
"We anticipate we will see the Chinese delegation, but we have nothing to confirm at this time," a senior Treasury official told reporters this week.
Among the bilateral meetings Trump's top finance chief will hold while in Fukuoka are those with the finance ministers of Japan, Germany, France and Italy along with the People's Bank of China Governor Yi Gang.
On Thursday, Trump threatened to continue to apply more pressure on China in the form of tariffs on an additional $300 billion in goods from Beijing if talks don't yield progress.
"I can go up another at least $300 billion and I'll do that at the right time," the President told reporters at the Shannon airport in Ireland en route to France. "I think China wants to make a deal badly."
For its part, Beijing has also signaled it "would not bow under pressure" to the United States, especially on key issues tied to the country's sovereignty, according to a government policy report on trade issues released Sunday. China has pinned blame for the latest trade stalemate on the United States, saying it was acting as a bully.
The government document also accused the White House's "America First" strategy of undermining the global economy, while it left the door open to return to the table for talks. "China is open to negotiations, but will also fight to the end if needed," the report stated.
Trade will be among the top priorities discussed at this weekend's meeting of finance ministers and central bankers, who are likely to caution that the negative impact from multiple trade spats sparked by the Trump administration could jeopardize global growth.
The escalating trade risks prompted Federal Reserve Chairman Jerome Powell on Tuesday to assure investors that policy makers are keeping a watchful eye on trade tensions.
"We do not know how or when these trade issues will be resolved," said Powell, speaking at a conference hosted by the Chicago Federal Reserve Bank. He added that central bankers will take "appropriate" steps to maintain the US economy's expansion amid the multiple trade spats and are monitoring closely.
On Monday, China's Education Ministry alerted potential students and scholars the US was delaying visas or outright rejecting applications to study. The next day Beijing issued a separate advisory warning it had received many complaints that US law enforcement agencies were interrogating Chinese citizens who were entering and leaving the country.
The country's tourism office also cautioned citizens they could be putting their safety at risk, pointing to frequent "shootings, robberies and thefts."
Tuesday's flurry of advisories came on the anniversary of a deadly 1989 crackdown on pro-democracy demonstrators in Tiananmen Square, sparking a sharp diplomatic exchange between the two countries' top diplomats.
In a statement, Secretary of State Mike Pompeo called on the Chinese government to make a "full, public accounting" of the incident, while saluting the "heroes of the Chinese people who bravely stood up 30 years ago."
The remarks by the top US diplomat sparked an immediate backlash from Beijing, which described them as "prejudice and arrogance."
"Under the pretext of human rights, the statement grossly intervenes in China's internal affairs, attacks its system, and smears its domestic and foreign policy," said a spokesman for the US Chinese Embassy in a statement. "The Chinese side expresses its strong dissatisfaction and firm opposition to it."
Read more: https://www.cnn.com/2019/06/06/politics/china-trade-war-us-pressure/index.html