German chancellor will travel to G20 despite visibly shaking at public event in Berlin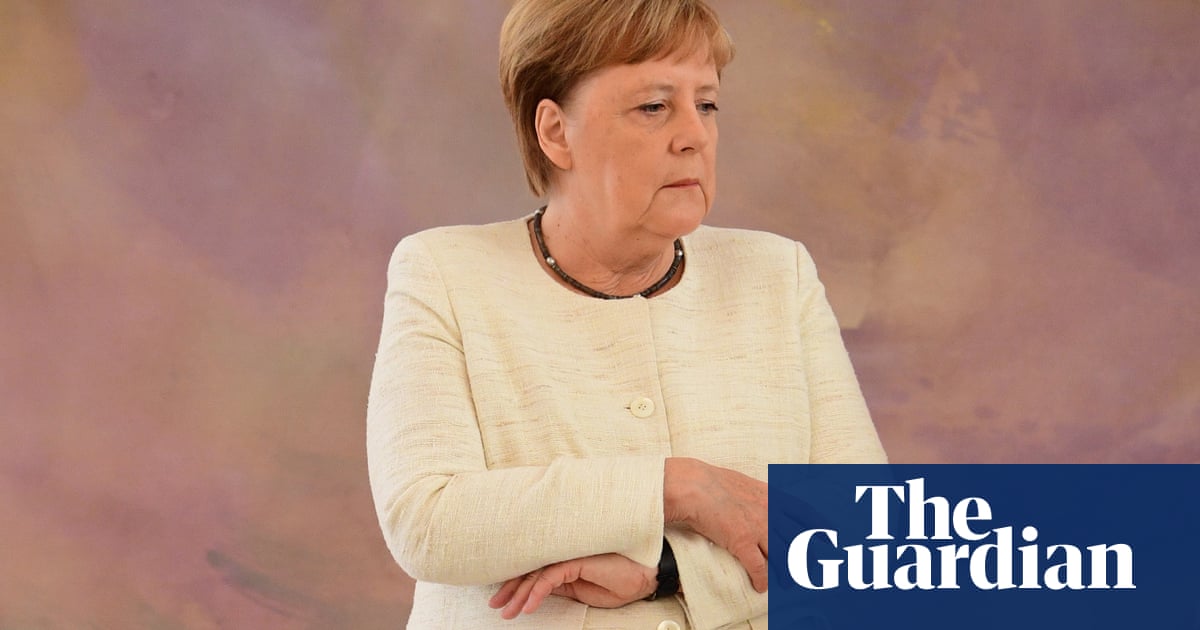 Angela Merkel has travelled to the G20 summit in Japan, despite experiencing a second bout of shaking in just over a week at a public event, her spokesperson has said.
Everything is going ahead as planned, Steffen Seibert told German media. The chancellor is doing fine.
Merkel could be seen shaking as she met the German president, Frank-Walter Steinmeier, at Bellevue Palace in Berlin on Thursday morning. Footage showed Merkel being offered a glass of water, which she declined with a shake of her head.
A photographer for the German news agency dpa said the politician looked better after she began to move again.
Merkel, 64, was attending an event marking the departure of the justice minister, Katarina Barley, who is leaving to become an MEP, and the swearing-in of her replacement, Christine Lambrecht, also of the Social Democratic party.
The chancellors plane to Osaka took off from Berlins Tegel airport at 1.17pm CET. Over the course of a packed three-day summit, Merkel will be taking part in talks on free trade, climate change and regulation around artificial intelligence, as well as seeking bilateral talks with French president Emmanuel Macron about the vacant role of the new European Commission president.
On 18 June Merkel was seen shaking during military honours for the visiting Ukrainian president, Volodymyr Zelenskiy. She later appeared to blame dehydration, saying she felt better after drinking some water.
The chancellor was also seen shaking during military honours in humid conditions in Mexico City on a visit in 2017.
Germany is in the midst of a heatwave, with temperatures reaching a record 38.6C (101.5F) on Wednesday. Temperatures had been slightly cooler on Thursday morning, with around 17 degrees at 10 am CET.
Apart from annual fixtures like the summer walking holiday with her husband Joachim Sauer and a visit to the Wagner festival in Bayreuth, Merkel has kept a consistent line in separating her public persona from her private life.
In keeping with that line, most German media outlets have reported on Thursdays public event but refrained from speculating in detail about the cause of the shaking bout.
Mass-market tabloid Bild made the moment of shock inside the Bellevue Palace the top story on its website, expressing concerns about our chancellor.
More serious weeklies and broadsheets like Der Spiegel, Sddeutsche Zeitung and Die Welt reported the chancellors dizzy spell but didnt grant the story much prominence in their online offerings.
Others, like taz, Frankfurter Allgemeine Zeitung or Die Zeit did not cover the incident not at all.
Those who try to find political meaning in Merkels shaking, wrote centre-right broadsheet Die Welt last week, distract our attention from her politics, which are hard enough to decode as it is.
Read more: https://www.theguardian.com/world/2019/jun/27/angela-merkel-seen-shaking-second-time-just-over-week-germany