Welcome to the Badwater Ultramarathon: a 135-mile non-stop race over three mountain ranges in sweltering mid-summer desert heat with a vertical ascent of 13,000 feet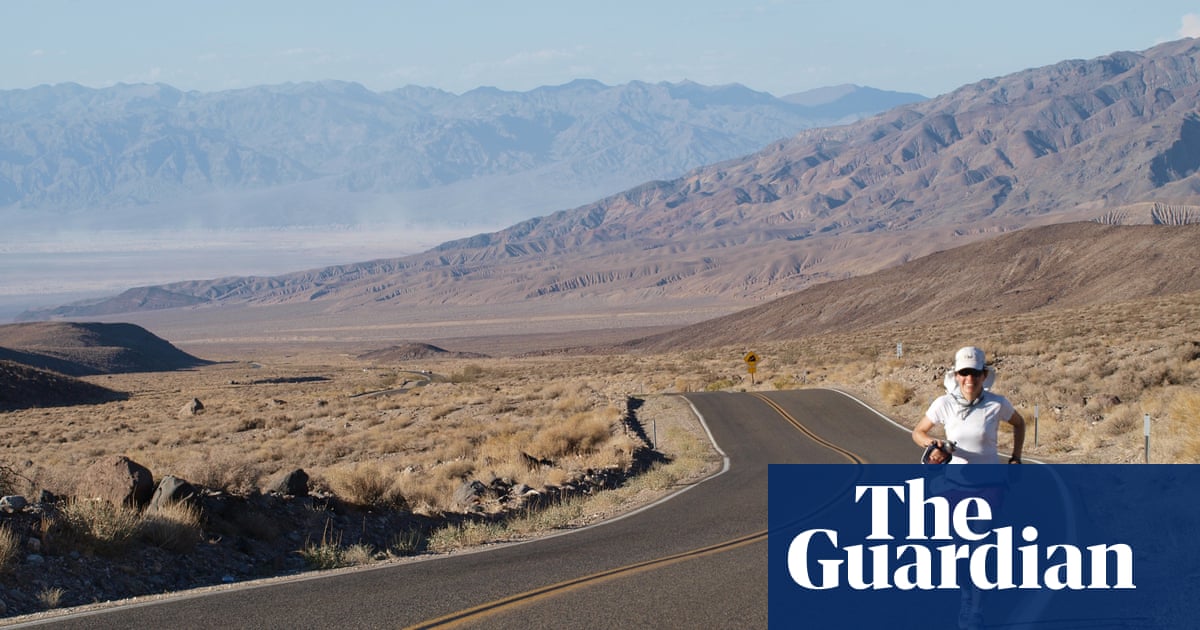 At 9.30pm on 23 July 2018, the second wave of runners lined up at Badwater Basin in Death Valley, 280 feet below sea level. The heat from the day had not cooled and the temperature was 118F (48C), even though the sun had long since gone down. To make matters worse, it was abnormally humid for the California desert. Sixty-two-year-old Pamela Chapman-Markle looked down the line of racers, recognizing about half the competitors from previous years. On a normal day she would be heading to bed in a half hour, and although her heart was racing with anticipation, she was already tired, acutely aware that she was about to miss two nights of sleep.
The starting gun fired and the runners set off on an incline. There would be 14,600ft of cumulative elevation for the runners to climb over the course of the 135-mile race ahead.
Chapman-Markle tried to calm her emotions and steady her heart rate. Five miles in, her throat was already sore from the still drier air, a drastic shift from the 90% humidity she trained in. With no light pollution, she could see the stars clearly, but at 62, her vision at night wasnt as good as it used to be, so she relied on a waist belt to light her path. For the first 20 miles, she passed runners, while others passed by her. Soon though, she wouldnt see anyone for long stretches.
Chapman-Markle would have to run the first 42 miles by herself before her crew could pace her just before daybreak. And even then, her pacers would follow behind her single file and switch off every five miles, returning the cool air conditioning of the car Chapman-Markles husband drove up ahead. Chapman-Markle would have to do with ice. Ice she put down her sports bra, ice she chewed, ice water she drank as she tried to contend with the overwhelming heat.
Last year, Chapman-Markle finished the Badwater 135 Ultramarathon in 34hr 30min, setting a record in the womens 60-plus age group for a third year in a row. Now 63, Chapman-Markle is the oldest female competitor in the race with designs on beating her record yet again. She is one of 95 competitors from 21 countries and 30 states accepted to run the ultramarathon this year.
The 135-mile race, which takes place this year from 15-17 July starting in Death Valley and and ending at Whitney Portal, 8,300ft above sea level, is often referred to as the worlds toughest footrace. Badwater 135 is considered by many ultrarunners to be the crown jewel of ultramarathons, which are defined as anything longer than a marathon. Temperatures climbed as high as 127F (53C) last year, and the asphalt road can get even hotter, causing the road to burn to runners feet. Chapman-Markle had the soles on three pairs of shoes melt last year. The race traverses three valleys and three mountain ranges, and after 122 grueling miles, runners face a steep final ascent to Whitney Portal at an elevation of 8360ft.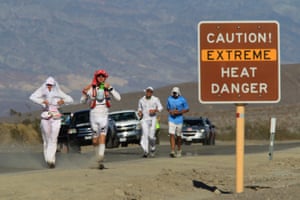 Read more: https://www.theguardian.com/lifeandstyle/2019/jul/12/badwater-ultramarathon