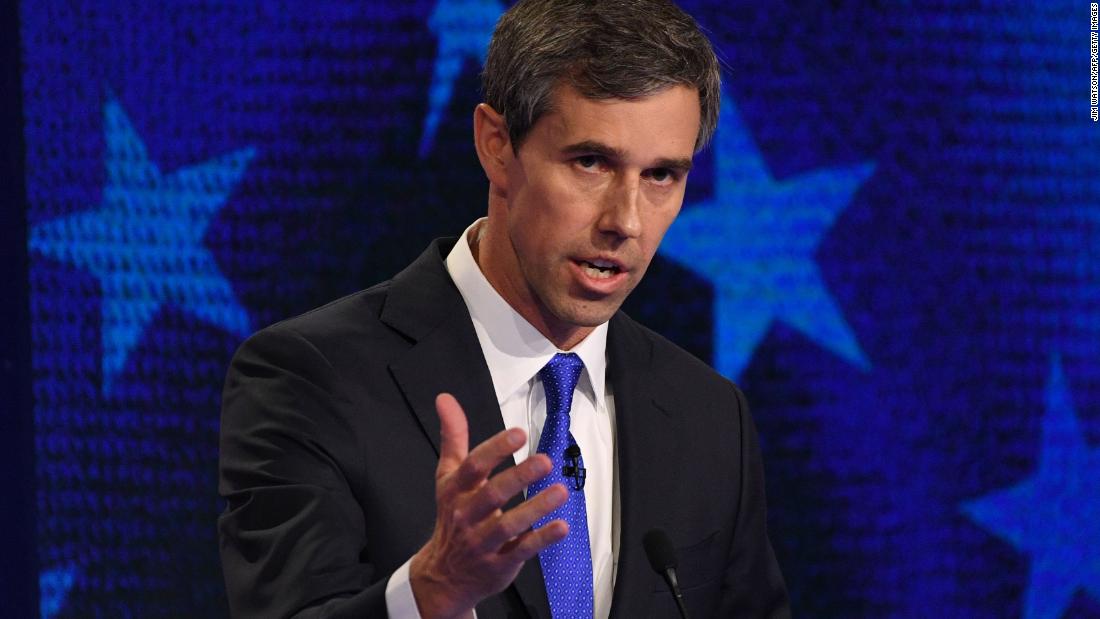 (CNN)The small-dollar fundraising machine Beto O'Rourke expected to power his presidential bid sputtered in 2019's second quarter, with O'Rourke's $3.6 million haul falling short of the torrid pace he'd set in the early days of his campaign.
And for a candidate whose promise hinged in part on his ability to raise vast sums of money — and whose El Paso headquarters is still expanding, with new senior staffers joining in recent weeks — the second-quarter total showed how far he had fallen from the top tier of Democratic candidates.
Another worrying sign for O'Rourke's campaign: His fundraising didn't keep up with his spending. O'Rourke spent $5.3 million in the second quarter, leaving him with $5.2 million in the bank.
In an email to supporters Monday night, O'Rourke campaign manager Jen O'Malley Dillon was blunt in acknowledging his fundraising needed to increase over the next three months.
"We have the resources we need to be in this for the long haul, but if we don't raise more this quarter, we'll have no choice but to make some adjustments," O'Malley Dillon wrote.
In an interview Monday night, O'Malley Dillon told CNN that part of the reason O'Rourke's fundraising has lagged was that he missed the opportunity to capitalize on the energy that existed around the launch of his presidential campaign.
O'Rourke entered the race focused on small, in-person events, believing he would have time to build his operation slowly over a period of months, as he had in the Senate race. That, she said, left him with a small staff at his El Paso headquarters that couldn't seize on the momentum of a first day in which he raised $6 million and commanded national media attention.
"I think he actually thought he could do it similar to how he got started in the Senate race, so that he was respecting Iowa, he was out there with voters, he was out there doing the work," said O'Malley Dillon, who joined O'Rourke's campaign after he'd launched.
That approach, she said, didn't translate to a field with more than 20 candidates competing for attention — eventually forcing O'Rourke to adjust his tactics.
"That's the part that I think took a little bit of time to work through — that in order to actually have the conversation with Iowans, you have to come at it from a national perspective," she said.
O'Rourke entered the 2020 Democratic race a fundraising dynamo, having shattered records for Senate races with his $80 million haul in his narrow loss to Sen. Ted Cruz last year — all while rejecting money from political action committees.
And early on, it looked like he might be able to use the email list he'd built in 2018 to continue that pace as a presidential contender. He
raised $6 million
in his first day in the race, topping Vermont Sen. Bernie Sanders and nearly matching former Vice President Joe Biden. In 2019's first quarter — in which O'Rourke spent only 18 days in the race — he raised $9.4 million.
But O'Rourke turned in a listless first Democratic debate in June, in which he was attacked by fellow Texan Julián Castro and New York City Mayor Bill de Blasio but did not respond forcefully.
And his poll numbers have steadily dropped, with South Bend Mayor Pete Buttigieg, Massachusetts Sen. Elizabeth Warren and California Sen. Kamala Harris all climbing the polls and winning over supporters O'Rourke needed.
Those three, as well as Sanders and Biden, all raised more than $10 million in the second quarter. O'Rourke, meanwhile, fell behind New Jersey Sen. Cory Booker, who raised $4.5 million, and Minnesota Sen. Amy Klobuchar, who raised $3.9 million.
Still, his aides insist there are reasons for optimism — starting with the large crowds he still draws, such as 1,000 people in Nashville the day after the debate performance that had been panned by pundits, and his strong organization in the early states, including an Iowa operation that added 11 staffers on Monday.
O'Rourke in recent days has hired a new national finance director, Dan Sorenson, whose job will be to increase his fundraising totals in the coming months.
And his campaign said Monday he's crossed the Democratic National Committee's 130,000-donor threshold to qualify for the debate stage in September, when higher minimum qualifications could mean some of the party's candidates are left off the stage.
O'Rourke's numbers also suggest that — if the kind of viral moment that powered his Senate run comes, or his campaign's organizing efforts lead to a climb in the polls — he'll be able to return to his 193,000 donors to date for more: 99.7% of his donors have not yet given the maximum amount allowed. And one-third of the donors gave to him for the first time — as a presidential or Senate candidate — in the second quarter.
"I've been here before. Hell, if I had a dollar for every time I was on a campaign that seemed left for dead, I'd probably exceed our average contribution. Polls come and go, debates … happen, but at the end of the day, none of that BS matters," O'Malley Dillon wrote in the email to supporters.
She added: "This is a campaign with a real energy, real growth, and a real shot at winning the primary."
Read more: https://www.cnn.com/2019/07/15/politics/beto-orourke-weak-fundraising/index.html