Rachel is a doctor who provides abortions. She commutes 10 hours each way to work in an area of Alabama that would otherwise not provide the procedure at all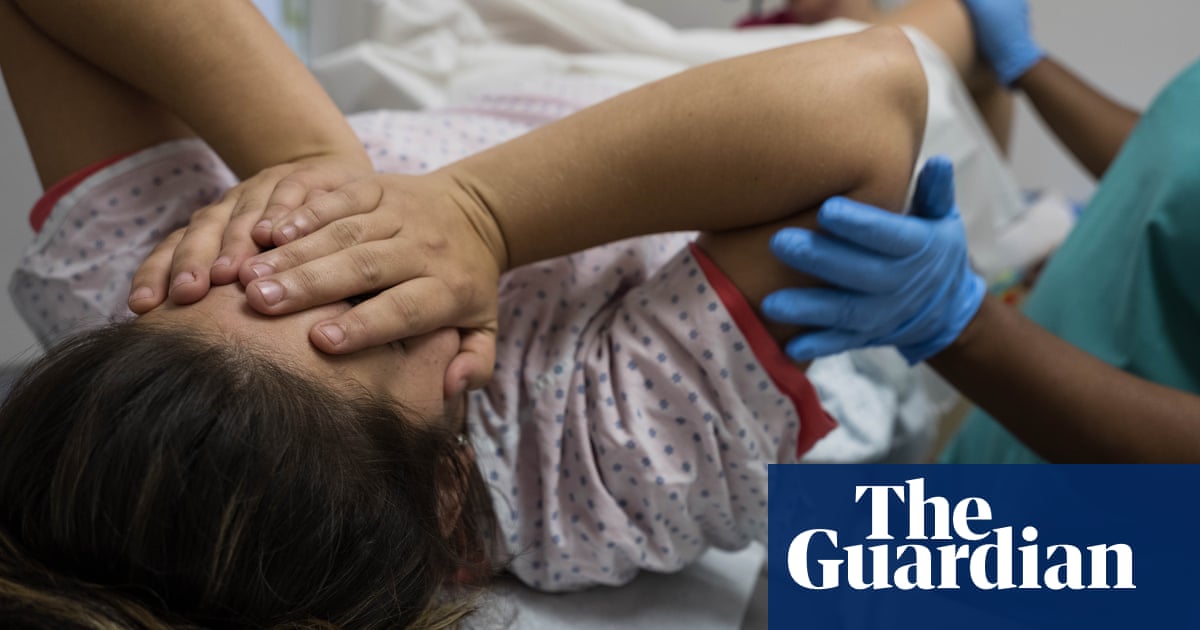 Rachel hunches down in the seat of a Chevrolet rental, adjusting her disguise in the mirror. She pulls down a fedora to partly cover her face, but isnt convinced it offers enough cover. She puts on a pair of oversize sunglasses.
While the combination conceals her face, it is also not an inconspicuous sight in the pre-dawn Friday hours in a run-down neighborhood in Montgomery, Alabama.
I feel like I should have a fake mustache, she says. What do you think?
Rachel is a doctor who provides abortions, and if recent history is any guide, a disguise may not be a bad idea. Since 1993, anti-choice extremists in the US have killed 11 people, including four doctors.
Performing abortions can put a serious dent in doctors careers; many have been banned, fired or have had job offers rescinded. Fearing for their safety, some doctors have even made the decision to arm themselves. For those reasons, abortion clinics struggle to find local doctors willing to assume those risks.
This is the American reality that forces medical professionals to travel hundreds of miles in order to provide basic healthcare to women.
Alabama recently passed one of the most draconian abortion laws in the country, which would have made it a crime for doctors to perform abortions during any stage of the pregnancy unless the womans life was in danger. The law has been challenged in court, and as of now, abortions are legal before 20 weeks in Alabama.
The state is one of nine to recently pass restrictive abortion bans as an emboldened evangelical right seek to challenge access to abortion. Although none of the bans are currently in effect, they are designed to place pressure on Roe v Wade, the supreme court decision that enshrined a womans legal right to abortion.
Rachel gets up at dawn and takes her family on a train to the airport. She then flies to Atlanta, picks up a rental car and drive two hours to Montgomery. The next day, when her work is over, she retraces her steps. Commuting takes 10 hours each way, and there are times when its 2am before shes back in her own bed.
Under the weight of relentless attacks from state legislatures, the number of clinics providing abortion has been falling for decades. In the south and the midwest, the number of clinics fell by 13% and 22% respectively between 2011 and 2014. The situation is so dire that some states Missouri, West Virginia, Mississippi, Kentucky, South and North Dakota now have only one working abortion clinic.
4am
While Rachel and her toddler daughter are still sleeping, the ecosystem of protesters, clinic escorts and patients that surrounds the clinic comes to life.
At the hotel the previous evening, Rachel had told me she chose her line of work when she realized family planning was an underserved area of medicine. According to a 2013 study, only 54% of 161 sampled residency programs for obstetrics and gynecologyoffer routine abortion training.
I dont know how many lectures we had on Crohns disease in med school, she said. And its a devastating disease, but only something like 40,000 people in the US get diagnosed per year.
The lack of attention pissed me off enough to want to specialize in this, she said. I thought that I could help train the next generation after me.
Back at the clinic, Mia Raven opens a can of Dr Pepper, trying to jolt herself awake. The night before, the clinic worker had texted Rachel to warn her she would have 43 patients the next day. A couple of years ago, the clinics average was 15 patients in a day; 43 would have seemed inconceivable. But as more clinics are forced to close, it is becoming standard.
The clinic, Reproductive Health Services, only performs abortions on Fridays due to the lack of doctors and the legal hoops the state of Alabama makes patients go through. This includes a mandatory 48 hours wait period after their first consultation, when women are informed not only about the risks posed by abortion (which are negligible in the first trimester) but also alternatives to abortion. Alabama law also mandates that patients be given packets of medically inaccurate information.
The Catholic protesters who are present today are fairly unobtrusive. They have no posters of fetuses, no bullhorns and theyre not harassing patients and caregivers. They mumble their rosaries quietly with their backs to the clinic and shuffle off, their knees leaving dark depressions on the dewy grass.
While Catholics are the original anti-abortion activists in America, evangelicals have now overtaken them in raucousness.
One of them is David Day, a stocky man in his mid-50s. He is a regular and has been protesting against abortion almost weekly for the past five years. While the Catholics pray, Day straps a GoPro camera to his chest and puts out signs warning of various forms of death and hellfire for sinners. He also has a small, plastic cone to preach through, a sun hat and plenty of water.
Ive had no luck with this whatsoever, he says, spying for movement in the clinic parking lot. By Gods grace I come out here and preach the Gospel and try not to lose my mind from the evilness that goes on in there.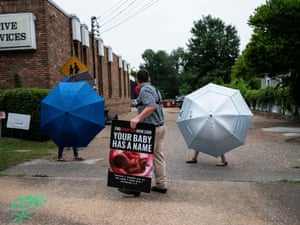 Read more: https://www.theguardian.com/world/2019/jul/24/abortion-wars-alabama-12-hours-besieged-clinic