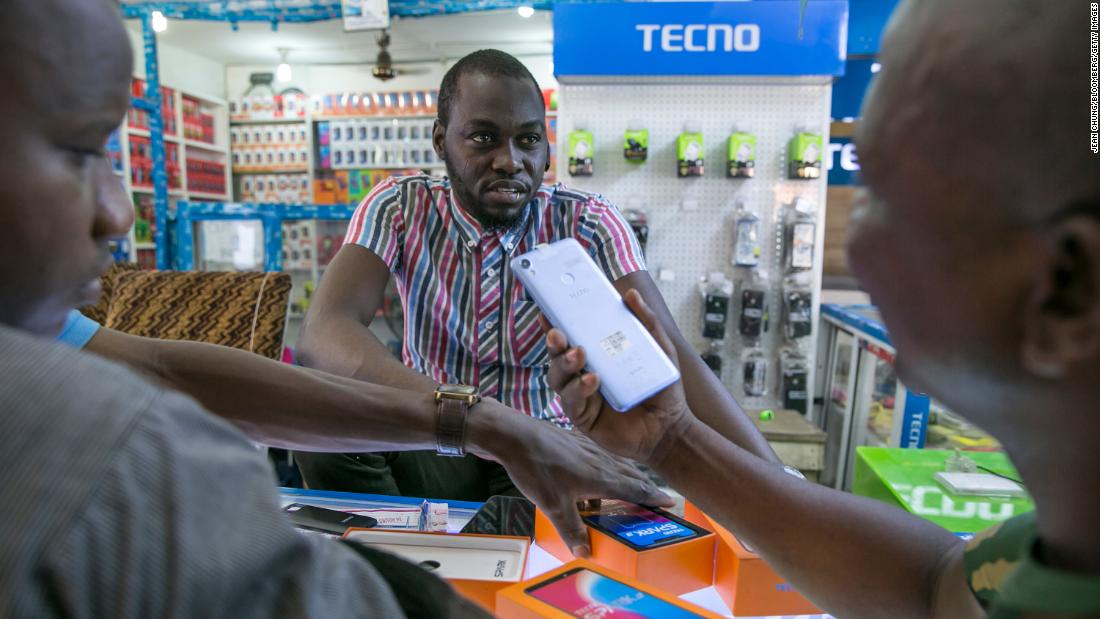 Hong Kong (CNN Business)Chinese budget smartphone maker Transsion is already dominating Africa with its Tecno brand. Now it's ready to raise its profile even more by joining China's splashy new market for tech stocks.
An IPOcould push Transsion's valuation above $4 billion. It would also take the company public on a market that got off to
a stunningly positive start
this week.
Analysts say it's an early win for the Star Market, whichwants local investors to support Chinese tech companies, rather than lose those businesses to markets in Hong Kong or the United States.
"China wants a rejuvenation of the nation through technology and innovation," said Mark Huang, an analyst at Bright Smart Securities. "That's why they launched the board."
He added that Star Market "surely hopes there could be a snowball effect" — but that it's not yet certain whether bigger tech companies will jump on the bandwagon.
"After all, the board is still in baby size and some rules are still at a trial stage," Huang said.
Transsion's office in Shenzhen did not immediately respond to a request for comment from CNN Business.
Transsion, which was founded by Chinese entrepreneur Zhu Zhaojiang in 2006, wants to raise at least 30 billion yuan ($436 million) to build smartphonefactoriesand research and development centers in Chongqing, Shanghai and Shenzhen, according to its
prospectus
.
It plans to issue at least 80 million shares, though it hasn't set exact terms yet. That would give the company a valuation of at least 30 billion yuan ($4.4 billion).
Transsion —which also makes, Itel and Infinix phones — doesn't do business in China, despite being based there. In Africa, it describes itself as an African company.
Itcontrols nearly half of the African market, according to IDC figures — putting it way ahead of rivals Samsung, Huawei and
Apple
(AAPL)
. Transsion also has nearly a 7% share of India's market, making it the fourth-largest cellphone vendor there.
In 2018, it sold 124 million cell phones worldwide, generating 22.65 billion yuan ($3.3 billion) in revenue.
Public documents also spell out why Transsion says it has done so well in Africa. The company said in its prospectus that it has features that "highly suit our target market" — including phones that use nighttime photography settings that are designed for darker skin tones.
Transsion's technology also includes heat protection for electronics and cellphones that have a large battery capacity. In Nigeria, South Africa and Ethiopia, for example, the government frequently shuts off electricity to conserve power, leaving people unable to charge their phones for hours.
Price is another advantage. Transsion sells phones without smart features foras little as $9. It sold nearly 60 million Itel phones at that price last year. It also sold more than 30 million Tecno phones at about $11 each.
The company's smartphones are more expensive, but still cheaper than its rivals. In 2018, Transsion sold 34 million phones for between $45 and $91.
There are challenges, though. The company admittedin its prospectus that other smartphone vendors, including India's Lyf,are also sellinglow-priced devices.
Rivals like Huawei, Xiaomi and Samsung are also pushing harder into Africa and India.
Huawei, for example, has launched an e-commerce platform in South Africa through which it sells phones and other products. And Xiaomi has partnered with African e-commerce website Jumia to sell phones.
"We face risks of losing our customers and market shares if we can't maintain innovation … and increase investments in technological research and development, brand management, marketing, after-sale service and supply-chain management," Transsion wrote in its prospectus.
The company is responding to competition by pushing into new territories, including Bangladesh, Pakistan, Indonesia and Vietnam. It also started sellingdigital accessories and home appliances. And it is relying more on mobile internet services as a source of revenue.
Read more: https://www.cnn.com/2019/07/25/tech/transsion-tecno-star-market-ipo-africa/index.html