US security adviser expected to urge tougher line on Tehran and Chinese tech firm Huawei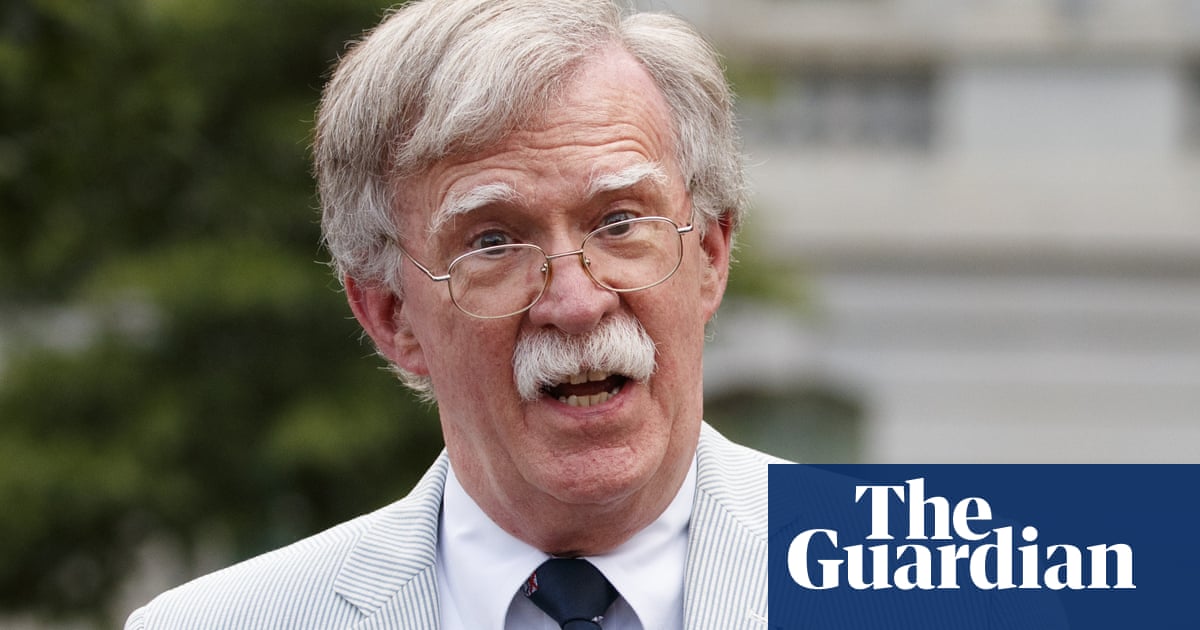 John Bolton, the hawkish US national security adviser, has started two days of meetings in London with key figures in Boris Johnsons government as the US pitches to steer a post-Brexit UK further away from Europe on a range of issues including trade, the Iran nuclear deal and the role of the Chinese technology firm Huawei.
Bolton is the most senior Trump official to visit since Johnson became prime minister, and the move is seen to have increased the chances of the UK leaving the EU on 31 October without a withdrawal agreement a position more in line with the Brexit policy favoured by the US president.
Bolton will be testing how the UK intends to position itself as a country freeing itself of the shackles of the EU at the G7 summit to behosted by the French president, Emmanuel Macron, in Biarritz later this month.
The summit, the first opportunity for Trump to meet Johnson since he became prime minister, is likely to be dominated by transatlantic disagreements over Iran and the value of multilateralism. In an admission that the UK may be edging closer to the US, Macron is not looking for a declaration signed by all seven countries, but coalitions of the willing on specific subjects instead.
Bolton is hoping that a Johnson administration will gradually adopt a foreign policy on Iran more independent of its two former EU partners Germany and France after Brexit, and closer to the policy of maximum economic pressure on Tehran imposed by Trump.
His visit is a chance to test how far Johnsons premiership is leading to tangible initial changes in UK security policy. If Britain were abandon the concept of a European maritime security force in the Gulf, for example, that could be seen as a prelude to a deeper shift on Iran.
The Foreign Office has so far insisted that the US policy of sanctions strengthens hardliners in Tehran, weakens moderates ahead of elections and increases the chances that Iran will seek a nuclear bomb, triggering a nuclear arms race in the Middle East.
Johnson was willing to disagree with Trump on Iranian strategy as foreign secretary when the US withdrew from the 2015 nuclear deal, but with Brexit imminent and the prospect of a US-UK trade deal to be done, he will be looking to curry favour with Trump.
Underlining Boltons interest in a no-deal Brexit, he is slated to meet Bernard Jenkin, Bill Cash and Iain Duncan Smith, three veteran supporters of Brexit outside the Johnson administration.
An official travelling with Bolton said Trump had wanted to work with Theresa May on a trade deal but her government didnt want do it. This government does. Were very happy about it, the official told reporters. Trump believes that when it comes to trade negotiations the EU is worse than China, only smaller, the official said.
On Monday, Bolton is meeting the UK cabinet secretary, Mark Sedwill, Johnsons senior adviser, Edward Lister, and the chancellor, Sajid Javid.
On Tuesday he will meet the defence secretary, Ben Wallace, the international trade secretary, Liz Truss, the Brexit secretary, Steven Barclay, and Michael Gove, who is responsible for no-deal Brexit planning.
The foreign secretary, Dominic Raab, met administration officials on a visit to Washington last week that partly focused on patching up relations after the leak of scathing memos from the outgoing US ambassador, Sir Kim Darroch.
US officials said the details and timescale of any US-UK trade deal would be worked out by the US trade representative, Robert Lighthizer, and Truss. The visit will include an exploration of options such as wrapping key sectors like finance into bilateral agreements that can be reached more quickly.
Bolton is expected to press the UK to revise its plans to join a European-led maritime protection force in the Gulf rather than join the US-led force Operation Sentinel proposed by Washington.
The UK has stressed that the US and EU forces would coordinate their work, but it was notable that in one of his last acts as foreign secretary, Jeremy Hunt proposed an independent European force to protect European shipping in the Gulf.
Raab has since hinted at a change in British policy, saying he is not sure a European force would be viable without US support.
The British-flagged vessel Stena Impero, which was seized by Iran on 19 July, remains under Tehrans control in an act seen as a reprisal for the UKs seizure of the oil tanker Grace 1 off Gilbraltar on the grounds that it was bound for Syria in breach of an EU embargo.
Read more: https://www.theguardian.com/us-news/2019/aug/11/john-bolton-arrives-in-uk-to-seek-support-on-iran-and-huawei