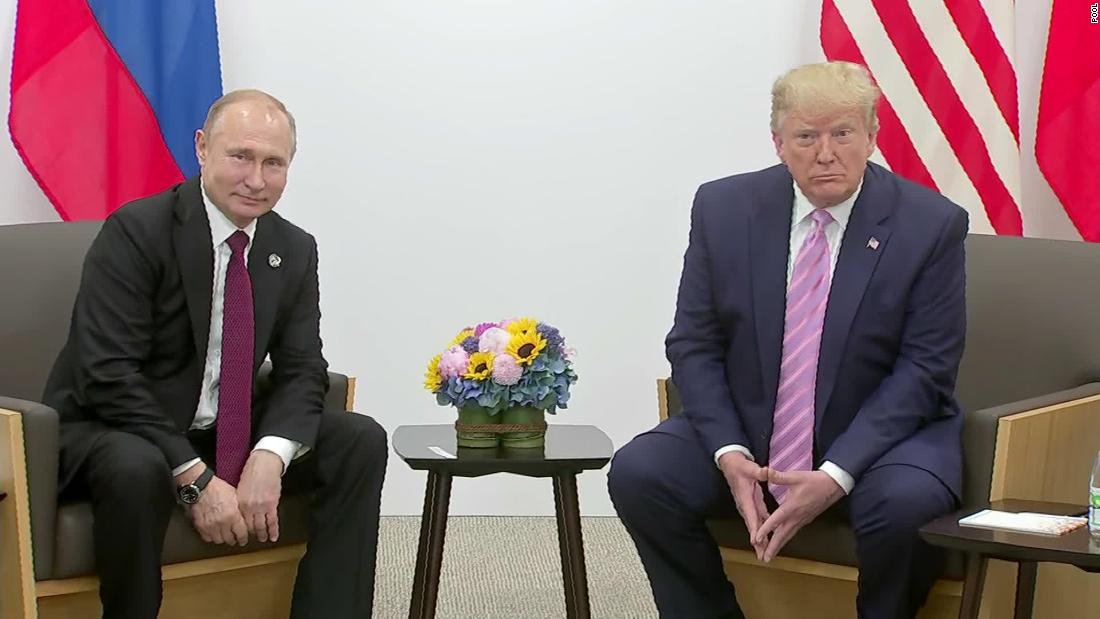 Washington (CNN)President Donald Trump is setting up another obliteration of American norms by pushing his Miami golf resort as the venue for the next G7 and proposing an invitation to Russia.
By bringing the G7 entourage to Doral, Trump would trample ethics concerns and even the
Constitution's most important safeguards
against presidential corruption by using his power to drum up millions of dollars for his own business.
The President's ambitious and controversial blueprint for the summit is his most tangible achievement from his dizzying and divisive visit to this year's
G7 summit in France last weekend.
The renewal Trump has in mind for 2020 would underline how he has engineered a sharp redirection of American foreign policy values and often flouted the customs of the presidency itself.
And it would show how he rarely respects, or even recognizes, the potential conflicts of interest or simple propriety inherent in his use of his podium to market his hotels and resorts.
Russia wasn't at the summit but Trump made sure it wasn't forgotten
An invitation for Russia — kicked out of the then-G8 for annexing Crimea in 2014 — would risk validating Putin's land grab, which redrew the borders of Ukraine and post-Cold War Europe.
An invitation to an unrepentant strongman such as Putin would be more than just a poke in the eye for America's traditional European allies and a classic Trump disruption play.
It would also symbolically repudiate the legacies of every US president from Franklin Roosevelt to George H.W. Bush, who collectively presided over the defeat of authoritarianism in Europe, perhaps America's greatest 20th-century achievement.
Trump's almost obsessive habit of pushing Russia's foreign policy goals is one of the most curious aspects of a presidency that almost daily defies belief and convention. As the summit's host next year he has wide discretion over both the venue and any guests invited to attend even if they are not formally members of the G7 structure.
CNN reported on Tuesday
that in addition to his public advocacy, Trump ardently pressed for Putin's return to what would be the G8 in sometimes-bitter exchanges with fellow leaders in France.
There was especially sharp pushback from German Chancellor Angela Merkel, Canadian Prime Minister Justin Trudeau and British Prime Minister Boris Johnson, two diplomatic sources and a senior US official familiar with the exchanges told CNN's Pamela Brown and Kevin Liptak.
Trump then went on to press Russia's case in his closing summit news conference, and sidestepped the question of Crimea by falsely claiming Putin had "outsmarted" his predecessor Barack Obama by capturing the territory from Ukraine.
"I think it would be better to have Russia inside the tent than outside the tent," Trump said in France.
Trump argues that on key world issues it is important to have Russia's input and that the cause of peace would be advanced by the return of one of the two top nuclear powers.
But leaders critical of his push pointed out that Russia had become even more anti-democratic since being ousted from the group — which unites the world's most powerful market economies which are also democracies and respect Western values.
Why would the US want Russia back in the club?
All this raises the question of why a Russian return to a reconstituted G8 is in US interests.
"Why would we then want to turn around and say, 'Oh, come on back in' ?" asked former Ohio Gov. John Kasich, a CNN political commentator.
"They would have to change a number of things about who they are to get back in," Kasich added. "They have got to earn their way back in."
Russia might not even be the most appropriate new member. If the G7 prizes newcomers with economic clout and democratic political systems, a case might be made for India to join next.
There is little enthusiasm on Capitol Hill for Trump's embrace of Putin — at least not unless Russia exits Crimea.
Republican Sen. Marco Rubio of Florida was asked on Tuesday whether he would like to see Russia back.
"I'd rather not. I don't like Vladimir Putin," Rubio said. "We can't ignore Russia or stop dealing with them. But we should do it with clear eyes."
Democratic senators, led by Minority Leader Chuck Schumer of New York, warned in a letter that readmitting Russia would be "contrary to our values and a clear abdication of the United States' responsibilities as the world's leading democracy."
Trump's behavior threw the spotlight back on his strange accommodation of Putin — whose government is accused of interfering in the 2016 election to help him get elected.
Speculation is again rampant over the President's motivations, including whether past business relationships with Russia or fears that he is compromised in some way, might be at play.
Special counsel Robert Mueller did not clear up such
questions in his final report,
though he provided evidence about Trump's business ventures connected to Russia dating back to 2013.
While Mueller did not establish that the Trump campaign had conspired or coordinated with the Russian government on its election interference, he concluded that it expected to benefit electorally from the operation.
Putin and Trump have met several times since the 2016 election but the Russian leader has not made what would be a politically explosive visit to the United States.
An invitation to Putin in the heat of the 2020 campaign next summer would be a huge propaganda coup for Russia and would inevitably spark speculation about what Trump was hoping for in return. Some critics would be sure to accuse him of angling for more Russian help in his reelection bid.
Trump's motives are impossible to know for sure. Perhaps he also wants to flaunt his wealth to Putin at Doral. Maybe he believes the Russian leader would be an ally in a room of prime ministers, presidents and chancellors where he is often isolated. Trump could see Russia's return as another blow against the enduring Western establishment he has frequently criticized.
Giving Doral a boost
Trump's approach to the G7 might be popular with base voters who revel in his trashing of political and diplomatic conventions and with whom Trump has kept faith with his disruptive behavior.
It would also be a proud personal moment to shepherd world leaders at Doral, which bears his name and was once a regular stop on the PGA Tour before struggling in recent years.
But bringing thousands of fee-paying officials to the resort could trigger another fight over constitutional prohibitions on presidents receiving payments from foreign powers or profiting from their office.
Sen. Ron Wyden of Oregon, the top Democrat on the Senate Finance Committee, vowed to press the administration on a decision that he said would be "one of the most egregious examples of corruption and self-dealing in a presidency replete with them."
"Trump is using the office to line his own pockets at the expense of the American people and our standing in the world," Wyden said in a statement. "Requiringour allies to spend money at the president's hotel to attend the G-7 would be an insult to them and a violation of our Constitution's emoluments clause."
Trump insisted in France that he does not want to hold the G7 summit in Doral to enrich himself and claimed he had sacrificed billions of dollars to serve as President. In a staggering infomercial-like performance during the news conference, he touted the claims of Doral to host the summit.
He cited its luxury villas, proximity to an airport, easy-to-secure location close to Miami and even its ballroom and parking accommodation.
"My people came back, they took tours, they went to different places," Trump said. "And they came back and they said, 'This is where we'd like it to be.' "
The idea that only Doral is suited to hold the summit is absurd, given the proliferation of resorts and convention centers across the nation. Past presidents have hosted G8/G7 summits in Denver or Houston or at Sea Island, Georgia.
Obama presided over the last US-based edition at the presidential retreat at Camp David in Maryland in 2012 — a meeting, incidentally, that Putin declined to attend.
Read more: https://www.cnn.com/2019/08/28/politics/donald-trump-russia-vladimir-putin-g7-golf-resort-2020-election/index.html