Top Republicans Brad Raffensperger and David Emadi are issuing subpoenas to opponents without showing evidence of wrongdoing
Top Georgia Republicans continue to use the power of the state to investigate political rivals, executing a strategy that voting rights activists say is designed to intimidate voting rights organizations and activists serving minority communities.
Brad Raffensperger, the secretary of state, and David Emadi, executive secretary of the Georgia Government Transparency and Campaign Finance Commission, are investigating and issuing subpoenas to political opponents, without publicly showing evidence there was wrongdoing by those parties.
Georgias governor, Brian Kemp, pioneered the tactic as secretary of state, where he used his authority to investigate political opponents, liberal political groups and get out the vote (GOTV) organizers working in racial minority communities.
To date, none of the investigations, subpoenas, arrests or prosecutions against political opponents and minority GOTV organizers have led to convictions, meaning that Kemps and now Raffensperger and Emadis political rivals remain innocent of charges brought against them.
But voting rights activists say there is a trend in Georgia of Republicans using the power of an elected office to investigate political opponents as a voter intimidation tactic.
Voter intimidation has changed its nature since the billy club and water hose violence of the 1960s, according to Carol Anderson, a historian studying public policy and race at Emory University.
Because voter intimidation is no longer exercised through violence, and is instead exercised through subpoenas and investigations, Anderson argues the practice does not register as strongly with the public. Voter intimidation by the state, however, remains closely tied to race. In todays politics, race and party are almost indistinguishable, Anderson said, blurring the lines between what is politically or racially motivated.
Because we dont see the night stick, because we dont see the teargas, it doesnt register for us as intimidation. But it is just as powerful, just as malignant, just as malevolent the whole point is that blacks get hurt worse than whites, said Anderson.
The governors and secretary of states offices have not responded to requests for comment.
In 2019, after Kemp won the gubernatorial election, he appointed a political ally and contributor to his campaign, Emadi, to head a commission overseeing campaign finance. Emadi quickly opened an investigation into Stacey Abrams campaign, alleging Kemps rival exceeded maximum contribution limits.
Emadi issued subpoenas seeking banking and financial records. The subpoenas also seek extensive communications between the campaign and a network of political groups that are run by or are focused on people of color, which has sparked accusations of racial and political motivations behind the investigation.
Emadi has denied any racial or political motivations.
The Guardian obtained communications between attorneys for the campaign and Emadi which show that the commission did not provide any evidence of their allegations, or the basis for the finding of probable cause, as required in the commission rules.
Emadi said he could not comment on open investigations.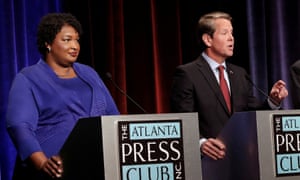 Read more: https://www.theguardian.com/us-news/2019/sep/02/georgia-republians-political-opponents-voter-intimidation