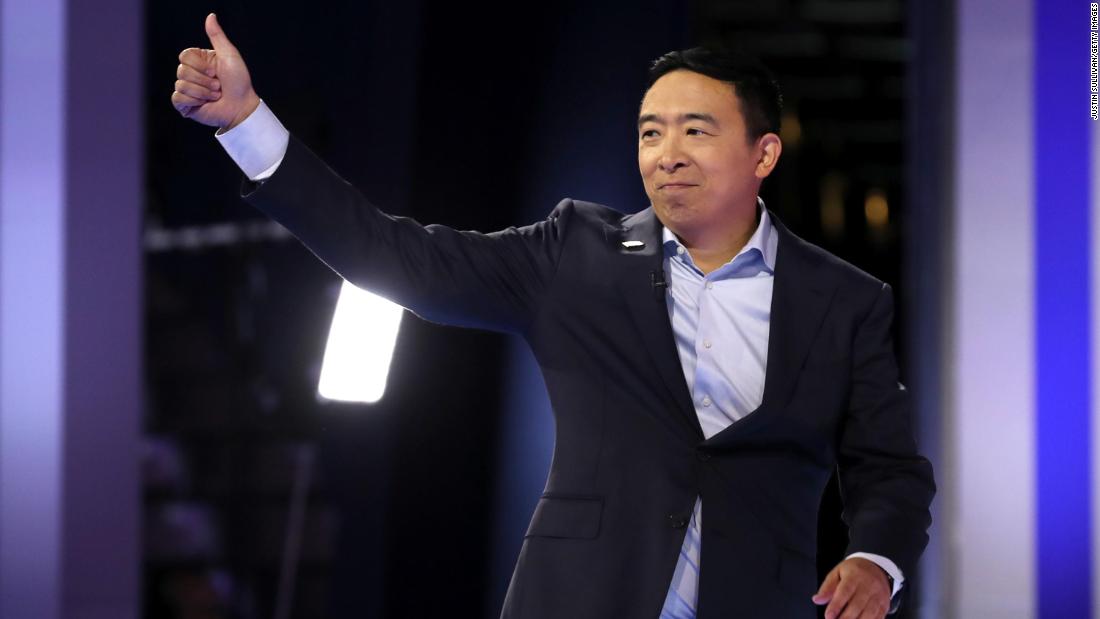 (CNN)Andrew Yang announced Thursday that his presidential campaign will give 10 people $1,000 a month for a year in an expansion of his signature "universal basic income" policy platform.
The businessman has argued that a universal basic income for all Americans older than 18 would play a key role in making the modern economy more equitable.
In a statement, Yang's campaign aides said they had consulted with their lawyers, who say the "Freedom Dividends are fully compliant with all FEC regulations."
But campaign-finance experts say his unusual gambit — using donors' money for these payments — may run afoul of federal law that bars converting campaign funds to personal use.
Adav Noti, a former Federal Election Commission lawyer who now is a top litigator with the non-profit Campaign Legal Center, said Yang's campaign appears to take the view that the prohibition on personal use only applies to a candidate using donor money to pay his or her own bills.
But Noti says the law bars personal use of campaign funds by "any person."
"Although it's hard to say with 100% certainty until we know the details of the payouts, on its face Yang's proposal to use campaign money to help pay the day-to-day expenses of selected people appears to violate the law," Noti told CNN.
"The fact that the payments happen to be consistent with Yang's campaign platform is irrelevant," he added. "An anti-tax candidate couldn't use campaign money to pay people's taxes, and a pro-income candidate can't use campaign money to give people cash."
Yang's aides did not immediately respond to an interview request on Thursday night.
Either way, the Federal Election Commission is unlikely to weigh in on this question any time soon. The agency charged with policing campaign-finance laws and issuing guidance to candidates on these issues recently lost its power to tackle major enforcement questions because it only has three members.
The FEC needs at least four members to take significant action.
And in the short term, Yang's move likely delivers useful information to his campaign about potential supporters as they head to his website to sign up for the giveaway.
After Yang finished speaking on Thursday night, the camera cut to South Bend, Indiana, Mayor Pete Buttigieg for his opening remarks.
"It's original," Buttigieg said with a smirk. "I'll give you that."
"The campaign is excited to work together with our supporters to help create more stories about what the Freedom Dividend means for American families. It will enable and empower citizens to pay their bills, switch jobs, take care of loved ones, and plan for the future," campaign manager Zach Graumann said in a news release.
Read more: https://www.cnn.com/2019/09/12/politics/andrew-yang-10-people-1000-raffle/index.html