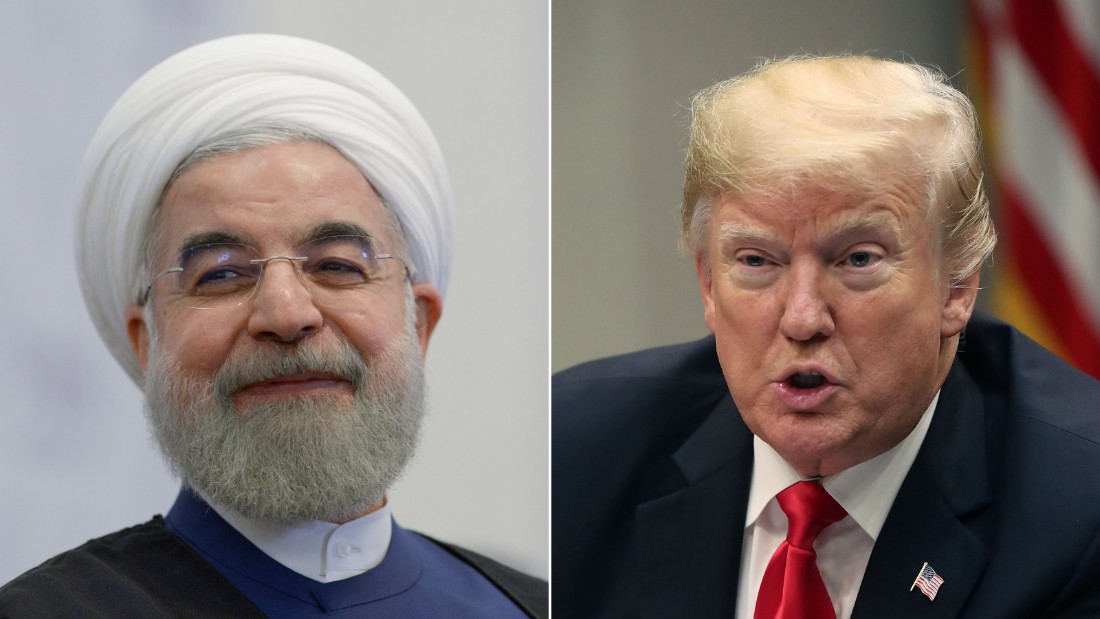 (CNN)Even though President Donald Trump says Iran wants to meet, there is little to suggest that there is behind the scenes movement toward any meeting between Trump and Iranian President Hassan Rouhani coming to fruition.
The Treasury Department has not started to draft a plan to wind down the Iran sanctions or create carve-outs for the $15 billion French bailout plan at the request of the White House, two other sources say.
On Thursday, Treasury Secretary Steve Mnuchin disputed the reports that the administration was considering easing sanctions that would allow the $15 billion bailout.
"We've had direct conversations with President Macron and Bruno Le Maire, the finance minister, and they absolutely understand they would need waivers from the US to do that, and that is not something we're contemplating at the moment," Mnuchin told reporters.
Mnuchin added that there are no plans for Trump to meet with Rouhani at the United Nations General Assembly later this month, but he reiterated the President has said he would be open to meeting with "no conditions."
A day earlier, Trump was asked by a reporter in the Oval Office if he would consider easing sanctions to make a meeting happen.
"We'll see what happens. We'll see what happens," Trump replied.
"I can tell you Iran wants to meet," Trump said on Thursday, but it is unclear if he was referencing any new US-Iranian dialogue.
Rouhani has maintained that he would not talk with the US until Washington lifts sanctions. Despite Trump's comments, the Islamic Republic says they have not changed their minds and decided they want a face-to-face meeting with Trump.
"There is no meeting envisaged between the two presidents during UNGA week," Alireza Miryousefi, the spokesperson at the Iranian mission to the UN, told CNN.
There are at least five Americans detained in Iran and three sources familiar with the matter say there has been no substantial progress recently towards securing their release.
Earlier this year Iranian Foreign Minister Javad Zarif said he had offered to negotiate a prisoner exchange but had not heard back from the Trump administration. But the US has made a concerted effort to reach out to the Iranians and at one point even made an offer that was turned down, according to an administration official.
Given the stagnant situation on multiple fronts — both on the easing of sanctions and the exchange of prisoners — and Iran continually saying it will not meet with Trump, it remains unclear how the Trump administration could get the Iranians to agree to a meeting at the end of this month during the general assembly.
Read more: https://www.cnn.com/2019/09/13/politics/rouhani-trump-meeting-new-york/index.html