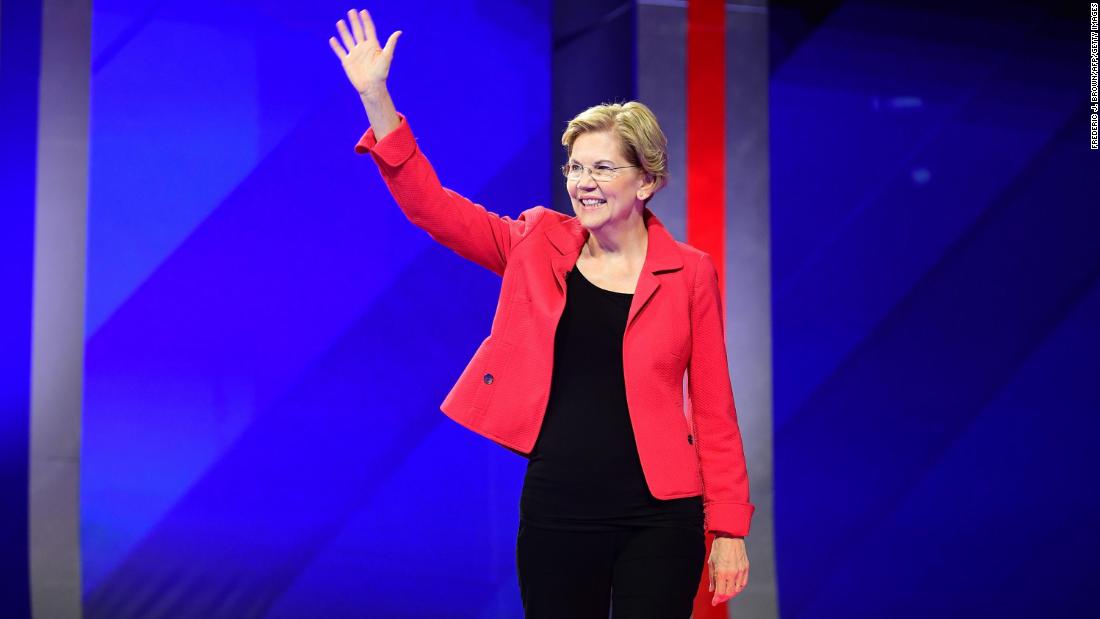 (CNN)Elizabeth Warren will launch television ads for the first time in all four early primary and caucus states, marking a new phase of her presidential campaign as she emerges as a leading candidate for the 2020 Democratic nomination.
The memo shared three examples of ads, all featuring the theme of rooting out corruption, that the campaign plans to launch, though it did not clarify which of the three would run online, on television or both, and exactly when the ads would begin to air.
Lau noted that the campaign's biggest expense at the moment is staff but said he expects that to soon become media spending, with a bigger bulk of the expenditure going towards digital ads than TV.
"At the start of this campaign, we laid out how Elizabeth is going to win the primary and the general election — by identifying the deep problems the country faces, creating plans to solve them, and building a grassroots movement to win in 2020 and make big, structural change in 2021 and beyond," Lau wrote. "As we head into the fall, here's how we'll build on our progress, build out our team, and keep growing the movement that will elect Elizabeth and elect Democrats up and down the ballot next November."
"I know what's wrong. I know how to fix it."
"I'm Elizabeth Warren. I know what's wrong. I know how to fix it. And I'll fight to get it done," Warren says in the closing of the 15-second and 30-second ads.
In the 30-second video, Warren touts her past accomplishments in Washington, including her role in the creation of the Consumer Financial Protection Bureau and defeating former Republican Sen. Scott Brown in her first political campaign. It flashes a photo of Warren at the White House with former President Barack Obama.
"I'll never let anyone tell me that anything is too hard," Warren says. "Too hard to stand up to Wall Street? Too hard to protect consumers from cheating banks? Too hard to beat a popular Republican incumbent senator as a first-time candidate? Not too hard."
The full-minute ad begins with a biographical introduction of Warren's Oklahoma upbringing before transitioning to a familiar line from her stump speech: "My second chance was a commuter college that cost $50 a semester."
"Today there are fewer paths to America's middle class and even fewer second chances. Service members are targeted by predatory lenders; students are crushed by debt; families can't afford childcare," Warren says in that ad, which also features scenes from Warren's recent rally at Washington Square Park in New York City.
"And after generations of discrimination, people of color face an even narrower path to opportunity," she adds. "When we have a government that works for the rich and the powerful, and leaves everyone else behind, it's corruption, pure and simple."
Investments beyond the early states
Lau said in Thursday's memo that there would also be significant investment on the ground, including the hiring of new state directors and organizers in states that will hold primaries and caucuses well after the first several early states.
"We're targeting our resources to invest in places that will be critical to keeping the House, taking back the U.S. Senate, and regaining ground in key state legislatures in 2020," Lau wrote. "That includes states like Illinois and California, where Democrats won a whole bunch of House seats in 2018 in close elections that we'll need to defend. It also includes states like Maine, which has a competitive Senate race and Georgia, where there will be two Senate seats up for election."
Lau made clear that the overarching aim is to put more resources into areas where Democrats are trying to either hold or flip congressional seats, as well as make inroads in state legislatures. Michigan, Minnesota, Florida and Texas are all on the list, he said. The goal: secure the House Democratic majority — without which some of Warren's plans would be tough to enact in Washington — and build Democratic power down the ballot to bolster support for her agenda.
According to a Warren aide, all of the non-early states mentioned in the strategy memo — Illinois, California, Maine, Georgia, Michigan, Minnesota, Texas and Florida — will have paid staff, including, eventually, state directors.
"If we want to make big, structural change," Lau writes, "we need to make sure Democrats control the U.S. House and Senate and win important gubernatorial and state legislative races across the country."
Thursday's announcement comes less than a week out from the end of the third quarter fundraising deadline.
Warren has vowed not to hold big-dollar fundraisers or solicit money from wealthy donors during the primaries, a decision that in part led to the departure of her finance director earlier in the year. But the campaign raised an impressive $19.1 million in the second quarter — more than three times the $6 million she raised in the first quarter.
Warren has also benefited greatly from the transfer of more than $10 million from her Senate account. Unlike her current primary campaign, Warren's Senate reelection bid solicited money from big-dollar donors.
Read more: https://www.cnn.com/2019/09/24/politics/elizabeth-warren-tv-ads-early-states/index.html