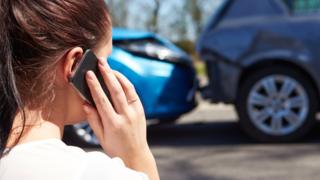 Failings in the market for home and car insurance mean consumers are overpaying by about £1.2bn year, the City regulator has concluded.
In an interim report, the Financial Conduct Authority (FCA) estimates some six million consumers pay on average £200 too much on premiums.
Competition was not working and loyal customers were penalised, it said.
FCA action could include bans on automatic price rises and making firms move consumers to cheaper deals.
"This market is not working well for all consumers," said Christopher Woolard, executive director of strategy and competition at the FCA.
"While a large number of people shop around, many loyal customers are not getting a good deal. We believe this affects around six million consumers.
"We have set out a package of potential remedies to ensure these markets are truly competitive and address the problems we have uncovered. We expect the industry to work with us as we do so."
The regulator found that some insurers targeted price increases at those less likely to switch. It also found that many lower paid or vulnerable consumers faced higher premiums.
Possible FCA remedies include:
Banning or restricting practices such as raising prices for consumers who renew every year, or requiring firms to automatically move consumers to cheaper equivalent deals
Stop practices that could discourage switching – including restricting the way that firms use automatic renewal
Make firms be clear and transparent in their dealings with consumers – including improvements to the way they communicate with their customers
The FCA also said that it was considering whether firms should publish information about price differentials between their customers.
The authority intends to publish its final report on possible remedies in early 2020 after further consultation with the industry and consumer groups.

'I feel she's been cheated'

When Paul, from Staffordshire, looked at his mother-in-law's buildings and contents insurance he could not believe she was paying £800 a year.
He went to Citizens Advice for help, telling them: "She lives in a small mid-terraced house – it is nothing fancy.
"I went on an online insurance comparison site and did a few different searches with different types of cover. It always came out at around the £300 mark or lower," he said.
"My heart sank when I realised that she had been with the same company for over five years.
"She is an 89-year-old lady and doesn't have the capacity to sort all of that out herself. I feel like she's been cheated. And I think it seems like common practice, to rip off the people who are most vulnerable."
He has made a complaint to the financial ombudsman.

Huw Evans, director general of the Association of British Insurers, the industry's trade body, said his members accepted that the home and car insurance markets could work better for consumers who do not shop around at renewal.
But he added: "This is not an issue unique to insurance, but we are the only sector to have taken voluntary steps to address the issue and these are bearing fruit already.
"It is important that any unintended consequences are carefully considered to ensure that a fair and balanced approach is achieved for all customers," he said.
Gillian Guy, chief executive of Citizens Advice, said "it's great to see the FCA acknowledging that the insurance market isn't working".
But she cautioned that the FCA's report set out proposals only. "The FCA must now follow through on these bold ideas to stop loyal insurance customers being penalised," she said.
---
Have you overpaid for home or car insurance? Share your experiences by emailing haveyoursay@bbc.co.uk.
Please include a contact number if you are willing to speak to a BBC journalist. You can also contact us in the following ways:
Read more: https://www.bbc.co.uk/news/business-49930973