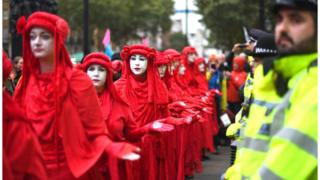 Police have arrested 280 people in London at the start of two weeks of protests by environmental campaigners.
Extinction Rebellion activists are protesting in cities around the world, including Berlin, Amsterdam and Sydney.
Organisers have blockaded key sites in central London, in addition to demonstrating outside government departments.
Some have glued and chained themselves to roads and vehicles, while others were planning to camp overnight.
Extinction Rebellion claims protests in the capital will be five times bigger than similar events in April.
The protests are calling for urgent action on global climate and wildlife emergencies.
Activists barricaded themselves to vehicles in Westminster early on Monday as the demonstrations got under way.
Meanwhile, hundreds of campaigners filled Trafalgar Square and blocked Lambeth and Westminster bridges.
A hearse containing a coffin with the plaque Our Future was parked in Trafalgar Square, with the driver attaching himself to the steering wheel with a bicycle lock.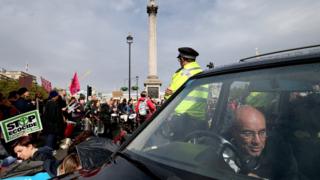 Extinction Rebellion said a police officer later gave the hearse a parking ticket.

Earlier, church leaders helped to create a "faith bridge" on Lambeth Bridge, with services and prayer vigils planned.
Rev Jon Swales, 41, Mission Priest at the Church of England's Lighthouse Church in Leeds and Associate Faculty at St Hild Theological Centre, said: "The science is clear.
"Unless we radically change the way we live in the world we will face the full force of climate catastrophe."
Protesters dubbed the Red Rebels wore red robes and white face paint as they gathered outside the Cabinet Office in Whitehall.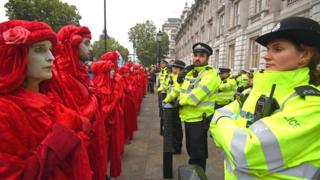 The singer Declan McKenna performed an impromptu free gig on the Mall in the evening, as people gathered in the rain to listen.


The roads behind Downing Street were blocked throughout the day by protesters, some of whom had erected tents in the street and were sitting down and singing songs together.
Among the group were two girls, Esme, 11, and Rafi, nine, who had taken the day off school to attend the protests.
Their mother Laurie, 41, told PA: "They've already done a spelling test this morning, sat down in the street, so we're not wasting time.
"We've talked about the protests at home and the school knows where they are."
"We're here because we want the world to still be alive when we die," said Rafi.
Protesters who had glued and chained themselves outside Westminster Abbey were removed by police.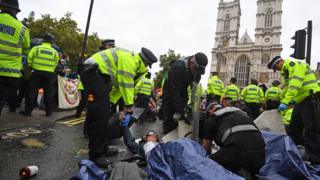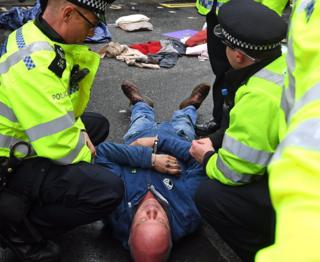 A staggered police cordon was later set up along Millbank, near Parliament, before officers attempted to move demonstrators from Lambeth Bridge.

Extinction Rebellion organisers told protesters to sit down and "be arrested" as police continued to try to remove them – and a police cordon later closed off the bridge.


Police were seen cutting two protesters from a car that had blocked Victoria Embankment, while campaigners also locked themselves to a mock Trident missile outside the Ministry of Defence in Whitehall.
Activists were also pictured on a barge on the Thames.

Two women were pictured getting married on Westminster Bridge, Extinction Rebellion said.

Police wearing abseiling gear and equipped with acetone syringes were seen removing protesters who had glued themselves to scaffolding in Trafalgar Square.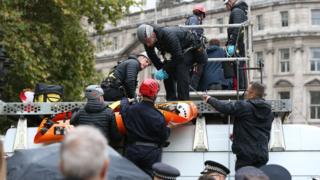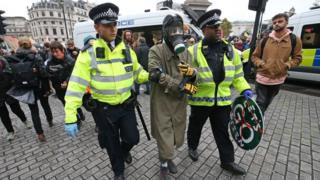 A string of celebrities including fashion model Daisy Lowe, actress Juliet Stevenson and comedian Ruby Wax joined campaigners in Trafalgar Square.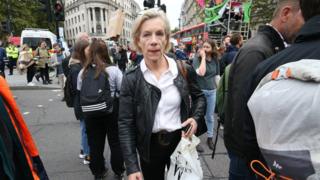 Stevenson said the protests were "a very wonderful action", revealing her son was attending them as a worker for Extinction Rebellion.
She told the Press Association: "We can't any longer allow governments to do this, so we have to make it clear that there is no more time."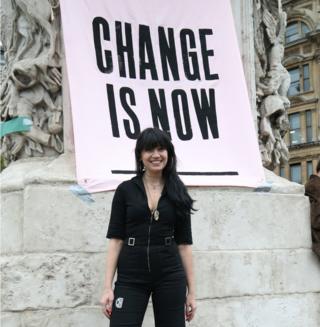 On Saturday, Lowe, 30, hosted a dinner to "celebrate and be educated" by Extinction Rebellion activists, and encouraged followers to join the protests.
She wrote on Instagram: "It is a terrifying reality we live in, but we have the power to change the course of history and save our planet."

Sir Mark Rylance, the Oscar-winning actor, joined a blockade on the Mall before addressing protesters at St James' Park.
He said: "People have been saying to me, it doesn't make a difference having a celebrity joining the protests.
"I am confident these protests are going to lead to a solid change. Extinction Rebellion isn't going to go away."
In June, Sir Mark resigned as an associate artist at the Royal Shakespeare Company (RSC) over its partnership with BP, which the theatre company has since vowed to end.
He told the crowds Greta Thunberg, the teenage climate change activist, had inspired his decision to quit the RSC when he did.
Meanwhile, activists from Animal Rebellion, a movement allied to Extinction Rebellion, marched from Russell Square to Smithfield Meat Market.
Organisers say they planned to remain overnight at the market to share their "vision of a future plant-based food system".
On arriving at the market, protesters said they held a minute's silence for "animals whose lives are lost" at Smithfield, and then went on to set up stalls selling plant-based products inside one of the world's most famous meat-trading spaces.
In an update posted shortly after 17:00 BST, organisers said 11 sites remained occupied across Westminster, as groups of protesters prepared to camp out for the night.
Emily, an activist from Wales, said on Twitter she planned to stay overnight.
Extinction Rebellion said many activists were preparing to go on hunger strike to illustrate "that our just-in-time food system is too fragile to repeatedly withstand the shocks of extreme weather".
There had been 280 arrests in connection with the protests as of 21.30 BST, according to the Metropolitan Police.
Extinction Rebellion said this included Sarah Lasenby, 81, a Quaker and retired social worker from Oxford.
Ms Lasenby, who the group says was part of efforts to block Embankment, said: "It is imperative that the government should take serious actions and put pressure on other states and global powers to radically reduce the use of fossil fuels."

What is Extinction Rebellion?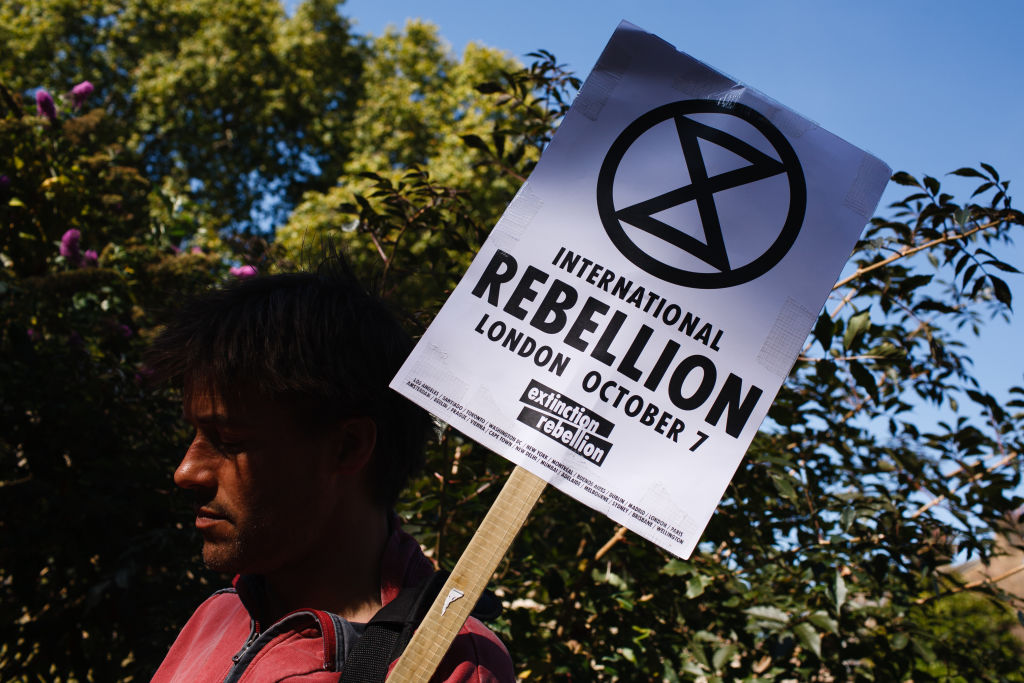 Extinction Rebellion organisers say they are expecting up to 30,000 people to take part in the fortnight-long demonstrations in the capital, which form part of an "international rebellion".
Similar protests in the UK earlier this year brought major disruption to London and resulted in more than 1,100 arrests.
Up to 60 other cities around the world may also be disrupted in simultaneous events, according to a spokesperson for the group.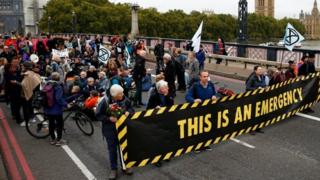 Image caption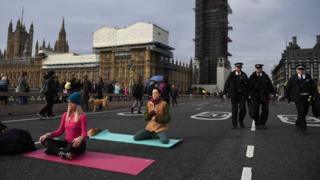 Image caption
Activists will call on government departments to detail their plans to tackle the climate emergency.
Police in Australia and New Zealand have already arrested dozens of Extinction Rebellion activists on Monday.
Some 30 campaigners in Sydney were charged with committing offences after hundreds of protesters blocked a busy road.
More than 100 people were arrested in Amsterdam after they erected a tent camp on the main road outside the Rijksmuseum, the Dutch national museum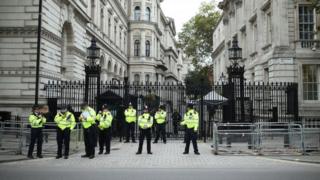 Image caption
The latest arrests in London come after the Met police arrested 11 people during the weekend.
A spokesperson for the force said eight people were arrested on Saturday after previously reporting 10. They have all been released under investigation.
One woman and two men were arrested on Sunday on suspicion of conspiracy to cause public nuisance. The men remain in custody while the woman has been released under investigation.
Read more: https://www.bbc.co.uk/news/uk-49957521