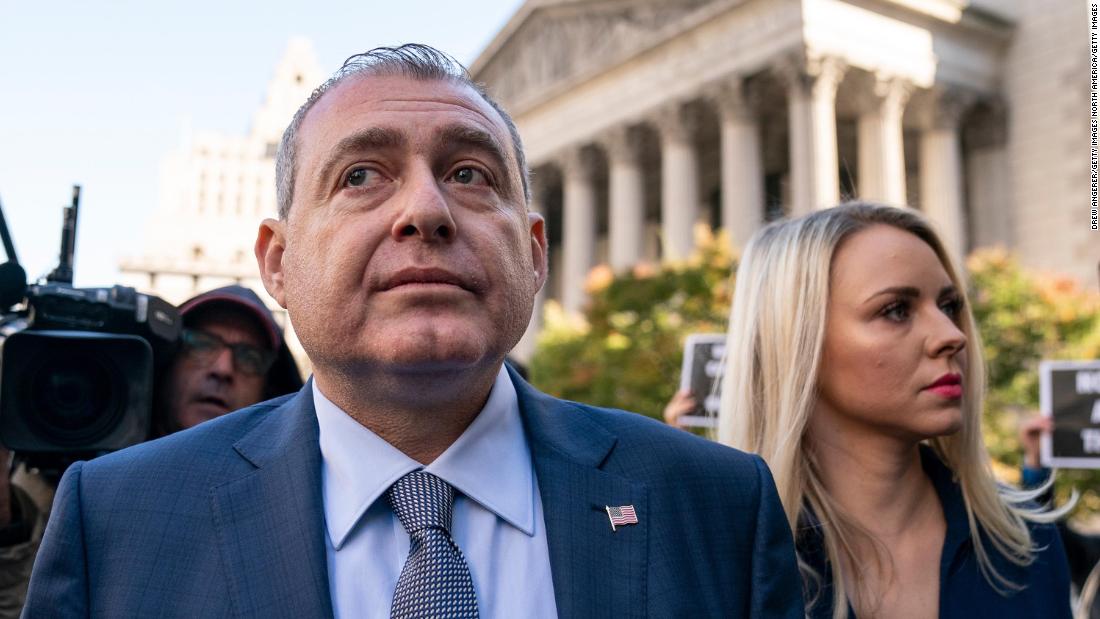 Washington (CNN)Long before they burst onto the national scene with their high-profile arrests at Dulles International Airport earlier this month, Soviet-born businessmen Lev Parnas and Igor Fruman were already turning heads in Republican fundraising circles.
But a CNN review of campaign contributions and court filings, as well as interviews with nearly a dozen people with knowledge of Parnas and Fruman's interactions, tell a different story. The pair raked in hundreds of thousands of dollars and jetted around the world touting their connections to Giuliani and the Trump administration while pushing for business and favors, even claiming to arrange a Fox News interview, right up until the day they were arrested for conspiracy and campaign-finance related charges.
At one point, they pushed a Ukrainian businessman to pay them to bring Trump administration officials to Ukraine. At another time, they convinced a Florida-based businessman to loan them $100,000 so they could connect him with Giuliani and other prominent conservatives. And in a third instance, they attempted to influence the management board of a Ukrainian gas company.
"They presented themselves as successful businesspeople with business interests across the country and in Europe," said the GOP source, who requested anonymity, citing the ongoing criminal probe into the men. "They just said they loved the President and what he's doing."
When the pair made a $325,000 donation to a pro-Trump super PAC in May 2018, they were subjected to standard vetting designed to detect any problems or conflicts with major donors, the source said.
"They didn't find any reason why we shouldn't take their money," said the Republican with knowledge of the matter. "So we did."
On the day the indictment was unsealed, the PAC itself said, "America First Action takes our legal obligations seriously and scrupulously complies with the law," according to a statement issued by the group the day the indictment was unsealed.
But the pair's business and networking activities over the past year had raised red flags with several prominent businessmen and their attorneys, CNN has learned.
Parnas and Fruman were in
federal court on Wednesday
after being arrested several weeks earlier in a corridor at Dulles airport near Lufthansa departing flights. They pleaded not guilty to allegations of funneling Russian money into Nevada politics and of circumventing federal campaign finance laws to make straw donations to advance the political interests of at least one Ukrainian official, including the $325,000 donation to the pro-Trump PAC, America First Action.
Defense attorneys for Parnas and Fruman declined to comment for this story on Wednesday.
"Radioactive wolves"
Bruce Marks, an attorney in Philadelphia who represents prominent Eastern Europeans, told CNN in recent days there was a Russian proverb that applied to Fruman and Parnas.
"Don't go in the forest if you're afraid of wolves," Marks said. "And these guys, they just weren't wolves, I mean they were radioactive wolves."
Marks represents the Ukrainian billionaire Ihor Kolomoisky, who is a major supporter of the new Ukrainian President Volodymyr Zelensky. In the lead-up to Zelensky's inauguration this May, Parnas and Fruman approached Kolomoisky during a trip to Israel.
They wanted a six-figure payment, Marks said, and in exchange they told the billionaire they could set up a meeting between Zelensky and a delegation of American officials.
"My recollection is that they were talking about Vice President Pence, Secretary of Energy Rick Perry, and they said that they needed to have money in order to ensure that they would come," Marks told CNN. They also touted their connection to Giuliani to the Ukrainian businessman, Marks said.
"They were going to be responsible for arranging for American government officials to come to Mr. Zelensky's inauguration," he added.
Kolomoisky refused, Marks said.
There was no indication that Pence, Perry or anyone in the Trump administration or Ukrainian government were aware of those efforts.
Perry and State Department officials did travel to Ukraine for the inauguration, arranged through official government channels.
Search for cash
It wasn't the only time Parnas and Fruman tried to use their connections to Giuliani to push for cash. In March of this year, they pitched their influence and ties to Trump's administration to a Ukrainian gas executive at
an energy conference in Houston
.
And they've been spotted in
years of photos
alongside Giuliani, Trump and even other lawyers to the President. Giuliani did not return multiple requests for comment on this story.
Over the past year, the pair hustled for hundreds of thousands of dollars in loans and payments.
In the fall of 2018, Parnas was telling his wealthy contacts that he was short on cash and seeking loans, according to three people familiar with his requests. Among his alleged troubles, one source said, was that he needed money to pay Giuliani to be a spokesperson for one of Parnas' companies. Giuliani has said he was retained by that company to provide business and legal advice because of his related experience.
That wasn't their only ask. South Florida attorney Robert Stok told CNN in an interview that Parnas and Fruman came to a wealthy client of his seeking money, claiming they were so short on cash they couldn't even pay for Parnas' newborn son's bris.
Stok said the men asked Felix Vulis, a Russian-American natural resources magnate, if he could kick in some money for the event.
They had also promised to open doors for Vulis through their connections to Giuliani and others, including the Washington lobbyist Brian Ballard, the former chief of staff to Mike Pence Nick Ayers and others. This added to Parnas and Fruman's credibility with Vulis.
Vulis was intrigued enough to loan them $100,000, writing a check to Parnas' company Global Energy Producers in October 2018, which included a memo for a "loan to Igor and Lev (two month)," according to Stok and other records reviewed by CNN.
"The thing that made him really pull the trigger was the fact he felt sorry for them, because of their financial constraints," Stok said. Any proposed networking in Republican circles never happened, Stok said.
When they were slow to repay, Vulis sued. Vulis told their since-indicted associate David Correia over text message he had been ripped off, and that he planned to tell Giuliani, Ayers and others that Parnas and Fruman would face a lawsuit. Correia pleaded not guilty.
Parnas and Fruman fought the case for months but ultimately repaid the debt a few weeks before Giuliani publicly admitted to asking Ukraine for political help, a key early development in the House impeachment inquiry. The exact details of their settlement with Vulis remain private.
This August, "all of a sudden they were able to fork over a check," Stok said.
An aborted trip to Vienna
Two weeks ago when they were arrested, Parnas and Fruman were preparing to fly to Vienna, Austria, to meet Giuliani and another key figure in the impeachment investigation, Ukraine's former prosecutor general Viktor Shokin, according to four sources familiar with their trip. Shokin is the same Ukrainian official who former Vice President Joe Biden — along with other Western leaders — had pushed to have removed over concerns he wasn't prosecuting corruption.
While questions in Washington swirl around Shokin's role in this controversy, Giuliani, Parnas, Fruman had specific plans for the former Ukrainian official up until the day of their arrest. According to those four sources, they told others they were headed to Vienna to help with a planned interview the next day: Shokin, they said, was scheduled to do an interview from the Austrian capital with Sean Hannity.
A spokesperson for Fox News did not provide CNN with a comment.
Read more: https://www.cnn.com/2019/10/23/politics/parnas-fruman-hustle-profit-access-giuliani/index.html