Three men who represent deep-pocketed corporations with interests before the government― but who are not officially federal lobbyists ― have hosted fundraisers for South Bend, Indiana, Mayor Pete Buttigieg's presidential campaign in the past week.
Top lobbying affairs officials for pharmaceutical giant Merck and entertainment company 21st Century Fox have hosted Buttigieg's husband, Chasten Buttigieg, for high-dollar fundraisers in Geneva and London. And a former top aide to former New York City Mayor Michael Bloomberg who is now a registered lobbyist in New York hosted Pete Buttigieg himself for a fundraiser in Manhattan.
After HuffPost reported earlier this year that Buttigieg was the only major candidate in the 2020 presidential race accepting lobbyist donations, his campaign announced in April that he would no longer take donations from federal lobbyists and would return money he had collected from them.
But Buttigieg, like other members of the Democratic primary field, is still taking cash from people aiming to influence politicians. The fundraisers show the limits of no-lobbyist-fund pledges, and how Buttigieg's imposing fundraising ― he raised an impressive $19 million in the third quarter of 2019 ― relies, in part, on the type of high-dollar fundraising shunned by two other leading contenders to challenge President Donald Trump.
"He's showing us who he listens to, and he's the type of person who listens to people who are lobbyists in everything but name," said Adam Jentleson, a Democratic strategist who supports Massachusetts Sen. Elizabeth Warren.
No matter how much you insist that donations don't impact your views, It's impossible that it doesn't end up influencing your policy. Adam Jentleson, former spokesperson for Harry Reid
Buttigieg is far from the only candidate who has raised money from people who aren't technically lobbyists but still aim to influence the government. Former Vice President Joe Biden opened his campaign with a fundraiser at the home of a Comcast executive who oversees the telecommunications giant's lobbying operation. California Sen. Kamala Harris has taken checks from government affairs workers at Google and Verizon, according to campaign finance records. (Verizon owns HuffPost's parent company.)
The Buttigieg campaign said donations do not influence the mayor's policy positions and that he's rolled out plans to limit the influence of money in politics and reform Washington.
"Not accepting contributions from registered federal lobbyists, corporate PACs or the fossil fuel industry is an important step, and as President, Pete will enact critical campaign finance reforms to restore faith in our Democracy including pushing to overturn Citizens United," Buttigieg spokesperson Sean Savett wrote in an email. "He's the mayor of a town that has seen corporate greed run roughshod over his community, and is running to change the system and move the center of gravity back to people's lives."
Buttigieg's campaign also pointed to his plan to cut prescription drug prices as evidence the mayor couldn't and wouldn't be swayed by donors. The plan, which is similar to those proposed by other Democratic presidential candidates, would allow the government to negotiate the price of drugs in Medicare and would cap out-of-pocket pharmaceutical costs for seniors at $250 a month, among other provisions. The campaign also noted that the city of South Bend, under Buttigieg, sued pharmaceutical companies for their role in the opioid crisis.
"The reason reformers think these types of fundraisers are a bad idea is that no matter how much you insist that donations don't impact your views, It's impossible that it doesn't end up influencing your policy," said Adam Jentleson, a former spokesperson for former Democratic Senate Leader Harry Reid of Nevada. "And it's impossible for Pete to argue otherwise when his policies and the overall tone of his campaign have taken a distinct shift toward the right."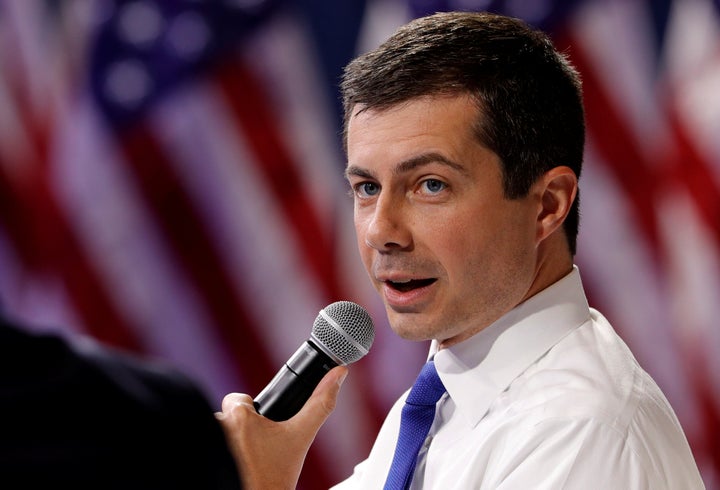 Buttigieg, in recent weeks, has adopted a more confrontational tone toward the progressives in the race, especially Warren. He's criticized her as dishonest regarding the cost of "Medicare for All" and suggested a more moderate candidate would be more likely to defeat President Donald Trump. Warren has struck back by criticizing Buttigieg's health care plan as insufficient to cover every American, labeling it "Medicare for all who can afford it."
Invitations viewed by HuffPost show Thaddeus Burns, the head of government and public affairs at Merck Life Sciences, hosted the fundraiser in Geneva. Merck spent nearly $7 million lobbying the federal government in 2018. During a stint at the law firm Akin Gump last decade, Burns lobbied for Merck and three other pharmaceutical companies: Pfizer, Wyeth and Human Genome Sciences.
David Fares, a senior vice president of government relations at 21st Century Fox, is hosting an event in London. Fares was a registered lobbyist for News Corporation as recently as 2011. Both companies were owned by the family of media mogul Rupert Murdoch, who sold 21st Century Fox to Disney last year.
Bradley Tusk, meanwhile, is a former aide to Bloomberg, to New York Sen. Chuck Schumer and to now-disgraced former Illinois Gov. Rod Blagojevich who has become a powerful lobbyist and venture capitalist, often advising start-ups and tech companies. He was paid in Uber shares to help the company navigate an oft-hostile New York City government and made more than $100 million representing the ride-hailing company. He now represents a host of companies before the New York City government, according to lobbying records, including the e-scooter company Bird.
Buttigieg is third in the cash-on-hand race among 2020 Democratic presidential primary contenders. He has $23.4 million on hand, trailing only Warren's $25.7 million and Vermont Sen. Bernie Sanders' $33.7 million. Neither Warren nor Sanders hold high-dollar fundraisers.
REAL LIFE. REAL NEWS. REAL VOICES.
Help us tell more of the stories that matter from voices that too often remain unheard.
Read more: https://www.huffpost.com/entry/pete-buttigieg-fundraising_n_5db34475e4b05df62ebec318