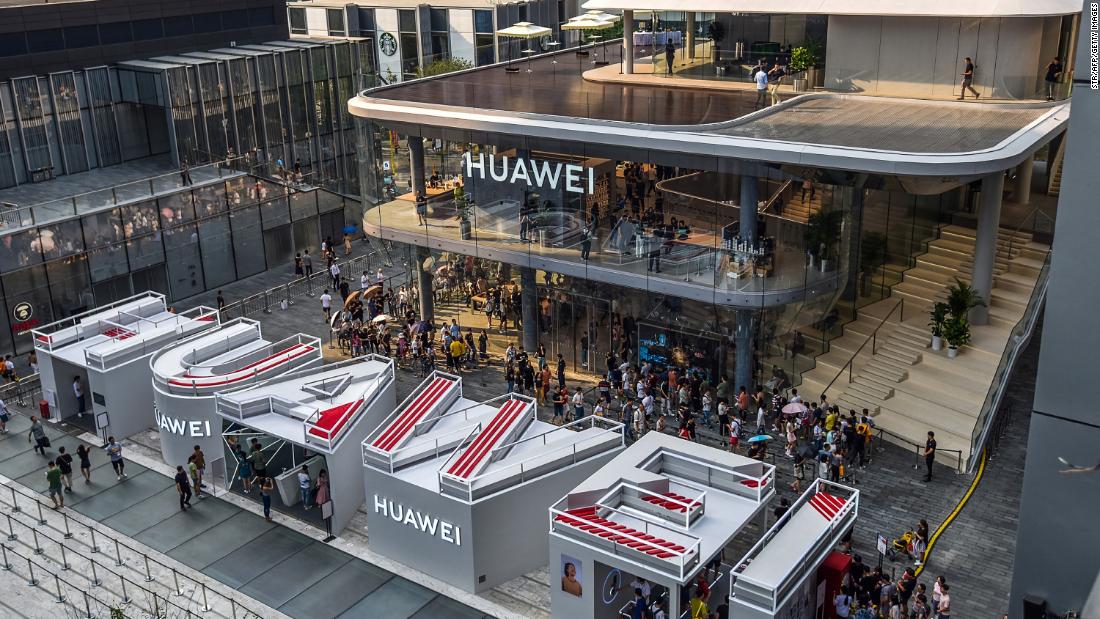 Hong Kong (CNN Business)The US Federal Communications Commission wants to place more restrictions on Huawei and ZTE by barring companies that receive government money from purchasing equipment or services from the Chinese tech firms.
Huawei is the world's biggest telecommunications equipment maker and a leading smartphone brand. The company is also a leader in 5G technology equipment. ZTE also makes telecom gear and smartphones, but is a much smaller player than Huawei.
FCC chairman Ajit Pai argued that Huawei and ZTE pose a threat to the security of US communications networks because they have to follow Chinese law, whichhe said requires companies to comply with requests from the country's intelligence services.
"That means China could compel Huawei to spy on American individuals and businesses," he
wrote
in an op-ed for The Wall Street Journal on Monday.
If a 5G network with Huawei equipment were operating near a US military installation or other sensitive location, "Beijing could demand the installation of a'back door' to allow secret access to the network, insert malware or viruses, and receive all kinds of information — without Americans ever knowing," Pai added.
The agency will vote onits measure next month,which would ban US companies that receive money from an $8.5 billion annual federal fund from using it to purchase equipment or services from companies like Huawei and ZTE.
The United States has already severely restricted the Chinese companies' presence in major US networks.
But dozens of small, rural US networks currently use Huawei and ZTE equipment, which Pai said "poses an unacceptable risk."
He said the FCC will also next month consider a proposal to remove and replace such equipment. "We'll seek public input on how big this 'rip and replace' program needs to be and how best to finance it," he said.
US lawmakers have already been mulling how to help small wireless network providers abandon the Chinese firms. Last month, the House
introduced a bill
that would give such operators $1 billion to tear out Huawei and ZTE equipment from their networks.
Huawei has strongly rejected claims that it poses a national security threat. On Tuesday, a Huawei spokesperson said in a statement that "banning specific vendors based on country origin will do nothing to protect America's telecommunications networks."
The FCC's proposal will only hurt under-served rural US areas and "further widen the digital divide; slowing the pace of economic development," the spokesperson said, adding that the company remains open to talking with the US government and policy makers.
The company has also said in the past that because equipment sales to American operators make up just a tiny fraction of its business, being pushed out of the United States altogether would not have a material impact on its business.
That's in stark contrast to the White House action barring US firms from selling to Huawei, a move that threatens Huawei's smartphone business by
removing access to Google services
.
China's Ministry of Foreign Affairs called the FCC move "economic bullying."
"We firmly oppose the US abusing national power to target certain Chinese companies with trumped-up charges in the absence of evidence," ministry spokesman Geng Shuang said at a regularly scheduled press conference on Tuesday.
"Banning the purchase of Huawei and ZTE equipment or services by rural operators, as some in the US preach, would end up harming the interests of American businesses and consumers," he added.
ZTE did not respond to a request for comment. But the firm has also in the past disputed claims that its products pose a national security threat to the United States.
The company didn't break out regional sales figures in its quarterly earnings report this week, but its business with American network carriers pales in comparison to what it makes in its home country. Analysts at brokerage firm Jefferies say that in the last two years, ZTE generated 72% of its carrier revenue from China.
Read more: https://www.cnn.com/2019/10/29/tech/fcc-huawei-5g-ajit-pai/index.html