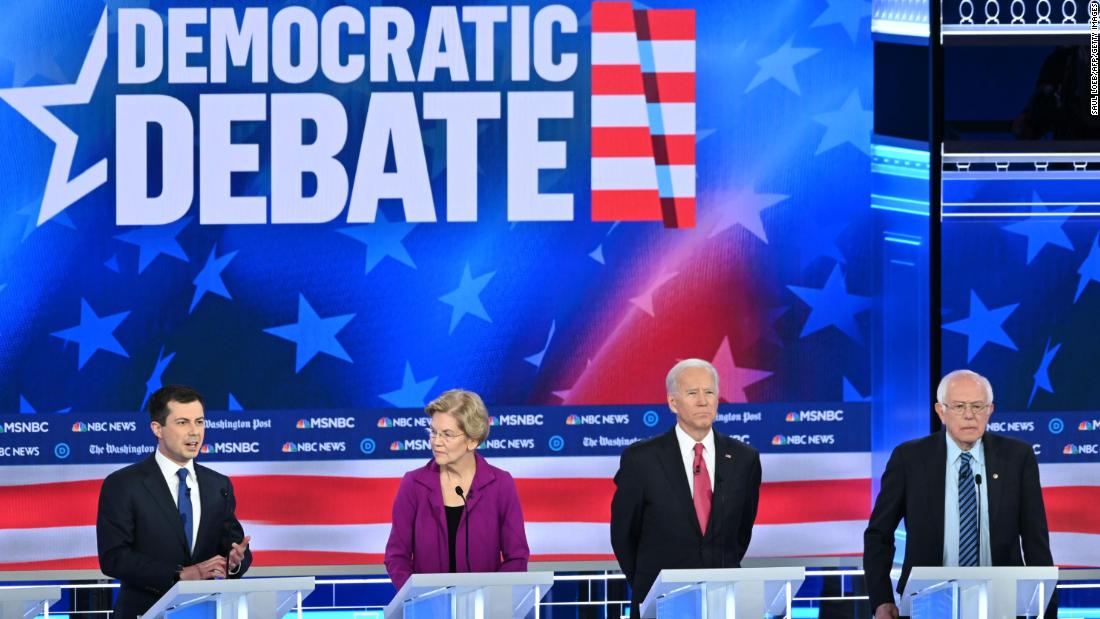 (CNN)Sen. Elizabeth Warren called on Pete Buttigieg to open up his private fundraisers to reporters and reveal the clients he worked with during his time at McKinsey, the management consulting firm, after a speech on Thursday in Boston.
The escalation of a simmering clash between the candidates could mark a new phase of the Democratic primary campaign. Buttigieg, who is leading Iowa and rising in recent national polls, has been critical of both Warren and Sen. Bernie Sanders, but mostly escaped any significant pushback from either campaign. That changed on Thursday, when Sanders in a separate interview on MSNBC also shot back at Buttigieg's recent swipes at his and Warren's tuition-free public college plans.
Questions over Buttigieg's record with
McKinsey
were brought front and center earlier in the day when the New York Times editorial page said his continued refusal to talk about his work there was no longer "tenable" and that he "owes voters a more complete account of his time at the company." Buttigieg has said his silence is mandated by a nondisclosure agreement, which he is seeking to be released from.
Asked whether she agreed with the Times' request, Warren said she did before launching into a wider call for transparency from Buttigieg, who has not made his big donor fundraisers open to media.
"The mayor should be releasing who's on his finance committee, who are the bundlers who are raising big money for him, who he's given titles to and made promises to, and he should open up the doors so that the press can follow the promises that he's making in these big dollar fundraisers," Warren said, citing Americans' concerns about "corruption."
When a reporter followed up to ask whether Warren believed Buttigieg's fundraisers are "fundamentally corrupt," the Massachusetts senator again called on Buttigieg, who has repeatedly deferred to campaign staff when asked by reporters to allow press into his fundraisers, to "open up the doors so that anyone can come in and report on what's being said."
"Those doors shouldn't be closed," Warren continued. "And no one should be left to wonder what kind of promises are being made to the people who can pony up big bucks to be in the room."
In explaining why Buttigieg should be more forthcoming about his McKinsey days, Warren noted her own decision to disclose details from her time in the private sector.
"I think that voters want to know about possible conflicts of interests," Warren said. "It is even more important that the candidates expose possible conflicts of interest right now."
But Warren has also found herself on the other side of the this debate. Buttigieg in Iowa last month suggested that, by not releasing a full accounting of her "tax returns from both public and private sector work experience," Warren was failing to "lead by example on transparency."
Buttigieg senior adviser Lis Smith echoed that line on Thursday night, minutes after news of Warren's comments began to spread.
"If @ewarren wants to have a debate about transparency, she can start by opening up the doors to the decades of tax returns she's hiding from her work as a corporate lawyer – often defending the types of corporate bad actors she now denounces," Smith tweeted.
Buttigieg and Warren are currently among the four candidates, along with Sanders and former Vice President Joe Biden, at the top tier of in an increasingly tight and feisty primary contest. In a recent TV ad in Iowa, Buttigieg suggested that Warren and Sanders, in their push for free college, risked "turning off half the country" and, in what many progressive critics decried as a Republican talking point, said taxpayer money shouldn't be used to pay tuition for "the kids of millionaires."
Sanders, who like Warren has rarely offered any direct criticism of his primary rivals, responded to Buttigieg's argument during an appearance on MSNBC at around the time his Senate colleague was speaking in Boston.
"I'm very glad that Mr. Buttigieg is worried that I have been too easy on upper income people and the millionaires and billionaires," Sanders remarked sarcastically, noting that under the current education system in the US, "Trump's kids" are already eligible to attend "any public school, elementary school, high school in the country tuition free."
"But the point is," Sanders added, "I happen to believe when you talk about programs like Social Security, like health care, like higher education, they should be universal."
Read more: https://www.cnn.com/2019/12/05/politics/elizabeth-warren-pete-buttigieg-fundraisers/index.html