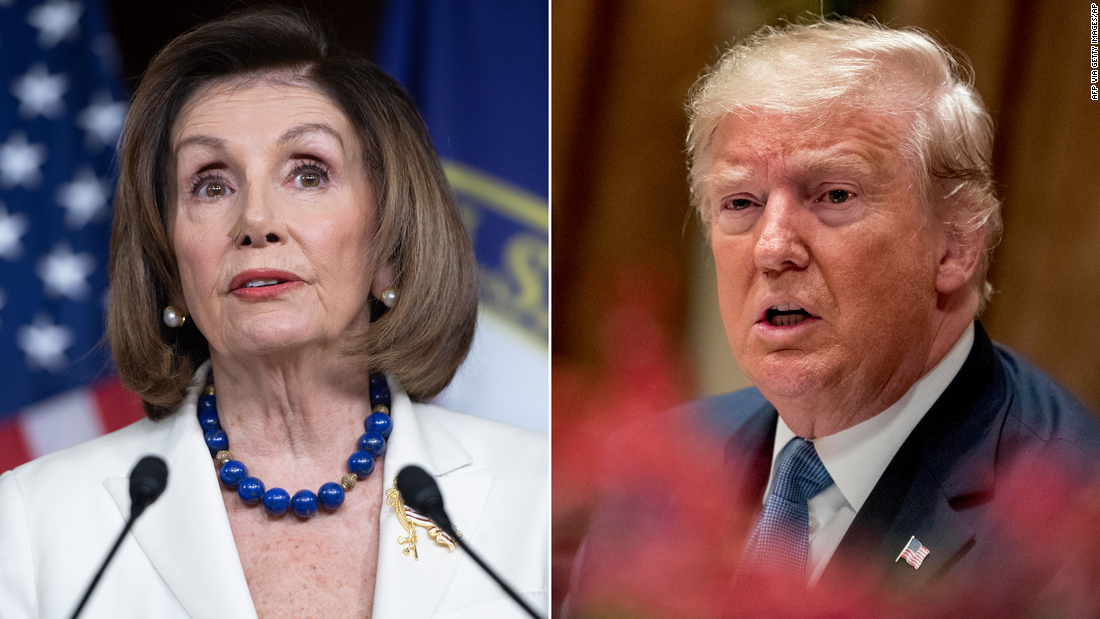 Washington (CNN)House Democrats and the Trump administration are on the brink of a deal to advance President Donald Trump's revised North American Free Trade Agreement after months of secretive negotiations, according to sources close to the talks.
If ratified, the trade deal would represent Trump's primary legislative victory since Democrats took control of the House of Representatives last November. The pact is also viewed as essential by a number of Democratic freshmen from more conservative districts, who not only support the deal on its substance but also believe a bipartisan achievement will play well on the campaign trail.
One White House official said the deal is "all but done," but the administration is waiting on final sign-offs. A senior Democratic aide told CNN Monday morning that Democrats are still studying the language and there isn't an agreement to announce yet.
Yet AFL-CIO President Richard Trumka
told The Washington Post
on Monday that the deal is done, sounding optimistic about it. He said he plans to meet with his executive committee Monday afternoon to discuss the matter.
"We have pushed them hard and have done quite well," Trumka said in an email, according to the Washington Post.
Trumka spoke to Trump on the phone about the deal on Monday morning, a person familiar with the matter said.
Democratic lawmakers have sought approval from organized labor leaders before moving ahead with the trade agreement, a key constituency for many in the caucus. A spokeswoman for the Ways and Means Committee declined to comment on Trumka's remarks.
Senate Finance Committee Chairman Chuck Grassley also spoke with US Trade Representative Robert Lighthizer about the deal on Monday, his office said, and the Iowa Republican is "hopeful there will be an announcement on a deal soon."
"Chairman Grassley also expects members of his committee will receive a formal briefing later this week," a spokesman said.
Lighthizer is traveling to Mexico City on Tuesday in order to sign a revised version of the US-Mexico-Canada Agreement on Tuesday, an aide close to talks told CNN.
Politico was first to report
that signing the deal is the purpose of Lighthizer's trip to the Mexican capital.
A nine-member working group of key House Democrats for months has met with Lighthizer behind closed doors to seek changes related to pharmaceuticals, environmental and labor protections, and enforcement provisions in the trade deal.
More recently, House Speaker Nancy Pelosi
signaled her desire
to strip key legal protections for tech companies from the deal. It is unclear what made the cut: Sources who said the substance of the trade agreement was nailed down on Monday morning were unable to provide additional details about policy changes.
Pelosi has
said
she hopes to hold a vote on the agreement by the end of the year, even as Democrats move forward with articles of impeachment against Trump.
A vote in such a short time frame would require a significantly expedited process rather than following the longer calendar laid out by Trade Promotion Authority, the law that details how such trade deals should be considered in Congress. House Majority Leader Steny Hoyer told reporters last week that lawmakers from both sides of the aisle are likely to accept a speedy process because of bipartisan eagerness to get the deal done this year.
Democratic leaders have been under increased pressure from members of their own caucus, especially from frontline freshmen members who view the pact as a central achievement to tout back home in their districts. In public letters and private conversations, the lawmakers have made clear they want to move on the trade deal before year's end, despite some objections to the structure of the agreement from more liberal members of the party.
But the group has faced increased, and explicitly targeted, pressure from the Trump administration in recent months, making passage a piece of key evidence of pushback to the administration's argument the impeachment inquiry has superseded all other legislative business.
Read more: https://www.cnn.com/2019/12/08/politics/donald-trump-democrats-mexico-nancy-pelosi/index.html