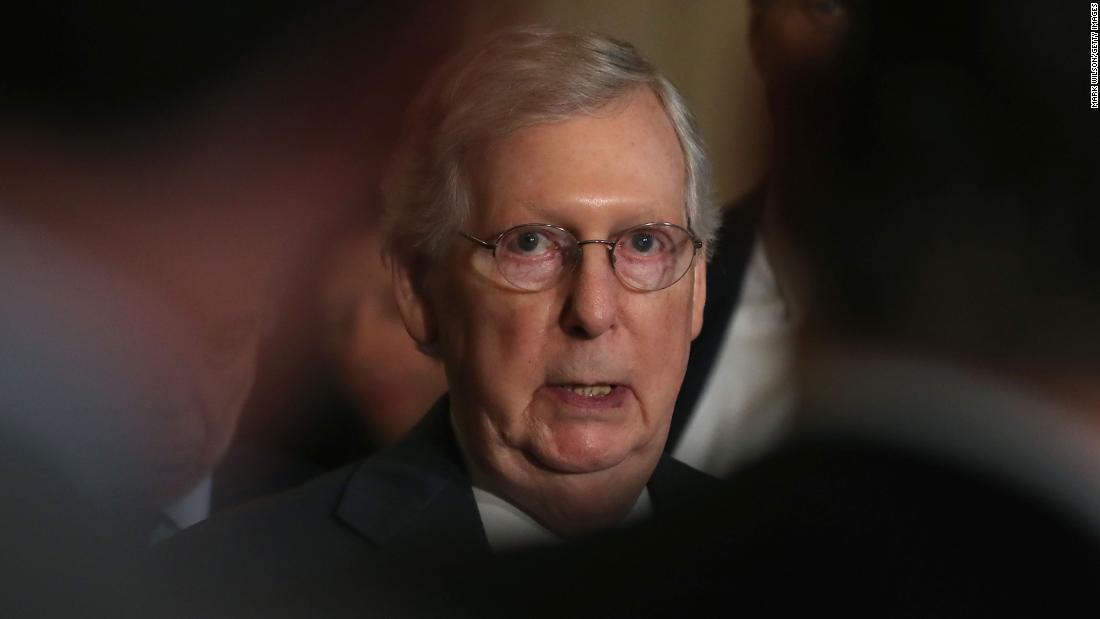 (CNN)The Senate will take up Trump's renegotiated North American Free Trade Agreement only after an impeachment trial concludes in the chamber, Senate Majority Leader Mitch McConnell said Tuesday.
McConnell also said the renegotiated trade pact is "not as good as I'd hoped," differing with White House press secretary Stephanie Grisham, who said in a statement around the same time that the final version of USMCA is the "biggest and best trade agreement in the history of the world."
His comments came after House Democrats
announced
they had struck a deal with the White House to advance the trade agreement after months of negotiations over key issues, including enforcement mechanisms and standards for labor and environmental protections. A spokesperson for House Speaker Nancy Pelosi pushed back on McConnell's timeline, noting that in 2011 both the House and Senate voted to approve three trade agreements on the same day.
"Senator McConnell has no excuse not to bring up the USMCA," Pelosi's spokesperson said.
Democratic leaders plan to hold a vote on the USMCA in the House next week, according to House Ways and Means chairman Richard Neal, and the agreement is expected to pass with bipartisan support.
Members of both parties largely celebrated completion of the new USMCA on Tuesday, although it received a lukewarm response from several congressional Republicans who were unhappy that patent protections for biologic drugs, a key priority for the GOP, were removed entirely from the deal. Yet Republican lawmakers on the whole are unlikely to side against Trump on what could become his primary legislative accomplishment since Democrats took the House of Representatives last November.
In a cautious statement after the deal was announced, Republican Sen. John Cornyn of Texas said he looks forward "to reviewing the agreement, hearing how it will impact Texas, and providing feedback."
Others celebrated the progress.
"This is long overdue but very welcome news. I'm glad a deal has finally been reached," said Senate Finance Committee Chairman Chuck Grassley, an Iowa Republican. "Passage of USMCA will be a significant win for farmers, workers and all Americans."
Senate GOP Whip John Thune of South Dakota told CNN there were some changes "that obviously were made to accommodate concerns that House Democrats had that are not going to be met with overwhelming favor from our members. But I think on the main, it still has all the components our members want to see."
He predicted USMCA is "something that will be approved in the end."
Meanwhile, Pennsylvania Sen. Pat Toomey, an ardent free-trader who has been one of the only Republican lawmakers to vocally oppose the deal since it was first negotiated, again slammed the underlying agreement and bemoaned the changes secured by House Democrats.
"There's no question it's moved way to the left," Toomey said on Tuesday.
"This is basically NAFTA, with a few modernizations and some restrictions on trade and an expiration date," he told reporters. "If people think that's a huge improvement, then I guess they'll be happy with it. For people who think free trade is important, they'll presumably see it as the step backwards that I see it as."
"It's not going to do anything for economic growth," Toomey said of the trade pact.
To be fair, the Pennsylvania senator said, "There are some modernizations that were sensible," like additions to handle the digital economy, but they are "mostly cut and paste from the Trans-Pacific Partnership."
Toomey argued the number of new jobs projected by an International Trade Commission
report
on the effects of the deal are "trivial" in the context of the American economy and noted the expected benefits of the USMCA stem primarily from eliminating regulatory uncertainty.
"On balance, it's very likely that we will have moderately less growth, less trade, and less job creation than the underlying NAFTA," Toomey said. "I don't want to overstate the magnitude of it — most of this is NAFTA. But I'm simply making the point that many of the changes are counter productive."
Read more: https://www.cnn.com/2019/12/10/politics/mcconnell-usmca-reaction/index.html