Ukraine investigators also cite engine failure and Russian missile among possible causes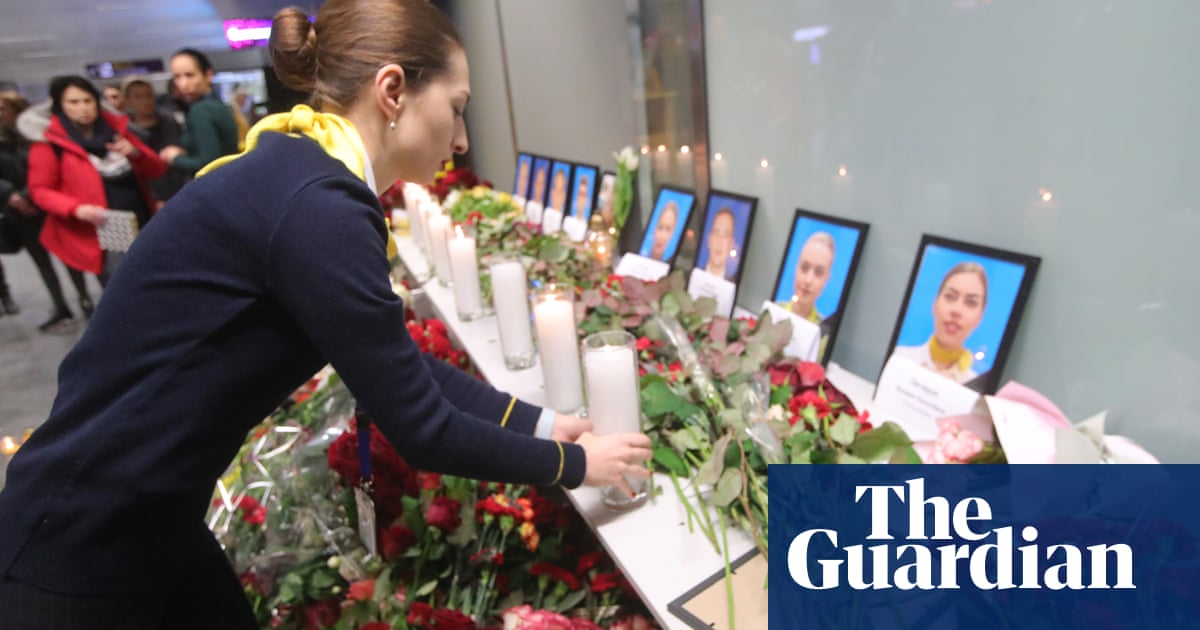 A senior Ukrainian security official has said his countrys investigators will explore a range of possible reasons why one of its passenger jets crashed in Iran, including a drone collision, a terrorist bomb and a missile attack, but did not rule out a technical fault was to blame.
Oleksiy Danilov, the secretary of Ukraines national security council, cited unconfirmed reports circulating on social media that debris from a Russian-made missile had been found at the site, on the outskirts of Tehran, where the Ukraine International Airlines Boeing 737-800 crashed on Wednesday, killing all 176 passengers and staff onboard.
Our commission is currently agreeing with the Iranian authorities to travel to the place of the crash, and plans to search for debris of a Russian surface-to-air Tor missile, according to information which was published on the internet, he said in a Facebook post on Thursday.
Some members of the investigative team had been involved in the probe into the 2014 shooting down of Malaysia Airlines Flight 17 over eastern Ukraine by Russian-armed rebels, Danilov added. We will use all our best practices from investigating the attack on MH17 to find out the truth in the case of the Ukrainian plane in Tehran, he said.
He did not appear to have any evidence to support the possibility of the aircraft being shot down or blown up and said an engine explosion as a result of technical failure was also being examined.
Images have been widely circulated online by an Iranian activist showing the remains of what could be a Russian-made Tor-M1 missile that he claimed was found near the planes crash site but there was no way to independently verify that the debris in the picture shows a missile or if it was taken in the debris field on Wednesday.
The Ukrainian president, Volodymyr Zelenskiy, said earlier on Thursday that his government was considering several possibilities but asked people to refrain from speculating about the crash. Iranian authorities have blamed mechanical issues, which they said happened shortly after the plane left Tehrans main airport at 6.13am on Wednesday.
The timing of the disaster, a few hours after Iran fired ballistic missiles at US forces stationed in Iraq in retaliation for its assassination of general Qassem Suleimani, has fuelled speculation that it might have somehow been linked to the hostilities, but so far there has been no evidence to back this up.
Aviation and security experts have said it is unlikely the plane could have been shot down near Tehran without a missile, or the rocket battery from which it was fired, leaving traces.
Justin Bronk, a research fellow at the Royal United Service Institute, previously told the Guardian that he believed on balance the incident was a tragic coincidence.
He said it would require a fairly large surface-to-air missile to inflict such catastrophic damage on a civilian airliner and there was no evidence of a rocket plume in the videos that have emerged so far. It would also be very hard to conceal such a large rocket battery from the ground, he added.
Iranian authorities have also rebuffed speculation the aircraft was attacked as part of a hostile misinformation campaign perpetrated by the countrys enemies.
A preliminary report issued by Iranian investigators into the crash late on Wednesday said the aircraft never made a radio call for help and was trying to turn back to the airport when it went down.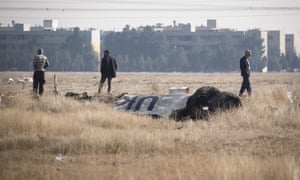 Read more: https://www.theguardian.com/world/2020/jan/09/iran-plane-crash-terrorism-and-drone-collision-being-explored-ukraine