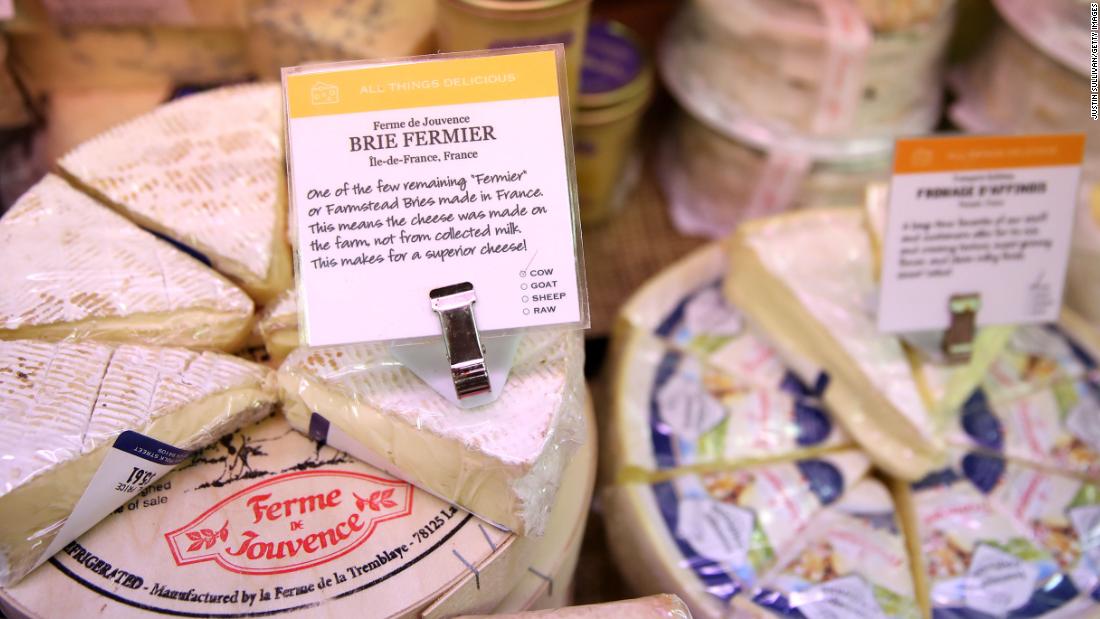 (CNN)In coming weeks, the Trump administration will decide whether to make good on its suggestion to levy tariffs up to 100% on many European goods, including Scotch whisky, French handbags, olive oil, a wide range of cheeses — and, especially, wine. The move would retaliate for two unrelated trade fights: a World Trade Organization ruling that Airbus got an unfair boost from EU governments providing it excessive subsidies at Boeing's expense, and a French tax on digital services, aimed at making corporations such as Google and Facebook pay their fair share for operating overseas.
Why is Trump targeting these goods? No one is sure. These aren't the first penalties; in October, the Office of the US Trade Representative levied a 25% tariff on many European wines for the same reasons — costs that US businesses have for months been trying to absorb.
Perhaps someone in the administration thought it would boost American equivalents. But if there's one thing I learned during nearly two decades of writing about wine, it's that American wine and European wine aren't interchangeable. Wine's provenance is often protected
by law
and by trade agreements; Chablis and Champagne, for example, have to come from those eponymous places. But it's not only trade law that dictates there's no equivalency; it's also personal taste. It's widely accepted in the industry that people don't easily switch between one type of wine and another, and
experts predict
consumers wouldn't even if the tariffs are imposed on French imports.
Moreover, the tariffs on wine, in particular, don't stand to target France effectively. While we are a significant market for the Europeans, we're not as big a deal as we think we are. Take the most relevant example: The French export wine market totaled 9.1 billion euros in 2017, according to the French customs service. The United States bought 1.6 billion euros, while other EU countries bought 3.75 billion euros, and China bought 758 million euros, an increase of nearly two-thirds in just four years.
The Asian market for European wine is booming, and French vignerons have stated for years that they increasingly view China, not the United States, as their growth linchpin.
And tariffs are also hurting American consumers, who pay in the form of much higher prices, along with small businesses — importers, distributors, retailers, restaurants and hotels — in nearly every state. And the three-tier alcohol distribution system, which legally separates the roles of producers, importers, wholesalers and retailers, ends up spreading that work quite broadly, employing thousands of truck drivers, forklift operators and the like. French and Italian wines alone account for a major portion of wine imports, which comprise one-third of a $70-billion overall US wine market.
Even wholesalers that distribute American wines are likely to still face devastating economic impacts, since the same trucks, same drivers, same logistics are used for both domestic and imported wine. Estimates by some wine industry professionals are dire: Tariffs could carve $10 billion out of the US economy, at a potential risk of 78,000 jobs. Those figures might be excessive, but the livelihoods of hundreds of thousands of Americans are in some way funded by sales of European wine and other products.
In the end, can there be any serious logic behind these tariffs? Sure, Boeing is a corporate giant, with tendrils deep into the American economy. But the Airbus dispute dates to 2004, thus whatever damage might have been caused has long been overshadowed by, among other things, the disastrous unwinding of its 737 Max. Same with France's Digital Service Tax on Big Tech companies, which might scrape a few coins from the pockets of Silicon Valley billionaires, ensuring some of the world's richest companies pay a small amount for their continued exploitation of international users' data.
The final
comment period
for these tariffs ends Monday. So, go ahead. Make your chardonnay jokes. Get it out of your system. Then realize that trade in prosecco and Camembert and lots of other European goods extends deep into nearly every regional economy in this country. This is quiet revenue, mostly earned by companies that don't ask for tax breaks or demand protectionism — which is more than can be said for some of America's most powerful corporations.
Read more: https://www.cnn.com/2020/01/12/opinions/trump-wine-tarrifs-bonne/index.html