A lobby day against stricter gun laws is expected to attract thousands of people, including members of anti-government groups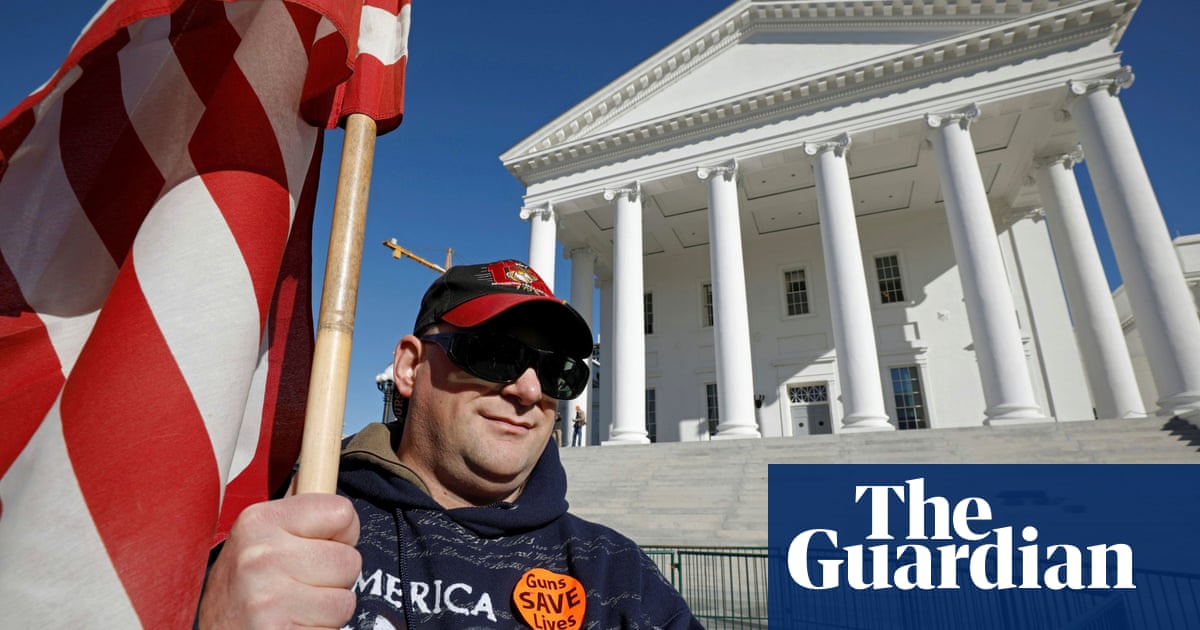 The Virginia Governor on Wednesday said he was temporarily banning all guns and weapons from the area around the Capitol in Richmond ahead of a major gun rights demonstration set for next week.
Ralph Northam, who is leading the push for stronger gun laws in his state, said he wants to avoid a repeat of violence that erupted at a 2017 white supremacist rally in Charlottesville, when a march by white nationalists erupted into violence and led to the death of a counter-protester.
Northam said on Twitter he had received credible intelligence from law enforcement agencies of threats of violence surrounding a lobby day against stricter gun laws planned for 20 January.
We support citizens rights to peacefully protest and express their views to their elected officials. But we must also keep the public, as well as those who work around Capitol Square, safe, Northam said.
The lobby day, organized by a Virginia gun rights group, is expected to attract thousands of people to the state capital, including members of anti-government groups from other states. Northam said on Twitter that law enforcement intelligence suggested militia groups and hate groups, some from out of state, plan to come to the Capitol to disrupt our democratic process with acts of violence.
A state official told the Associated Press that threatening social media posts, including a photo of an AR-15 rifle and text saying there were great sight angles from certain buildings near Capitol Square, had prompted the governors decision.
The Virginia Citizens Defense League (VCDL), the state gun rights group organizing Mondays lobby day event, had previously asked supporters not to bring rifles and other long guns to the lobby day, citing concerns about the optics of gun owners toting AR-15s or AK-47s around the state capitol. But the group had publicly anticipated that the event would attract enough citizens armed with handguns to take over a modern mid-sized country.
Philip Van Cleave, the VCDL president, did not immediately respond to a request for comment on the governors announcement. A post on the groups Facebook page advised members that it planned to have our attorneys investigate this situation once we hear Northams statement on Wednesday afternoon.
Since Democrats won control of Virginias state government in the November elections and promised to pass a slate of stricter gun laws, pro-gun activists across the state have organized a vigorous grassroots movement to protest the new bills. More than 125 counties, cities and towns across the state have passed Second Amendment sanctuary resolutions, pledging to respect gun owners rights and to not enforce any state gun laws deemed to be unconstitutional.
The local second amendment sanctuary movement has attracted hundreds and even thousands of supporters at local government meetings, drawing comparisons to the Tea Party movement. The rhetoric of some of these local activists has been intense, with calls of treason and tyranny, and open references to civil war. Lies, conspiracy theories and misinformation about Democrats proposed gun control bills have circulated widely, prompting outrage and threats of violence against Democratic politicians.
This grassroots gun rights movement in Virginia has also been seized on by more extreme groups, including anti-government militias and white supremacists, who see the tensions in Virginia as a potential flashpoint that could lead to violent resistance and civil war, often referred to in online conversations as the boogaloo, according to an analyst at the Anti-Defamation League, which monitors extremists.
The Oath Keepers, a national organization of current and former law enforcement and military officials described by the Southern Poverty Law Center as one of the countrys largest anti-government groups, called for members to travel to Virginia to attend lobby day and said they also intended to train local activists.
A handful of the same extremists who attended the Unite the Right rally in Charlottesville, Virginia in 2017 have also publicly suggested they might attend lobby day, the Daily Beast reported Wednesday.
The bill that sparked the most outrage from Virginia gun owners, a proposed ban on assault weapons that originally included language that would ban the possession of certain military-style guns, has already been withdrawn from consideration by its sponsor, state senate majority leader Richard Saslaw.
Virginia Democrats have made some statements that have only increased tensions. In mid-December, Democratic congressman Donald McEachin publicly speculated that the governor might call in the National Guard to enforce gun laws if local law enforcement officials refused, something that a spokeswoman for the governor said was not actually under consideration.
Gun rights activists in Virginia also pointed to Northams response to a question in early November about whether he supported confiscating assault weapons from citizens who already owned them. Asked directly about confiscation, Northam demurred, the Washington Post reported at the time.
Thats something Im working [on] with our secretary of public safety, Northam was quoted as saying. Ill work with the gun violence activists, and well work [on] that. I dont have a definitive plan today.
Two days later, during a National Public Radio interview, Northam was again asked if he planned to confiscate assault weapons that Virginia citizens already owned.
No maam, not at this stage, Northam said. Were looking at banning the sales of assault weapons … that would be what we would start with.
The governors office clarified in a statement in early December that proposed assault weapon ban legislation, which had included language banning the possession of military-style, would include a grandfather provision, allowing citizens who currently owned the guns to keep them.
Read more: https://www.theguardian.com/us-news/2020/jan/15/virginia-governor-bans-guns-from-state-capitol-ahead-of-pro-gun-rally