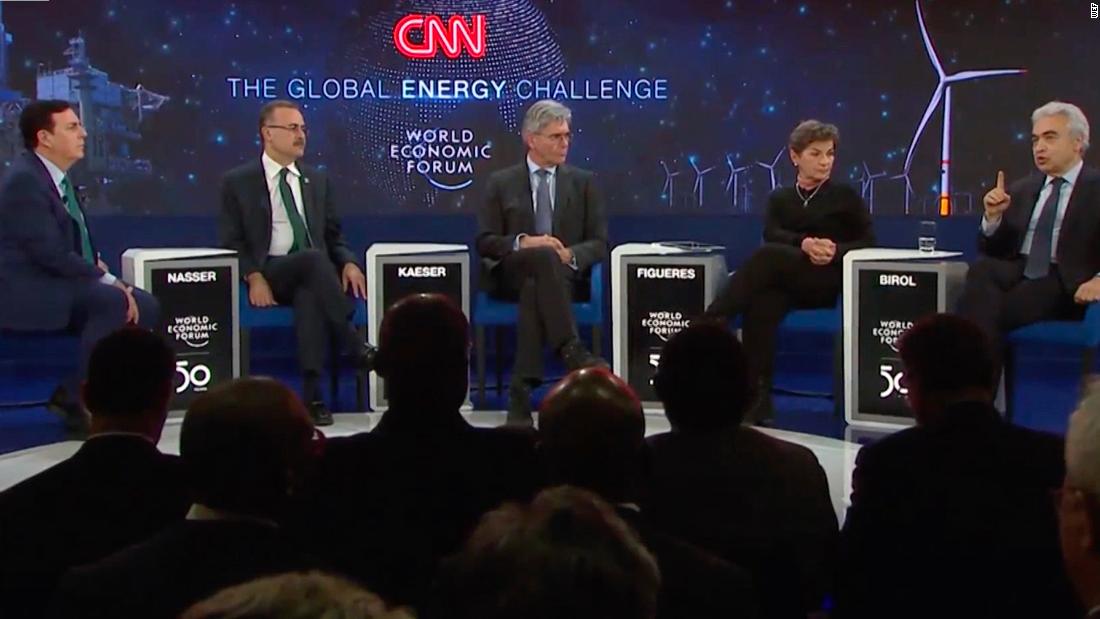 Davos, Switzerland (CNN)The climate crisis has dominated the World Economic Forum's 50th annual conference in Davos, Switzerland.
At the start of a new decade, a real transition away from fossil fuels is beginning to gather traction. As the energy sector is faced with environmental pressures there is a recognition that "business as usual" will not suffice.
Energy providers are having to adapt to this changing landscape. But will there still be a place for fossil fuels in a world that must reduce carbon emissions?
Amin Nasser, president and CEO of the world's largest oil exporter, Saudi Aramco, believes that even in 20 years, demand for oil will continue at its current level.
Citing a growing global population, emerging middle class and the billion people today without access to electricity, he told a panel debate at Davos: "There will be more demand — the only way you can meet it is to continue to provide affordable, reliable, ample energy to the rest of the world."
"It will take a lot of work between traditional energy sources and alternatives, renewables — you need both together to meet the future demand," he added.
No quick switch
Despite all the pressure from interest groups and concerns over climate change,
carbon emissions rose in 2018
and are expected to have risen again last year.
In 2018, coal was the energy sector's biggest carbon emitter, accounting for about
30% of its global emissions
. While its use is slowing, according to the
Carbon Budget 2019
, last year coal emissions from China were projected to have grown by 2.6% and from India by 1.8%.
"Coal in Asia is the problem — it's not even coal everywhere else," said Christiana Figueres, former UN climate chief and founding partner of Global Optimism, an enterprise focused on social and environmental change.
"Getting coal out of the grids is the number 1, 2 and 3 priority," she told the "Global Energy Challenge" panel, which was developed in partnership with CNN, and moderated by CNN Business Emerging Markets Editor John Defterios.
She noted the decline of coal in the United States, and dismissed the long-term impact of President Donald Trump, who described climate activists as "perennial prophets of doom" when addressing the WEF earlier in the week.
Investor pressure
For the energy sector, there is a confluence of pressures. There's the concern that demand for oil may be near its peak, and that the world's institutional funds are focusing more on ESG — environment, social and governance — to drive their investment decisions.
The market-cap on oil and gas companies in the S&P 500
has been cut in half
over the last decade, as institutional investors move out of the oil and gas sector due to squeezed margins and the threat to the industry posed by climate change.
Perhaps the best barometer in the energy sector itself is to follow the money trail. Of the nearly $2 trillion spent on overall energy investment in 2018, $355 billion went into solar and wind power generation, battery storage and nuclear power, according to the Paris-based International Energy Agency's 2019
world energy investment report
. This still failed to match the nearly $800 billion still going into oil and gas exploration and production.
But Fatih Birol, executive director of the International Energy Agency, said the expertise of oil and gas companies could play a huge role in the transition to clean energy. "Looking at Aramco, Siemens, many companies who are here, they have all the skills, all the engineering knowledge to run large-scale projects. Why don't we get them on board and make them part of the solution?"
Joe Kaeser, president and CEO of
Siemens
(GCTAF)
— one of the world's largest industrial groups — told the audience that he had today agreed a project with Aramco's Nasser to produce synthetic fuel from green hydrogen. "He'll mix and blend synthetic fuel with hydrocarbon (which) brings it down to 40% – 50% emissions," said Kaeser.
Ultimately, it will take collaboration to meet the energy challenges of the future. Birol called for "a grand coalition of governments, the energy industry, investors and also citizens" to tackle climate change.
"We have technologies and the finance capital," he said, "We just need to bring the political will."
Read more: https://www.cnn.com/2020/01/23/energy/davos-global-energy-challenge-panel/index.html