Wuhan hospitals need more staff and supplies as death toll passes that of Sars virus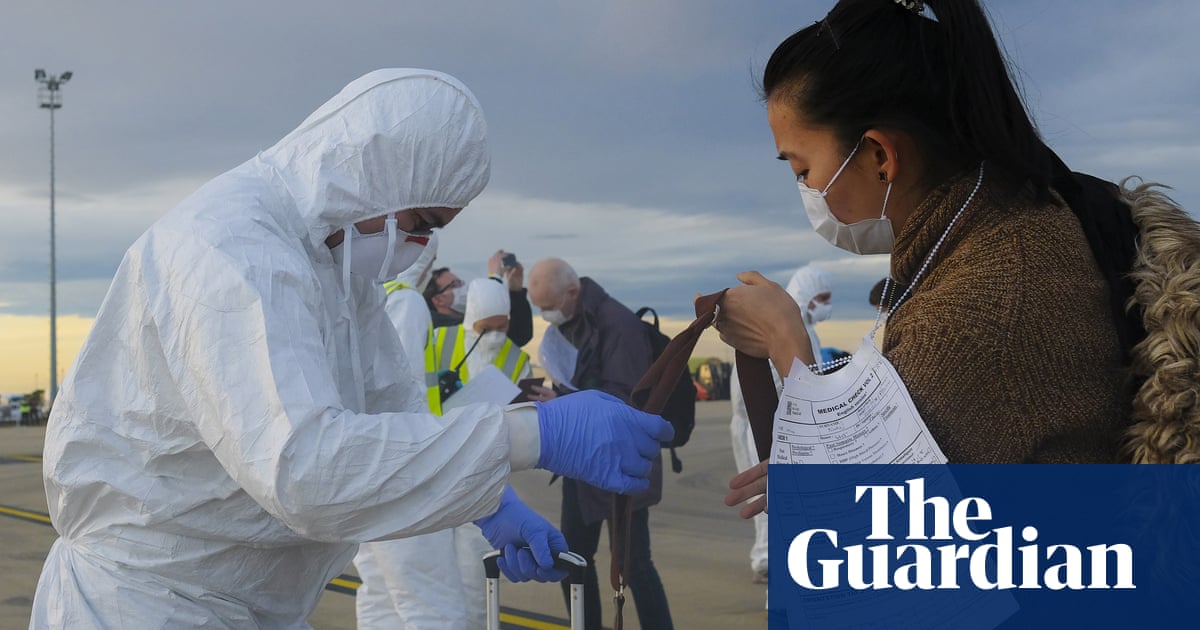 Dozens more people have died in the city at the centre of Chinas coronavirus outbreak, where hospitals are severely undersupplied and understaffed and residents have described increasingly desperate conditions.
Chinese state media reported 57 new deaths on Monday, all but one in Wuhan, the capital of the central province of Hubei which has been under lockdown for almost two weeks as authorities try to contain the outbreak.
The foreign ministry issued an urgent appeal for protective medical equipment as the total number of casualties reached 361, surpassing deaths in mainland China caused by the 2002-03 Sars virus. The number of infections also jumped, passing 17,200.
What China urgently needs at present are medical masks, protective suits and safety goggles, the foreign ministry spokeswoman Hua Chunying told a press briefing.
Authorities in provinces that are home to more than 300 million people including Guangdong, the countrys most populous have ordered everyone to wear masks in public in an effort to contain the virus. But factories capable of producing about 20 million masks a day are only operating at between 60 and 70% of capacity, according to the ministry of industry.
Hua also criticised the US, where a ban on people travelling from China went into effect on Sunday. The US and other countries had overreacted to the outbreak and Washington had not given China any substantive help, instead only creating and spreading panic, Hua said.
A video apparently filmed in No 5 Wuhan hospital went viral showing body bags in a bus, and a man weeping next to his dead father. In the video, the person filming says: So many people just died. There are so many dead bodies they are still moving bodies.
The state news agency Xinhua said 68 medical teams of 8,300 staff from across China had been sent to Hubei. One of two new emergency hospitals built in the last 10 days to house patients infected by the virus was due to open on Monday. State media said 1,400 military medics would be sent to run the facility.
The virus has spread to more than 24 countries. Several, including allies of Beijing, have begun to close their borders to Chinese nationals and travellers from the country.
On Monday, hundreds of medical workers in Hong Kong walked out of their jobs to protest against the refusal by the chief executive, Carrie Lam, to shut the citys border with China. Hong Kong, which is particularly vulnerable because of its proximity to China and constant flow of Chinese tourists, has confirmed 15 cases of the coronavirus.
Closing the border is the only solution even though this is not a decision to be made by Carrie Lam. She has to consult with Beijing, said Willy Lam, an adjunct professor at Chinese University of Hong Kong.
Chinas economy is likely to take a major hit from the outbreak. Chinese stocks fell by almost 9% on Monday after the market reopened following the lunar new year national holiday, which had been extended because of the outbreak.
Chinas central bank said it would inject 1.2tn yuan (130bn) into the markets to shore up the banking system and provide monetary and credit support to struggling companies.
A flight carrying evacuees landed in Australia on Monday before a 14-day quarantine at a notorious offshore immigration detention centre.
The Qantas charter flight carrying 243 passengers including 89 children touched down at an air force base near the remote Western Australian town of Exmouth.
The Australian citizens and permanent residents on board were to be flown in smaller planes to Christmas Island, an Australian territory in the Indian Ocean.
Agence France-Presse contributed to this report
Read more: https://www.theguardian.com/world/2020/feb/03/coronavirus-dozens-more-deaths-chinese-province-centre-outbreak-hubei