One of the Britons flown back from Wuhan has been keeping a diary of life at Arrowe Park hospital in Merseyside
Britons evacuated from the Chinese city of Wuhan have been kept in quarantine at Arrowe Park hospital in Wirral since arriving back in the UK last week. Here, one of them, a 32-year-old English teacher who has lived in Wuhan for the last four years, describes what it has been like living under quarantine.
Monday
This morning we were all given a note saying that someone on the second evacuation flight fell ill on the plane and was taken straight to hospital for tests. A couple of people asked if they were OK, but it didnt cause a panic or anything. What did cause a commotion is that even though food is being provided for us by the NHS and by local people some people are still ordering takeaways (on the taxpayers money), and today they announced it would have to stop.
Up to this point, weve been given sandwiches and ready meals. Its not great, but its free. But from tomorrow night, a catering company will be serving us food, so people cant order any more takeaways. That caused a bit of a stir in the WeChat group were all part of people werent very impressed.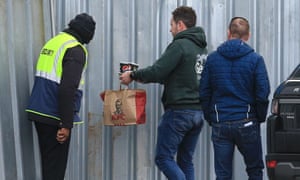 Read more: https://www.theguardian.com/world/2020/feb/07/ive-been-walking-stairs-for-exercise-life-under-coronavirus-quarantine