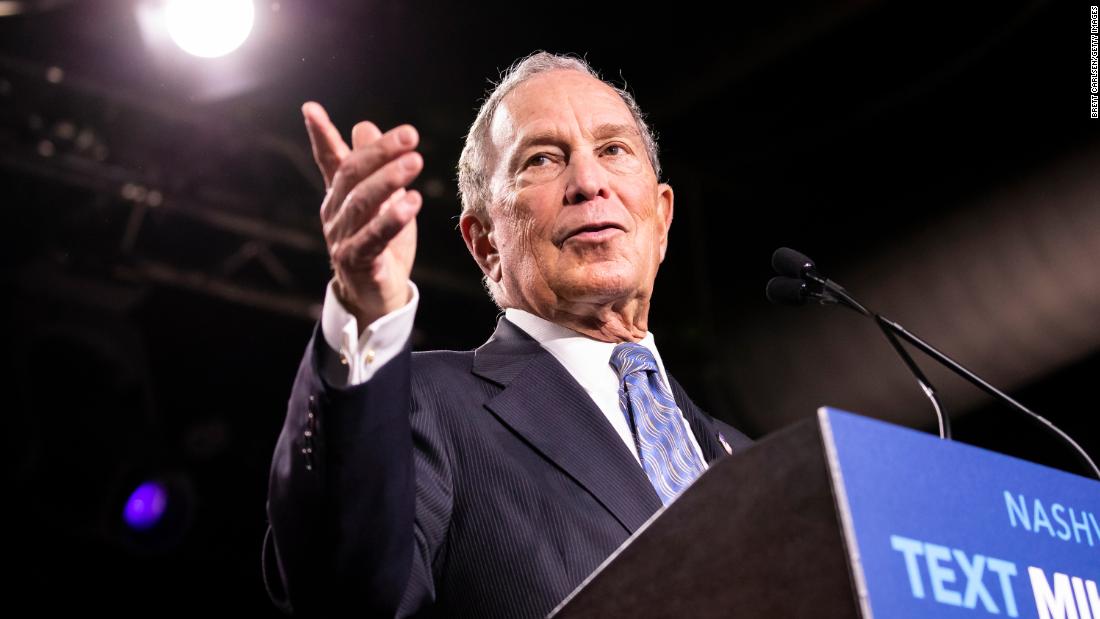 (CNN)For 52 years, I was a reporter in Washington, covering every president from John F. Kennedy to George W. Bush. I did my best to report on both Democratic and Republican administrations honestly and fairly.
When I retired seven years ago, I fully expected to remain a political observer. But there is too much at stake in the next election to remain silent. So, I am speaking out now in support of the candidate I believe is most qualified to be president and most able to defeat Donald Trump. That candidate is Mike Bloomberg.
I remember a time when leaders of both parties worked across the aisle to pass legislation that helped move us toward a more perfect union. In 1964, I covered the Senate's great debate over the Civil Rights Act, which, in the end, banned discrimination in public accommodations and other aspects of public life. Senate Republican leader Everett Dirksen rallied fellow Republicans to break the filibuster and deliver President Johnson, a Democrat, one of the most significant legislative achievements of the last century.
When Johnson signed the bill, he gave the first signing pen to Dirksen. His daughter Luci Baines Johnson recalled that she later upbraided him, saying "Daddy … why didn't you give that first pen, that most important pen, to, to, one of those greater civil rights heroes?"
Mike Bloomberg is the president we need to bring people together and unite our country. As a self-made man, an entrepreneur and three-term mayor of the biggest city in America, Bloomberg has proved himself to be an effective leader and problem solver.
Perhaps what struck me most about Bloomberg was when he talked about the biggest accomplishment of his first 100 days in office as mayor. He did not start bragging about the initiatives he was undertaking. Instead, he touted the team of capable people he was able to build.
He talked about laying "the basis, the framework," and building the infrastructure, getting "the tools in place" for them to do their work. He understood that a leader who first finds bright, talented people to help solve big problems is on the road toward accomplishing great things.
But first he must beat Donald Trump. That is an imperative for all of us, if we are to remain a nation of laws, rooted in the Constitution, dedicated to freedom and shared community that has made America the envy of the world.
Mike Bloomberg is the best candidate to defeat President Trump in November. His character and resolve drove him to build a business from scratch into a
multibillion-dollar company
and weather the political crossfires as New York's mayor for 12 years.
Bullies cannot bully Bloomberg. He won't be cowed by a few tweets from Trump.
Further, Bloomberg's ability to finance his own campaign means he can compete aggressively against Trump's massive political machine, which has been stockpiling money and organizing supporters since Trump's first day in office.
Bloomberg is already going toe-to-toe with Trump over the airwaves, through social media, and on the ground. He is
building
the strongest campaign in the country, with 2,000 field staff spread across 43 states, including every Super Tuesday state.
When he wins, he will owe no favors to anyone, nor will he be beholden to any special interest. He will make sure our government regains the trust of the American people, restores our standing in the world, and helps all Americans lead better and happier lives.
After a lifetime of reporting the news, now is the time for me to stand up as a private citizen and do everything in my power to help defeat Donald Trump and elect Mike Bloomberg the next President of the United States.
Read more: https://www.cnn.com/2020/02/14/opinions/michael-bloomberg-democratic-candidate-endorsement-donaldson/index.html