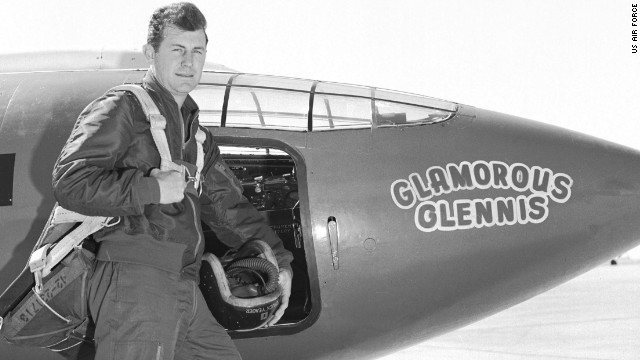 Here's a look at the life of Chuck Yeager, the first man to fly faster than the speed of sound.
Birth date: February 13, 1923
Birth place: Myra, West Virginia (grew up in Hamlin)
Father: Albert Hal Yeager, a coal miner and gas driller
Mother: Susie Mae (Sizemore) Yeager
Marriages: Victoria Scott D'Angelo (August 2003-present); Glennis Faye Dickhouse (February 26, 1945-December 22, 1990, her death)
Children: with Glennis Dickhouse: Donald, Michael, Sharon, Susan
Military Service: US Air Force, 1941-1975, Brigadier General
Other Facts
The first supersonic pilot, who has flown more than 200 different types of military aircrafts.
Trained many of the Gemini, Mercury and Apollo astronauts at the Air Force Aerospace Research Pilots School.
During
World War II,
Yeager shot down over a dozen German planes. He is credited twice with shooting down more than four planes in one day: October 12 and November 27, 1944.
Created a foundation which helps finance youth pilot programs and college scholarships.
Lawsuits between Yeager's children and himself and his second wife over money have fractured the family. His youngest child, Susan, was ordered to repay close to $1 million in misappropriated funds under her control as his financial manager from 1990 through 2003.
Timeline
September 12, 1941 – Enlists in the Army Air Corps and undergoes training as a flight mechanic.
March 10, 1943 – Appointment as flight officer after receiving wings. His unit is sent to England in November.
March 5, 1944 – At age 21, Yeager is shot down over German-occupied France on his ninth mission. He is wounded and then rescued by the French Resistance. After being smuggled into Spain and briefly imprisoned, he makes his way back to England.
1946-1956 – Air Force flight school instructor and research test pilot.
October 14, 1947 – Flies the "Glamorous Glennis," a Bell X-1 rocket plane named after his wife, to break the sound barrier, at Mach 1.06, over the Mojave Desert.
October 10, 1948 – Flies a F-80 airplane over the Kanawha River in West Virginia during a boat regatta. Violating Air Force and FAA regulations, he flies under the South Side Bridge, does a roll and heads on to California.
December 12, 1953 – Sets a speed record of Mach 2.4, 1,650 mph. The record stands for three years.
July 1962-1966 – Commandant of the Air Force Aerospace Research Pilots School, supervises pilot training for military personnel of the space program.
December 10, 1963 – Ejects from a Lockheed Starfighter NF-104 experimental plane and sets a new record as the first pilot to eject in full compression gear under emergency conditions. His suit catches fire from the plane's debris during descent requiring extensive skin grafts for burns.
August 1969 – Promoted to brigadier general.
June 1973 – Becomes director of the Air Force Inspection and Safety Center, Norton Air Force Base, California.
March 1, 1975 – Retires from the Air Force, continues to consult as a test pilot.
December 23, 1975 –
Congress awards Yeager a special Silver Medal for bravery for breaking the sound barrier. The White House ceremony takes place a year later with
President Gerald Ford.
October 21, 1983 – "The Right Stuff" premieres, with Sam Shepard playing the role of Yeager; breaking the sound barrier is the movie's opening scene.
October 26, 2002 – Flies another "Glamorous Glennis," an F-15 Eagle, to break the sound barrier at Mach 1.45.
April 2003 – Yeager's children file a lawsuit in California's Nevada County Superior Court over the handling of his revocable living trust. Yeager and his daughter, Susan, are co-trustees.
March 30, 2006 – The referee judge rules in Yeager's favor against his children's lawsuit.
November 2007 – Sues AT&T, claiming Cingular Wireless, which is owned by AT&T, had used his name in a press release without his permission. Wins the lawsuit June 8, 2012, and is awarded $135,000 in damages.
August 22, 2008 – Yeager's children lose the appeal in California Appellate Court of the March 30, 2006 verdict.
December 2009 –
Files a civil lawsuit against Virgin America Inc. for using his name in their advertising without his permission. The airline sent an email to frequent flyers mentioning Yeager and
Buzz Aldrin.
Aldrin does not join in the litigation. Virgin America and Yeager reach an initial settlement in July 2011, and the settlement is enforced in 2012.
April 2010 – Speaks publicly for the first time about the October 10, 1948, Charleston South Side Bridge incident. Doing 500 mph, he flew under the bridge because he knew he had enough room to clear it.
October 14, 2012 –
On the
65th anniversary
of Yeager's flight to break the sound barrier, he rides along in a F-15 over the Mojave Desert, in a re-creation of his historic flight. Capt. David Vincent, based at Nellis AFB, pilots the F-15.
September 12, 2018 – Massachusetts Mutual Life Insurance Company files a lawsuit against Yeager, his wife and their organizations after the company references Yeager in a 2017 trade journal article. The Yeagers say the company violated his rights. The company, which later removed Yeager's name from the article, seeks a declaration that it did not violate privacy laws.
September 18, 2019 – Sues aerospace company Airbus SE in federal court for trademark infringement and for using his name, likeness and identity without permission in its advertisements.
Read more: https://www.cnn.com/2013/01/30/us/chuck-yeager-fast-facts/index.html