Monarch seen carrying out duties as speculation mounts over crown princes succession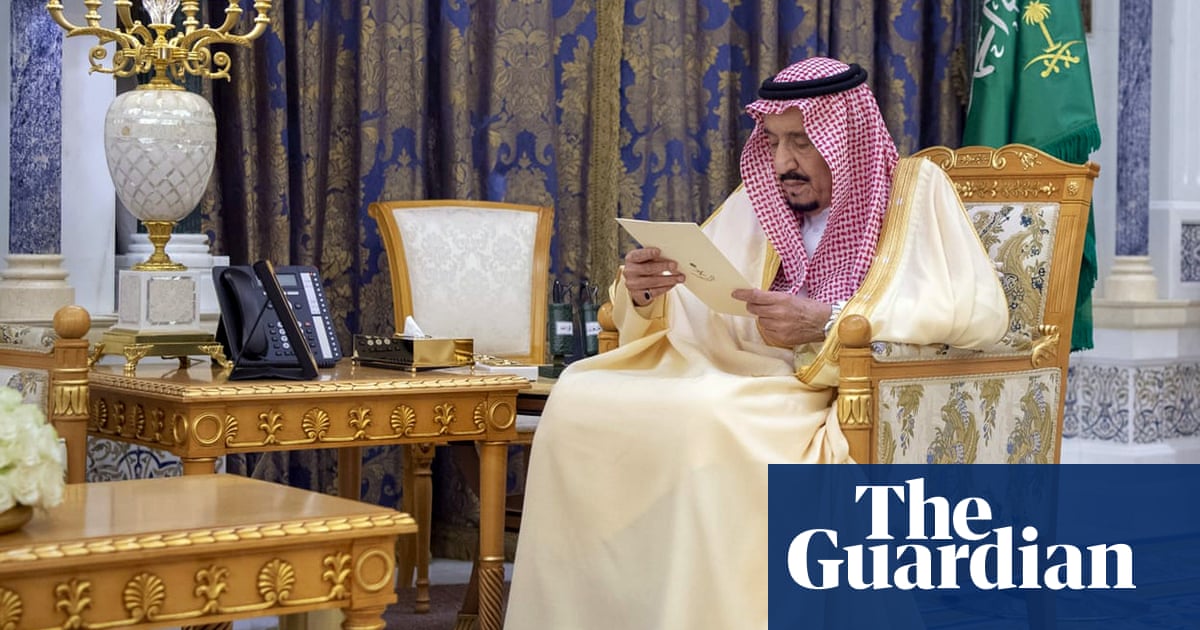 Saudi monarch King Salman was pictured carrying out official duties on Sunday, two days after his brother and the former heir to his throne were arrested in a sweep that sparked a new wave of palace intrigue and speculation about his health.
Photographs released by the Saudi royal court showed the 84-year-old king receiving several ambassadors and reading through correspondence. The images doused claims that the detention on Friday of Prince Ahmed bin Abdul Aziz and Prince Mohammed bin Nayef, who was ousted as Crown Prince two years ago, heralded an imminent change of ruler.
The move came as two other princes who had also been arrested were freed late on Sunday. A source confirmed that both Prince Abdul Aziz bin Saud bin Nayef and Prince Saud bin Nayef had been questioned by royal court aides since being seized from their homes on Friday.
Saudi officials continued to insist on Sunday that the detentions had foiled the early stages of a coup against the heir to the throne, Prince Mohammed bin Salman, who had ordered his relatives arrested. He is viewed as the de facto ruler, controlling all the major arms of government from defence to the economy.
Officials said King Salman himself had signed the arrest warrants, an unusual move against two of the Kingdoms most senior royals one of whom, Prince Ahmed, is his only surviving full brother.
Both men had been seen as among the last remaining obstacles to Prince Mohammeds almost inevitable ascension. Earlier purges of business figures and rivals had already cleared the way for the 34-year-old crown prince.
The early-morning arrests caused new shockwaves in a kingdom shaken by three years of cultural reforms combined with a ruthless crackdown on dissent, highlighted by the 2018 murder of the critic and journalist Jamal Khashoggi, which was carried out by royal court aides.
King Salmans support for his son appearedconsistent throughout. However, persistent reports from inside the palace revealed glimpses of an ongoing tussle for power, which the young crown prince appeared to be winning.
Saudi observers and regional officials were still scrambling to make sense of the latest arrests, which came hours after the foreign secretary, Dominic Raab, was received by the king. A source told the Guardian that both detained princes had called their families on Saturday telling them they were being kept in private villas.
Prince Ahmed asked for a robe that hetraditionally wore for public appearances, the source said. The request caused speculation that he might soon make a statement. Other senior princes were reportedly ordered to make public assertions of support for Prince Mohammed in the immediate aftermath of the arrests, three of whom did so on Twitter.
Prince Mohammed, in his role as crown prince, has accumulated unparalleled power for an heir and effectively rules Saudi Arabia. He has claimed to be in no hurry to take his fathers chair, but his critics including some from the ranks of the senior royals and ruling families in the Gulf have claimed that he is impatient and impertinent, seeing him as unpredictable and brash.
The Kuwaiti leader has never warmed to him, the Emiratis are often dismayed and have diverged over Yemen, and the Qataris think they have his measure, said one senior western official. There are a few around the neighbourhood who are bent on making sure this isnt a smooth run to the throne.
Dissidents outside the Kingdom had claimed the arrests of Prince Ahmed and Mohammed bin Nayef would lead to King Salman being sidelined in coming days or weeks.
However, it is understood that he wants to remain in power until at least the G20 summit in Riyadh in November, which is seen as a crowning achievement for a kingdom trying to break the shackles of decades of hardline rule underpinned by deep cultural repression.
It was all very confusing over the weekend, and the course of travel still isnt clear, the source said. But I wouldnt put money on the king being forced out. That would be a very difficult sell even for MbS (Prince Mohammed). It would play poorly with the region and would be a hard sell to his allies.
Read more: https://www.theguardian.com/world/2020/mar/08/saudi-arabia-releases-images-king-salman-amid-purge-royals