Armoured police vehicles patrol main cities as people who leave their homes face up to year in jail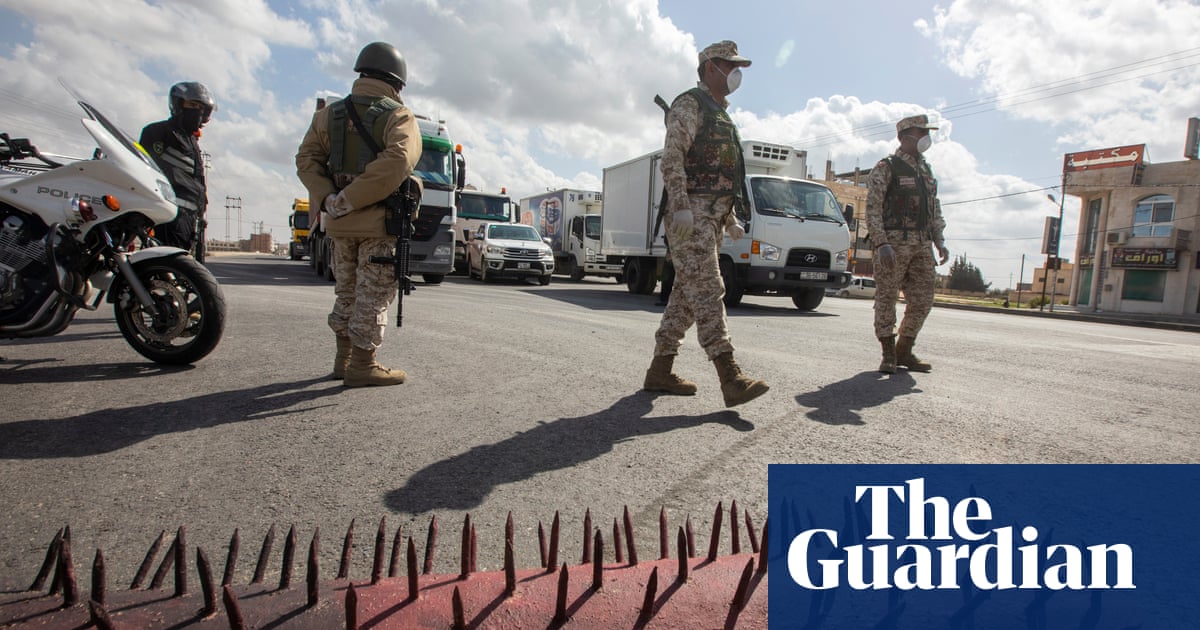 Nearly 400 people have been arrested in Jordan for violating an indefinite curfew introduced on Saturday that bans people from leaving their homes even to purchase food.
Breaching the anti-coronavirus orders, thought to be the most stringent to be applied nationally anywhere in the world, is punishable with up to one year in prison.
The start of the curfew was signalled at 7am on Saturday morning by air-raid sirens that sounded across the capital, Amman.
At least 392 people had been arrested for ignoring the measures by Saturday afternoon, Jordans Roya TV said.
All businesses in the Middle Eastern kingdom have been closed, including supermarkets and pharmacies. Anyone going outside will be subjecting themselves to punishment, the justice minister, Bassam Talhouni, told Jordans al-Mamlaka news channel.
The government said it would announce a mechanism for people to buy food on Tuesday.
The announcement, made at about 4pm on Friday, triggered a rush on bakeries and supermarkets. Many pharmacies were closed as usual on Friday. It was not immediately clear what those who required food could do, though people facing medical emergencies are permitted to go to the hospital.
Some doctors sent text messages to their patients on Saturday saying they were still available for online consultations.
The country has confirmed 85 cases of coronavirus and has been using 34 hotels to quarantine anyone who had arrived before the borders were sealed on Tuesday.
The government said the measures were necessary because an earlier request that people limit their movement was being widely flouted, with many takeaway shops remaining open and people continuing to gather and hold events.
The weather is unusually cold for March and demand for gas cylinders doubled during the week.
Thousands of soldiers have been deployed in cities and on main highways. According to witnesses, armoured police vehicles patrolled the streets of cities and officers called on people to heed warnings not to leave their homes.
Lockdowns in Italy and Spain have allowed some businesses to remain open and people to walk their dogs or buy food. Jordans quarantine is thought to be the first national one to ban any movement for at least four days.
The countrys average International Health Regulation scores, a measure of readiness to fight an epidemic, has been assessed to be worse than Lebanon, Morocco and Sudan, though better than Syria, Yemen and the Palestinian territories.
Jordan hosts one of the largest refugee populations per capita in the world, with about 656,000 Syrians living in the country. Those who can look after themselves are looking after themselves, said Ahmad, who fled from the Syrian city of Hama and now lives in Mafraq. Those who dont have food, dont.
Read more: https://www.theguardian.com/world/2020/mar/21/coronavirus-jordan-begins-nationwide-curfew-for-10m-citizens