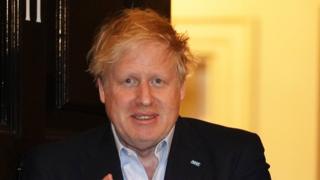 Prime Minister Boris Johnson has been moved out of intensive care but remains in hospital, Downing Street has said.
Mr Johnson has been receiving treatment for coronavirus at St Thomas' Hospital in London since Sunday.
No 10 said he "has been moved this evening from intensive care back to the ward, where he will receive close monitoring during the early phase of his recovery".
A spokesman added: "He is in extremely good spirits."
He was taken to hospital on Sunday – 10 days after testing positive – and was moved to intensive care on Monday.
Mr Johnson received "standard oxygen treatment" in intensive care and was not put on a ventilator, Downing Street said earlier.
He "continues to improve" after a "good night" and thanked the NHS for the "brilliant care" he has received, the spokesman added.
US President Donald Trump tweeted that Mr Johnson's move out of intensive care was "great news".

And Health Secretary Matt Hancock added: "So good that the prime minister is out of intensive care and on the road to recovery. The NHS is there for us all and I know our amazing NHS staff have given him their characteristic world-class care."
Newly elected Labour leader Sir Keir Starmer also welcomed the "good news", tweeting: "I hope it is the beginnings of a speedy recovery."
Meanwhile, applause rang out across the UK in the third "Clap for Carers" event, where people showed their appreciation for NHS staff and other workers on the front line of the pandemic.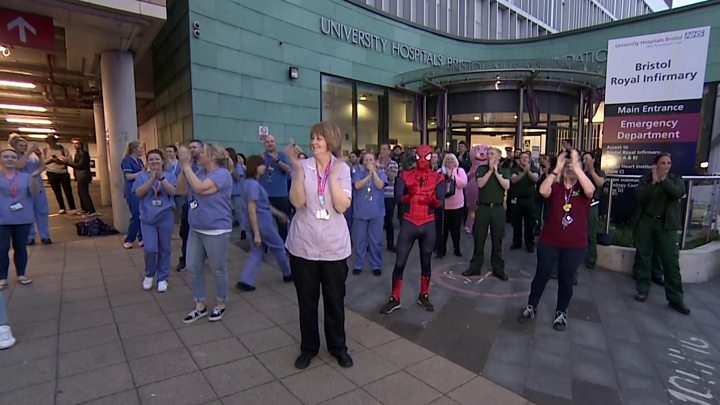 A total of 7,978 people have now died in hospital after testing positive for coronavirus, up by 881 on Wednesday.
'Let's not ruin it now'
BBC political correspondent Jessica Parker said it was expected that Foreign Secretary Dominic Raab would continue to deputise for the prime minister.
Speaking at the government's daily briefing earlier, Mr Raab urged the public to stay indoors over what is expected to be a warm Easter weekend.
He said that after almost three weeks of lockdown "we are starting to see the impact of the sacrifices we've all made", adding: "Let's not ruin it now."
A decision on whether to ease the lockdown measures would not come until "the end of next week".
Mr Raab also said he had not spoken to Mr Johnson since his admission to hospital.
"I think it is important to let him focus on the recovery – we in the government have got this covered," he said, adding that he has "all the authority I need" to take decisions along with his cabinet colleagues.
Meanwhile, Communities Secretary Robert Jenrick has responded to an article in the Guardian, which reported that he travelled 40 miles to visit his parents, despite repeatedly urging the public to respect the lockdown.
In a tweet, Mr Jenrick said: "For clarity – my parents asked me to deliver some essentials – including medicines. They are both self-isolating due to age and my father's medical condition and I respected social distancing rules."


In other developments: