Country records 619 deaths in past 24 hours as some sectors prepare return to work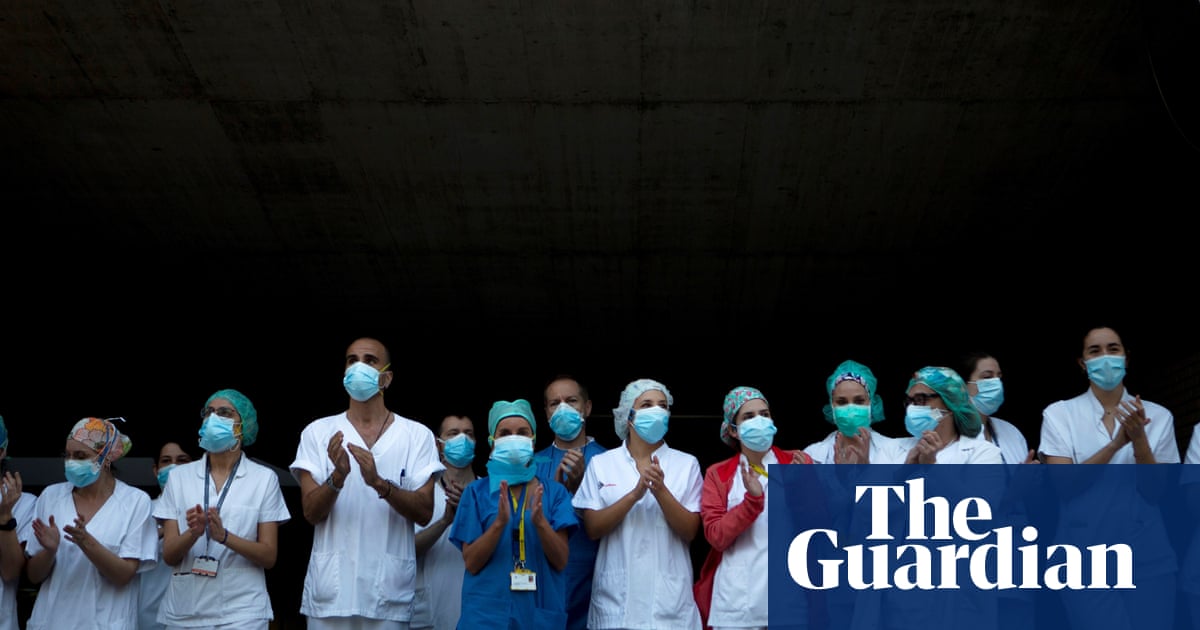 The number of new coronavirus infections in Spain have fallen to a record low since the outbreak began, as Europes worst-hit country by confirmed cases braced for the reopening of some sectors of its economy this week.
Deaths increased slightly to 619 in the past 24 hours and were likely to exceed 17,000 on Sunday, but Spanish health ministry figures showed new cases had grown by 2.6% over the same period the lowest rate since the pandemic took off in the country a month ago and caseloads started increasing by one-fifth every day.
Evidence that a strict lockdown, in place since 14 March, was working came as some factory and construction workers prepared to return to work on Monday, a call that has drawn criticism in some quarters.
In a letter to the prime minister, Pedro Snchez, Catalonias regional president asked to see the medical and epidemiological advice on which the decision was taken. Quim Torra also suggested that the move would provoke a rise in infections and a situation of collapse for Catalonias health system.
Speaking after a videoconference with the leaders of Spains autonomous regions on Sunday afternoon, Snchez said the country remained firmly in lockdown despite the easing of restrictions on non-essential workers. Those returning to work were being advised to maintain social distancing and face masks will be handed out in metro and rail stations.
I want to be very clear, he said. We are not entering a phase of de-escalation. The state of emergency is still in force and so is the lockdown. The only thing that has come to an end is the two-week extreme economic hibernation period.
The prime minister said anyone who was ill or pregnant, or showing even the mildest symptoms, should stay at home. General confinement will remain the rule for the next two weeks and the only people allowed out will be those going to authorised jobs or making authorised purchases, he said.
Snchez said there could be a progressive and very cautious relaxation of the lockdown in two weeks time at the earliest but only if current trends continued.
The World Health Organization has said there could be a deadly resurgence of the coronavirus if countermeasures are lifted too soon, while one of the Spanish governments own experts has said he thought it would have been sensible to keep non-essential workers at home for longer.
Snchez has warned the lockdown is likely to be extended beyond 26 April. Under the rules of confinement, people are allowed to leave their homes only to got to work or to buy food or medicine. He also called for unity in the face of what he termed an unprecedented total war and urged a de-escalation of political tensions. We are dealing with a completely new situation I do not have nor will I have any enemy but this virus.
Optimism over Spains slowing infection rates was tempered by continuing speculation the actual number of Covid-19 deaths in the country may be much higher than official figures.
Recently released data from judicial authorities in Madrid, for example, suggests that 6,600 more people than usual died in the last two weeks of March, compared with the official tally of 3,500 Covid-19 deaths in the region.
Read more: https://www.theguardian.com/world/2020/apr/12/spain-eases-lockdown-as-rate-of-coronavirus-infections-hits-new-low