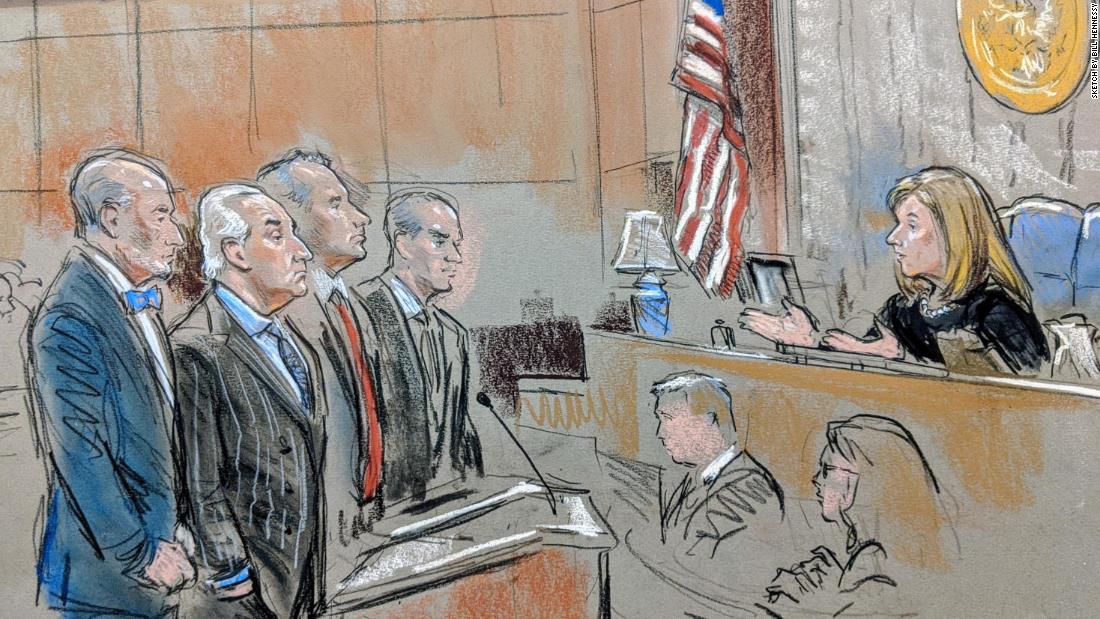 (CNN)A top prosecutor in the Roger Stone criminal case told CNN on Tuesday that his protest resignation from the Justice Department was "the most painful professional experience" of his career.
"I don't really view this as a political statement," Kravis said of taking a new job this month with the DC Attorney General — essentially the state-level prosecutor in Washington — at a time when the office is working to increase its focus on public corruption. "I believe deeply in the importance of investigating and prosecuting public corruption cases."
Kravis refused to say much else about the Stone case and his departure, and instead explained that his new job will largely focus on building out the city's ability to pursue criminal cases against public officials, campaign finance investigations and other local issues. That could potentially include Trump.
The nation's capital has historically had little ability to investigate and prosecute because of the Justice Department's outsized jurisdiction to bring criminal cases in the city, especially compared to states. But DC Attorney General Karl Racine's office has aggressively pursued Trump through civil cases, such as by suing and attempting to get documents from the Trump International Hotel in DC, and by suing the Trump inaugural committee and businesses for their spending at the hotel during the 2016 inauguration.
"I don't view (Kravis') project as being about any sort of one particular public official, organization or any one particular issue," Racine said on Tuesday. Racine connected with Kravis through a mutual federal prosecutor friend, and the two agreed to a three-month role for Kravis.
Kravis said he believed building a more robust public corruption section for the city, and finding ways to take on some public corruption cases that in the past may have been pursued by the federal office, would be "a win for both offices."
Racine said that when he saw the prosecutors quit Stone's case, he was already interested in building out his public corruption team and wanted to "understand the character of the individuals who would make such a — I call it integrity — move."
"We're all obviously interested in Jonathan and his career because generally speaking, 'Profiles in Courage,' if you've read the book, it's a pretty thin read in terms of number of pages, and he's already demonstrated such in his young career," Racine said, referring to the volume of biographies written by then-Sen. John F. Kennedy.
Kravis said Tuesday that he spoke to some of his former colleagues from the US Attorney's Office about his move to the DC prosecutors' office.
Kravis, a former Supreme Court clerk for Justice Stephen Breyer and Obama White House counsel's office lawyer, had a long-time role in the federal prosecutors' office in DC, and had become a lead prosecutor on cases opened during special counsel Robert Mueller's investigation, including Stone's.
Kravis resigned from the Stone case and from his job in February as a section chief in the DC US Attorney's Office after
Barr lessened his team's sentencing recommendation
for Stone. In a news release last week announcing his hiring, the DC attorney general's office said that Kravis resigned "over the Department of Justice's handling of the Stone sentencing memo."
Kravis declined to comment further on his motivation for leaving the high-powered perch, and also would not say if he has talked to lawmakers, including New York Rep. Jerry Nadler, the Democratic chairman of the House Judiciary Committee, who is reviewing the handling of the Stone case.
Read more: https://www.cnn.com/2020/04/28/politics/roger-stone-prosecutor-jonathan-kravis-resignation-painful/index.html