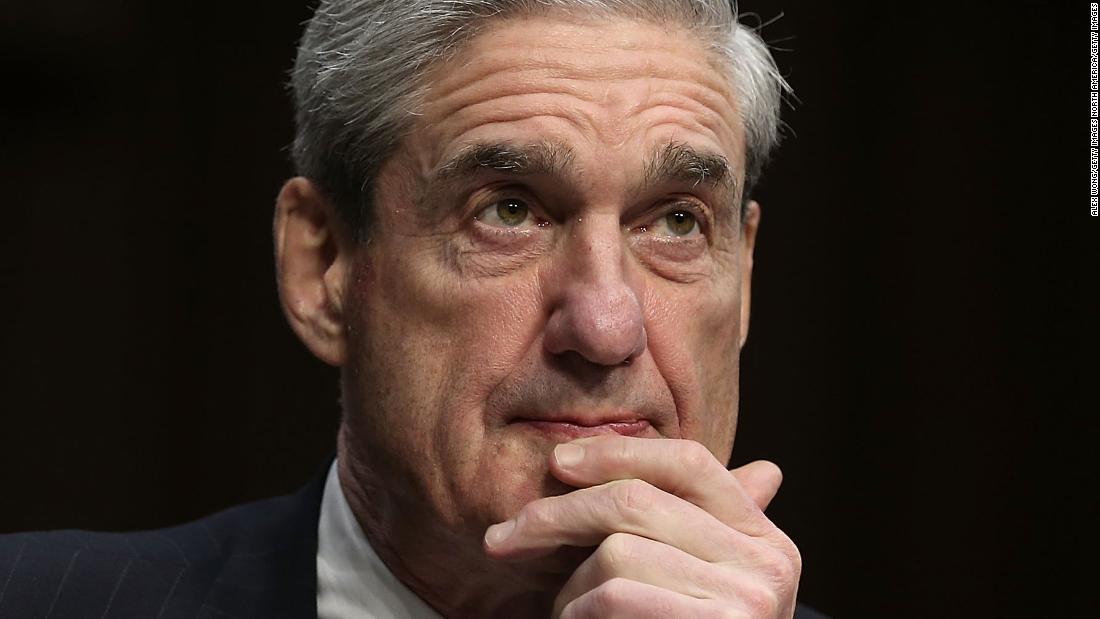 (CNN)Special Counsel Robert Mueller's report is nearly 400 pages long. As a real-world reference point, the Modern Classics version of "To Kill a Mockingbird" runs 384 pages. Even if Attorney General William Barr makes so many color-coded redactions to Mueller's report that it looks like a pack of Skittles exploded, do not expect a standard law enforcement investigative recap. We are about to get hit with a novel-length tome.
Strategies abound for
how best to read
the report. Here's my suggested first move: use the "find" function. Hit control-F and plug in these five keywords to get a quick sense of how Mueller addresses the most pressing — and mysterious — issues raised during his investigation.
"Collusion."
I predict Mueller does not use the word "collusion" even once, aside from quoting President Donald Trump, Rudy Giuliani or others. That's because "collusion" is legally meaningless. There is no federal crime called "collusion" (aside from
antitrust laws
, which are inapplicable here). Trump and his defenders have honed "collusion" as a subjective, ever-shifting, catch-all to continually define themselves around the contours of Mueller's unfolding investigation. We know from
Barr's four-page letter
that Mueller did not find sufficient evidence to prove beyond a reasonable doubt a federal crime of conspiracy with Russia. But did he find conduct that, by any common-sense definition, evidences efforts to coordinate with Russia to influence the election?
"Dirt."
This is the best way to determine what Mueller makes of the repeated efforts of the Trump campaign to obtain damaging information on Hillary Clinton from Russians — and the cover-up lies that followed. What does Mueller make of the
Trump Tower meeting
, in which Donald Trump Jr., Jared Kushner and Paul Manafort met with Russians who had offered "dirt" on Hillary Clinton — eliciting Trump Jr.'s infamous response, "if it's what you say I love it" — and the subsequent effort to cover it up through a false public statement? And how does Mueller assess the efforts of Trump campaign official
George Papadopoulos
to get dirt on Clinton from a different Russian — and Papadopoulos's lies to the FBI about those contacts?
Barr
has told us
that Mueller concluded that "[T]he investigation did not establish that members of the Trump Campaign conspired or coordinated with the Russian government in its election interference activities." But — as you can tell from the manner in which Barr quotes Mueller, turning Mueller's mid-sentence lower-case "t" into a bracketed capital "T" — there is likely front end to that sentence, which Barr has omitted. I'd hazard a guess the full sentence begins with "Although" or the like. If so, we could learn that the Trump campaign engaged in conduct that — even if not a precise match for a federal crime, or not quite provable as such — potentially posed a threat to national security.
"Junior."
One of Mueller's biggest unanswered questions: What happened to Trump Jr.? Strangely, Mueller never subpoenaed or even sought to interview Trump Jr. Typically, that means either (1) the individual has no relevant information — hard to imagine given that he attended the
June 2016 Trump Tower meeting
and was a central player in the campaign, or (2) the individual is
a target,
meaning a person who is likely to be indicted. Perhaps Trump Jr. was a target but the evidence ended up insufficient to indict. Or maybe Mueller referred Trump Jr. to the Southern District of New York, which carries on with investigations of
potential campaign finance violations
, the
Trump Organization
and the
Trump inaugural committee
.
At the risk of his own credibility, Barr had better not try to obscure Trump Jr.'s conduct through
redactions under the rubric
of "information that would unduly infringe on the personal privacy and reputational interests of peripheral third parties." Barr
testified
that he (rightly) does not consider President Trump such a "peripheral third party." It would be absurd, and transparently political, for him to pigeonhole Trump Jr. into this sanitized category.
"McGahn."
The White House
reportedly
has "significant concern" about Mueller's report and "what worries them most is what Don McGahn told" Mueller. The New York Times
has reported
that McGahn, who served as Trump's White House counsel, cooperated "extensively" with Mueller and provided "detailed accounts about the episodes at the heart of the inquiry into whether Trump obstructed justice." McGahn had inner-sanctum access to Trump and likely gave Mueller unique perspective on Trump's behind-the-scenes machinations. For example, the Times
has reported
that Trump ordered McGahn to fire Mueller, but McGahn resisted. (Trump denies he gave such orders.) That type of evidence could shed light not only on Trump's actions but also his potentially obstructive motives and intent.
"Defer."
According to Barr, Mueller declined to make a "traditional prosecutorial judgment" on obstruction. Why? It seems unlikely that Mueller — a career law enforcement professional accustomed to making tough calls — bailed out because he simply could not make up his mind. Rather, we may learn that Mueller intended to defer to somebody else on obstruction for institutional reasons. We know that Barr
has declared
the evidence insufficient for a criminal obstruction charge. But Barr
later admitted
in his congressional testimony that Mueller
did not ask
him to weigh in. The most likely scenario is that Mueller — given
Department of Justice policy
against indicting a sitting President — intended to defer to Congress, the only entity able to take remedial action against the President for abuse of power.
Now, your questions:
Sarah, California: If Trump may have obstructed justice when he fired ex-FBI Director James Comey, isn't Deputy Attorney General Rod Rosenstein at least a witness? If so, how does he ethically have any authority over the Special Counsel investigation?
When Trump fired Comey in May 2017, he specifically
referenced and relied
on a memo prepared by Rosenstein that concluded Comey had inappropriately handled the investigation of Hillary Clinton's use of a private e-mail server. However, Trump himself
stated
at other times that he fired Comey because of "this Russia thing with Trump."
This is a critical question. If Trump fired Comey for the reasons stated by Rosenstein in the memo, then Trump is in the clear on that part of the obstruction inquiry; there's nothing obstructive about firing an FBI Director for mishandling a case. But if Trump fired Comey to stop the Russia investigation, then serious questions arise about obstruction. At a minimum, Rosenstein would seem to be a crucial fact witness on the obstruction issue: Did Rosenstein write the memo about Comey to give Trump
a pretext
to fire Comey?
All of which raises the question: Why didn't Rosenstein recuse himself? Attorneys ordinarily must recuse themselves from a case if they have a conflict of interest, and an attorney who also is a fact witness has a textbook conflict. How can an attorney investigate a case in which he was directly involved as a participant? Neither Rosenstein nor the Justice Department have offered an answer to that key question yet.
Sean, Colorado: How soon until Mueller is called to testify in front of Congress? Will there be a limit on what he can be asked? And if he is subpoenaed, what is the point of redacting everything?
The chances of Mueller testifying before Congress directly correlate to the level of public distrust in Barr's redactions to the report. The more questions raised by Barr's redactions, the greater the chance Congress calls Mueller to testify.
If Mueller testifies, do not expect fireworks. Mueller's office apparently
did not leak
and almost never commented publicly on its work. And Mueller is
famously taciturn
and by-the-book, so I'd expect him to say as little as possible.
If Mueller does testify, it will not be as simple as Congress asking him to tell all. He almost certainly will not discuss classified information or ongoing investigations that he has referred to other Justice Department offices, for example. Mueller also might follow Barr's lead and refuse to discuss grand jury materials, which ordinarily are confidential (though Barr has the ability to seek court permission to disclose grand jury materials — which he
has stated
he will not do).
That said, there are important questions that only Mueller can answer, including (1) why did you decline to make a prosecutorial decision on obstruction, and (2) who did you intend to make that decision — Barr, Congress or somebody else?
Ellen, New Jersey: If Barr's office refuses to respond to a subpoena to release the unredacted Mueller report to Congress, what can Congress do to obtain the report?
When it comes to enforcing a subpoena, Congress isn't quite toothless, but its teeth aren't particularly sharp. This piece by Harry Litman provides a detailed overview. In sum, if Barr (or anyone else) defies a congressional subpoena, then Congress has three options, all of which carry drawbacks: (1) declare the offender in contempt of Congress, which is almost entirely symbolic and
almost never done
; (2) refer a criminal contempt case to the local US Attorney's Office — which operates under the supervision of Barr, and can easily deny or ignore the request; or (3) file a
civil enforcement action
under an obscure 1978 ethics law, which says that if the court agrees the subpoena is valid, it can order compliance, backed by its own contempt powers.
Of these options, the third one is the only viable path to obtain a copy of the full report from Mueller. But even if Congress prevails in such a lawsuit, it will take many months to wind through the courts. Unless Barr voluntarily changes his current expansive position on redactions, it will be a long time before the public sees the full Mueller report, if ever.
Anne, Michigan: Why can't Congress see the full Mueller report behind closed doors?
Congress — particularly the Intelligence Committees —
routinely receive
and review classified or other sensitive information. Accordingly, House Speaker Nancy Pelosi and Senate Minority Leader Chuck Schumer have
called upon
Barr to provide the full report and underlying documentation to Congress.
In his testimony last week, Barr
signaled some willingness
to give one report that includes sensitive information to selected members of Congress and another redacted version to the public. Barr would be well-advised to make this concession.
That said, Barr has a difficult choice to make here. If he refuses to provide a full version of the report to the congressional intelligence committees, he will be pilloried for hiding classified or other sensitive information from entities that are responsible for handling such information and maintaining its confidentiality. On the other hand, if he does provide the unredacted report to the committees, it could leak, which could endanger ongoing investigations.
Bob, Washington DC: Does Barr have any jurisdiction over the Southern District? Can he look at the cases investigating Trump world?
The Southern District, however, is famously independent, earning the nickname the "
Sovereign District
." I know firsthand from my time there that the Southern District is resistant to Justice Department oversight and views itself as largely beyond the reach of centralized supervision.
The Southern District is subject to general oversight and supervision by the attorney general, but not to the extent of the special counsel regulations. For example, there is no specific law or regulation requiring the Southern District to consult with the attorney general on major investigative steps or to coordinate public disclosures through his office.
Most importantly, Mueller operated under a
limited mandate
to investigate "links and/or coordination between the Russian government and individuals associated with the campaign of President Donald Trump" and directly related matters. The Southern District operates under no such limitations and can follow the evidence wherever it may lead.
Three questions for next week:
1) Will we learn of important new facts uncovered by Mueller?
2) Will the
frustration
among some members of Mueller's team over Barr's handling of the report be calmed or aggravated by the release of the redacted report?
3) How will Trump react toward his staffers
who provided
potentially damaging information to Mueller?
Read more: https://www.cnn.com/2019/04/16/opinions/mueller-report-five-key-words-honig/index.html