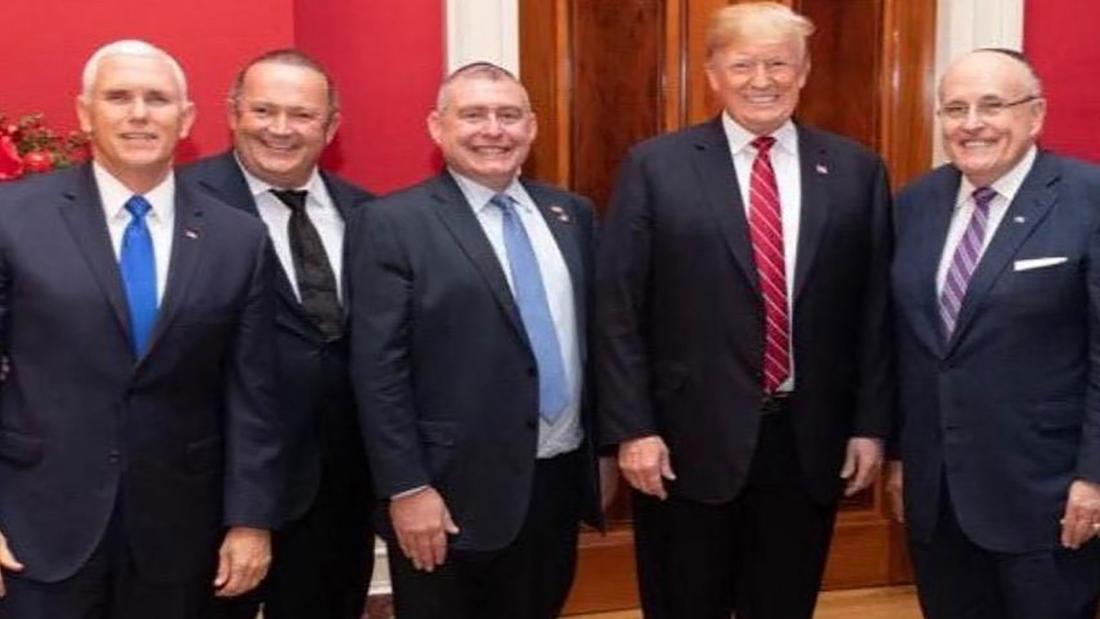 Sunny Isles Beach, FL (CNN)As federal prosecutors pursue their case against a pair of South Florida businessmen at the center of an alleged plot to hijack the US political process, their trail is sure to lead here if it hasn't already.
Parnas, who has recently
initiated talks
with impeachment investigators through his attorney, was once chauffeured around this beach city by a white-gloved driver behind the wheel of a Rolls Royce, two sources recalled. At the same time, his business was failing, and he was accused of squatting in an associate's condo and threatening the man at gunpoint when asked to leave — both claims Parnas, 47, denied. Parnas was never charged with a crime.
Fruman lived with his wife and three kids in a luxury unit 31 floors above the Atlantic. He recently faced foreclosure on another high-rise unit in neighboring Bal Harbour if he didn't pay up on a $3 million loan he and a brother took out against the property, according to court records. It was a loan that had to be repaid within a year and which required interest of $22,500 a month, the records show. The transaction appears crucial to Parnas' and Fruman's ability to have made large political donations at the heart of the ongoing federal investigation.
Fruman's finances — where his money was coming from and where it was going — were a hotly contested issue in recent court filings in a pending divorce case. Among his estranged wife's claims: He'd been creating companies in her name, without her knowledge.
Neither Parnas nor Fruman have previously been charged with crimes. But each has been accused of illegal conduct in civil court filings. Michael King, who alleged Parnas was squatting in his Sunny Isles Beach condo, told police in 2008 he was in fear of Parnas.
A police officer documenting the alleged threat in a report asked King why he was in fear. "He replied because Parnas told him that he was going to hurt him and that his kids could be hurt as well," the report states.
Parnas denied making the threat and told police he'd been renting the condo without a lease based on a verbal agreement with King. King obtained an injunction against Parnas, but that was later dismissed due to insufficient evidence, according to a police report and court records.
Fruman's estranged wife, Yelyzaveta Naumova, accused him during their divorce proceedings of beating her and possessing a large amount of cocaine and other drugs, which he allegedly wrapped and passed out as party favors.
Fruman denied the allegations which he said were only made after he filed a motion to compel his wife to undergo a substance abuse evaluation. Naumova declined to be interviewed by CNN.
Parnas and Fruman's rise from South Florida entrepreneurs to major GOP donors and lieutenants of Rudy Giuliani, President Donald Trump's personal attorney, has landed them in the center of a widening criminal investigation. Federal prosecutors charged both men with skirting campaign finance rules to "buy potential influence" with US politicians to advance their own interests and those of at least one Ukrainian government official.
The FBI and prosecutors in New York are now scrutinizing Giuliani's business ties to the men. Giuliani has maintained he's acted appropriately.
The story of Parnas' and Fruman's unlikely path to becoming subjects of interest in the impeachment inquiry is traced through shell companies, ballooning debts, fraud allegations and interviews with more than a dozen people. There are still unanswered questions about how they bankrolled their journey.
Both men have pleaded not guilty and were released on bail last month. Each was placed on home confinement and ordered to wear GPS monitors. Outside the federal courthouse in Manhattan, Parnas said, "Many false things have been said about me and my family in the press and media recently. I look forward to defending myself vigorously in court, and I am certain that in time, the truth will be revealed, and I will be vindicated. In the end, I put my faith in God."
Earlier this week, Parnas' lawyers indicated a shift in tactics. Attorney Joseph Bondy said his client would comply with a Congressional subpoena for documents and testimony as part of the impeachment inquiry in a manner that would allow him to protect his Fifth Amendment rights against self-incrimination. Parnas and Fruman initially declined to comply with the subpoena when they were represented by another attorney, John Dowd, who advised Trump during the Special Counsel's investigation. Bondy also challenged Trump's claim that he did not know Parnas.
"Notwithstanding any of the claims that we have seen to date in the media Lev Parnas is committed to answering Congress' questions truthfully and as completely as possible," Bondy said in a statement to CNN. "It is well settled that people with imperfect backgrounds are nevertheless capable of telling important truths. Indeed these are the types of individuals our government relies on every day in securing indictments and obtaining convictions and there is no reason why Mr Parnas' statements should not be afforded the same degree of deference."
Fruman's attorney did not respond to CNN's requests for comment.
It was sometime last year, Giuliani has told CNN, that Parnas and Fruman began introducing him to current and former Ukrainian officials who provided information that Giuliani claims is damaging to some of Trump's political enemies, including former Vice President Joe Biden. Giuliani has not presented any such evidence, and Biden says he's done nothing wrong.
Giuliani has also publicly acknowledged being paid $500,000 by Parnas' company for legal work, but has declined to provide details about the precise services for which he was being paid.
An attorney for a wealthy Republican donor named Charles Gucciardo told CNN this week that Gucciardo actually paid Giuliani's firm on behalf of Parnas' company.
The lawyer, Randy Zelin, characterized Gucciardo's payment as an investment in Parnas' company. Zelin said Gucciardo was motivated by business, not politics. The New York Times was the first to report Guicciardo's role in the matter. Gucciardo has not been accused of any wrongdoing.
The source of campaign donations made by Parnas and Fruman, meanwhile, remains under federal investigation.
Financial scrutiny is nothing new for Parnas. In the early 2000's, a sister company of the Miami Heat basketball team filed a lawsuit against Parnas' firm Aaron Investment Group for not paying money owed for season tickets and advertising. Parnas told the Miami Herald in 2002 that he believed he was paying first-class prices for second-class service, but a court document shows Parnas' firm subsequently agreed to pay the company $100,000.
In 2009, a company founded by Parnas, Edgetech, which distributed an Internet-access-device called The Edge, was sued by an investor who accused the company of making "material misrepresentations and omissions" about its value and public demand for its product. A federal judge ruled the same year that Edgetech and others "participated in a scheme to defraud" the investor and ordered that Edgetech and other defendants pay $336,879.
In 2014, a landlord sued to evict Parnas and argued he had not paid the $15,000-a-month rent he owed on a Boca Raton, Florida home. A judge later ruled in favor of the landlord.
The following year, a company sued Parnas and his business partner for owing more than $20,000 on a commercial lease for a property where another Parnas company, Fraud Guarantee, was registered. A court ordered Parnas to pay up.
In 2016, a federal judge in New York ordered that Parnas pay more than $500,000 to a family trust from which he borrowed money for a movie that never got made. Last month, a judge in Florida gave him thirty days to appear in court and answer questions about the matter.
Parnas seemed more flush with cash over the past summer as he was seen surrounded by bodyguards, traveling in luxury SUVs and jetting up and down the East Coast in private chartered planes. He had boasted to friends that his company had been receiving financial backing from Dmytro Firtash, a prominent Ukrainian oligarch who was indicted on bribery and racketeering charges in Chicago six years ago and has been fighting extradition to the US.
Parnas played a pivotal role in Firtash's decision to replace his attorney with two well-known Republican lawyers with close ties to Attorney General William Barr and Trump's legal team, a source with direct knowledge of the situation told CNN.
Firtash maintains his innocence. His lawyers downplayed his relationship with Parnas, whom they described as a translator.
Fruman, meanwhile, presented himself as the CEO of companies in the US and abroad. An online brochure described him as the head of the Ukraine-based Otrada Luxury Group, a holding company with assets that included a five-star hotel, a luxury car dealership, and "fine boutiques in the nation's major cities."
In a 2017 financial declaration for his divorce, Fruman said he was earning $276,000 a year as the CEO of a New York-based firm called FD Import & Export Corp. Fruman's brother, Steve, was listed in regulatory filings as a vice president of the company, which is the parent corporation of Otrada Luxury Group.
A webpage for FD Import & Export, no longer online but archived last year, described the company as "Nestle's largest distributor in Ukraine with excellent corporate relations."
A Nestle spokesperson told CNN that Nestle has not done any direct business with FD Import & Export. "Nestlé Ukraine did not have and doesn't have a cooperation with the company."
FD Import & Export also promoted its distribution of a milk-canning company's products. Ukrainian news sites reported that company, the Balta Dairy and Canning Plant, co-owned by Fruman, stopped operating and was declared bankrupt in 2012.
Nonetheless, prosecutors say that $21 million passed through FD Import & Export over the past three years and that there were substantial financial resources that Fruman didn't disclose to authorities.
At a bond hearing in federal court in New York on Friday, prosecutor Nicolas Roos handed the judge and Fruman's lawyer a photocopy of a brochure on Otrada Luxury Group. Fruman, the prosecutor said, "could return to Ukraine where he is politically connected and can decide never to come back here and live a very nice life."
Though Fruman's complete financial picture remains unclear, the $3 million loan he and his brother took out on the Bal Harbour condo—that the pair bought together in 2007—appears to have been the funds Fruman and Parnas used to underwrite their generous donations to Republican causes.
The Frumans sought a private loan outside of the traditional banking route in the spring of 2018.
By seeking a so-called hard money loan, they were able to close on it more quickly than a bank loan that is subject to lengthy due diligence checks that could take one to two months to close. The loan terms were in the lenders' favor: The condo used to secure the loan was valued far more than the $3 million loan and the interest of nine percent well exceeded bank interest rates. If the brothers failed to pay back the loan, the lenders could foreclose on the property. The lenders, a Ukrainian couple and their son-in-law, did not know the identity of the borrowers and don't appear to be of interest to investigators.
Over seven days in May 2018, the Frumans closed on the $3 million loan and the proceeds appear to have been quickly distributed.
A previous $1.5 million loan on the condo was paid off and another $1.26 million was wired into the Aaron Investments account run by Parnas, according to incorporation documents and bank records obtained by the movie investor who sued Parnas.
The bank records show that within three days more than half of the $1.26 million was wired out. About $503,000 was sent in two transactions to FD Import Export, the company run by Fruman and his brother, and $205,000 transferred to Lsdama LLC, a company set up by Parnas and his wife.
The largest donation — and the one that would ultimately trigger scrutiny — was $325,000 wired to the pro-Trump super Pac. Other large transfers were made but the bank statements don't indicate who received the money.
Prosecutors allege Parnas and Fruman created a shell company to "conceal from third parties, including creditors, their sources of funding and capital."
After the loan the political donations continued. One lawmaker who benefited was Congressman Pete Sessions, the Republican from Texas. Parnas and Fruman first met Sessions at an event sponsored by a political action committee, according to the indictment, and committed to raise $20,000 for the Texas lawmaker. Parnas later met with Sessions and "sought" his assistance in causing the removal of Marie Yovanovitch, the then-US ambassador to Ukraine, prosecutors allege.
Parnas told the
New Yorker
that he met with Sessions to discuss a natural gas project.
Sessions told
BuzzFeed
in July that he raised Yovanovitch in the meeting, not Parnas and Fruman. "I sought their input," he said.
The same day as the meeting Sessions wrote to Secretary of State Mike Pompeo arguing for the removal of Yovanovitch in part because of allegations that she had criticized Trump and was disloyal. She was eventually recalled. Prosecutors allege Parnas' efforts were made in part at the request of a Ukrainian government official.
Sessions has not been accused of any wrongdoing. He has said, "I could not have had any knowledge of the scheme described in the indictment or have involvement or coordination of it." Sessions was subpoenaed for documents and information after Parnas and Fruman were arrested. His spokesman said he is cooperating.
One high-ranking Republican operative who spent time with Parnas and Fruman said the pair presented themselves as businessman who "loved the President and what he's doing."
A vetting process "didn't find any reason why we shouldn't take their money — so we did," said the source who asked not to be named, citing the ongoing criminal investigation.
"I was shocked to see that these guys got arrested," the source said.
Read more: https://www.cnn.com/2019/11/09/politics/giuliani-associates-parnas-fruman-questionable-finances-invs/index.html