The long read: After decades among the hidden homeless, Dominic Van Allen dug himself a bunker beneath a public park. But his life would get even more precarious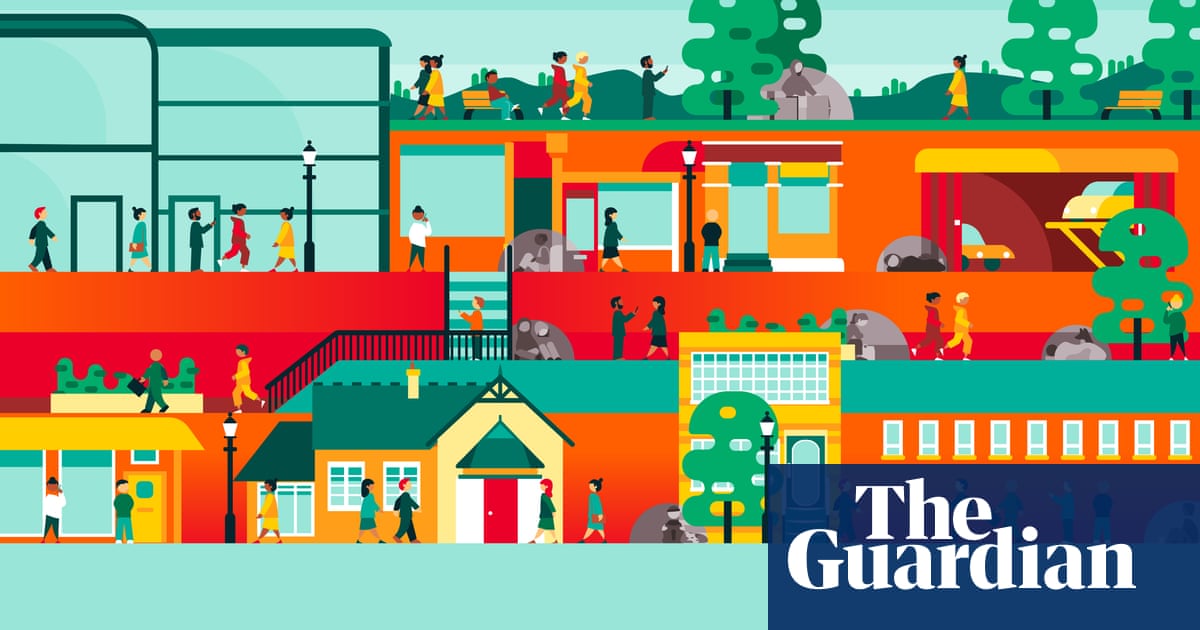 Most nights, before bed, before it all went wrong, Dominic Van Allen whiled away the last of the evening hours in a pub called The Garden Gate. It was easy to fit in and feel smart there, chatting and drinking with a crowd who passed through in varied states of dishevelment. Dog-walkers brought in sodden dogs. Exhausted junior doctors shambled in after shifts with their sleeves pushed up. There were scarved and suited older men, frail as antique hatstands, and casually dressed professionals with jobs in finance or entertainment who owned expensive homes nearby. And its you rich buggers, Van Allen marvelled, genially enough, as he eyed the state of their trainers, who can afford to look the scruffiest. He wore durable boots, khaki trousers and a leather motorcycle jacket, and could have been mistaken for a bike courier, a builder, maybe a maintenance guy at the hospital next door, where he was known in the staff canteen as someone who would wander in at dawn to buy a discount coffee.
That winter of 2017, Van Allen was 44 years old tall, with close-cropped blond hair, blue eyes and a faint Yorkshire accent. At the pub, his was an ale. As soon as he judged it was late enough, Van Allen drank up and said his goodnights, bearing north from the pub and walking up a tree-lined road that hugged one side of Hampstead Heath. A vast open space that sits as a sort of green beehive haircut on top of metropolitan central London, the heath is untamed in parts and otherwise mown and managed like any public park. Every day, people visit by the thousand: runners, outdoor swimmers, tourists, bird-lovers on the trail of whitethroats and blackcaps in the bushes or goldfinches and kestrels in the trees. Sometimes a travelling circus unfolds itself on the hard-packed sand of the heaths carpark. Summer brings sunbathers, picnickers and sixth-formers sat in circles, while in winter, on those rare occasions it snows, people drag in toboggans. On this night, in December 2017, forecasters had predicted flurries overnight. Van Allen moved briskly, eager to get in.
He walked up the heaths western edge, beside a fringe of scrub where hogweed grew in tangles and brambles rose taller than him. It was known that homeless people sometimes slept rough in this scrub, pitching tents here after dark. Van Allen had done this, too, once upon a time. As a rule, he kept the fact of his homelessness to himself, because, wouldnt you? He knew there were a lot of people just like him, irregularly employed, regulars in pubs, the owners of passports and phones and all the right charger leads, only with nowhere stable to live. He would never plausibly make London rent. Social housing was just out of reach. A mortgage purest fantasy. Van Allen had taught himself, instead, how to borrow a piece of this expensive city, night by night, on unarranged loan. When he reached a row of mansion houses that overlooked the heath, he turned off the road and on to a footpath that cut through the scrub.
Some aspects of Van Allens story are extraordinary. Others are nowhere near extraordinary enough. There has never been an accurate count of people like him, the visible-invisible homeless. Although we know there are between 55,000 and 60,000 statutory homeless (that is, those who apply to make use of state services) and although there are efforts towards an annual census of rough sleepers (carried out by head-counters who hit the roads every autumn to ask for a show of hands), theres a vast population the statisticians cannot account for. You could be sat next to someone, Van Allen would say, and not know it. Chances are the barman who served you tonight is one, sleeping in a shelter, sleeping in a squat, sofa-surfing, spending nights in a car or a van. Van Allen would say: broaden the definition of homeless to factor those in accommodation so precarious it could be taken away in a month, a week, a snap? Thats millions. Charities regularly try to draw attention to the complicated problem of hidden homelessness, a world of concealed partitions, crowded mattresses, beds-in-sheds, the back seats of nightbuses. Its a legally grey world everything that goes on between a fixed address and the shopping-trolley stage, as Van Allen would later put it, when he was arrested and interviewed by police. A world of just-find-somewhere, just-stay-out-the-way.
Halfway along the footpath, he turned off again, this time stepping directly into dense bramble. He found a narrow gulley that had been cut between the thorns and followed it through a zigzag turn to a small clearing, where he bent in the dark and patted the earthy floor. There a concealed hatch. Van Allen tugged it open with his fingers and descended into the ground, closing the hatch behind. Below, he flicked on lights at a switch. He hung up his coat.
---
Counter-terrorism command, lead interviewer: This might seem a silly question. But what was the camp for?
Dominic Van Allen: Housing. Nowhere to live.
CTC: [] You made it permanent by going underground, by digging What year?
Van Allen: They bulldozered it, when, February 2018? So it was [two years before that], spring 2016. The last of the thaw just coming in We just decided, sod it. Why not?
---
There was space in the bunkerfor two camp beds, pushed against opposite walls. In the 4ft gulley between the beds, Van Allen could stand, comfortably enough, without his head scraping the trussed timber roof. The floor underneath him was poured concrete. Hed put up hooks for his coat, his bag and his cooking utensils, and there were shelves by the bed for odds and ends. Push-button LED lights were stuck to the walls using tape. There was a portable gas stove down here, and now that Van Allen was in for the night, he lit it and emptied a can of soup into a pan. After eating, he washed up with wet wipes. Litter was tied inside plastic bags, to be spirited away to a distant bin, early tomorrow, before the heaths park rangers came on duty.
On the whole, Van Allen slept well. Beyond the timber walls there was more concrete, to keep out groundwater, and together with the Hampstead clay, this muffled all but the most extreme-frequency sounds. (On fireworks night he heard the bangs, but not the crackles.) When he first moved down here, Van Allen worried about oversleeping and he sometimes set a morning alarm on his phone. It was never needed. He was decades-trained to be up and on the move before the citys day shift began, before London became more closely observed by its security guards and park rangers and police officers, any one of whom might inadvertently happen on the latest of his impermanent shelters and blow it.
Read more: https://www.theguardian.com/news/2020/mar/05/invisible-city-how-homeless-man-built-life-underground-bunker-hampstead-heath